Story Progress
Back to home
India vs Sri Lanka: Dilruwan Perera Does A Steve Smith As New DRS Controversy Erupts At Eden Gardens
Dilruwan Perera, who was walking back to the pavilion after being given out, suddenly turned around to review the decision.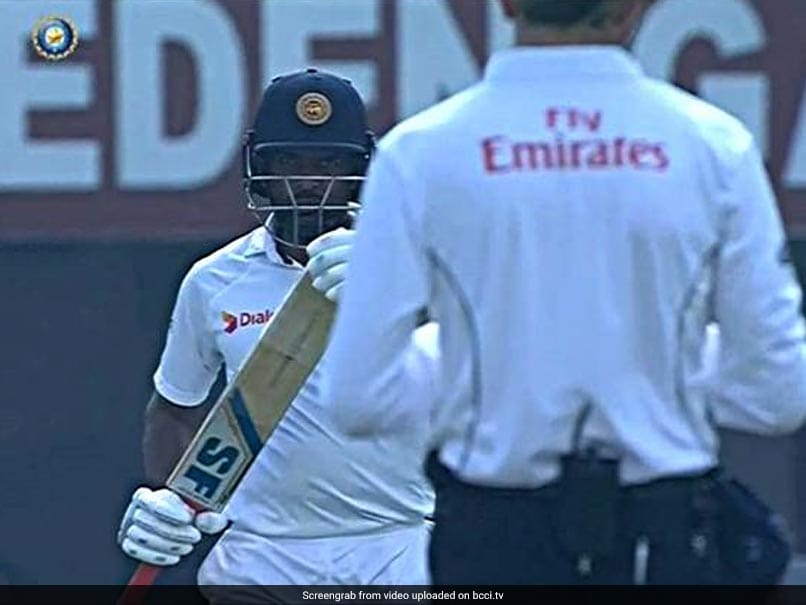 Dilruwan Perera caused a huge controversy when he belatedly asked for the DRS.
© BCCI.tv
Highlights
DRS controversy erupts in the 1st Test between India and Sri Lanka

Dilruwan Perera belatedly asked for the DRS

It seemed Perera got some help from the Sri Lankan dressing room
Steve Smith's 'brain fade' moment was revisited on Sunday during the opening Test between India and Sri Lanka at the Eden Gardens in Kolkata. The incident took place when Sri Lankan batsman Dilruwan Perera was given out LBW by the umpire in the 57th over. After receiving no positive signal from non-striker Rangana Herath, Perera turned around and was walking back when he suddenly made a u-turn and asked for the DRS (Decision Review System). It turned out to be an excellent review as replays showed that the impact was marginally outside the off-stump. However, who really made the decision to review that call?
Immediately after the decision was overturned, TV commentator Simon Doull started showing his displeasure. The New Zealander was not too happy with Dilruwan's sudden u-turn and said, "he's got to go, got to go".
Soon after that replays showed that two hands popped up from the dressing room of Sri Lanka, following which Dilruwan immediately turned and reviewed the decision.
@bhogleharsha @ICC when a batsman take a sigh of signal from dressing room not a good sign for the game of cricket. As you challenging spirit of umpiring#IndvsSL #EdenGardens pic.twitter.com/dYqKFhQCZw

— satya (@yogeshsatya4545) November 19, 2017
It sparked a debate between some other commentators too. Doull, Harsha Bhogle and Sanjay Manjrekar started speaking about the incident in length instead of the proceedings on the ground.
Fans on Twitter were also up in arms with many dubbing the DRS as 'Dressing Room Review System'.
Very sad, Sri Lanka, this Dilruwan "brain fade." Caught on camera looking at the dressing room, hands there gesturing to him to review. Ghost of Steve Smith lives on #IndvSL

— Shekhar Gupta (@ShekharGupta) November 19, 2017
DRS could become slippery slope in cricket. All kinds of sign language and symbols can be found to tell player on field what to do https://t.co/agWFXntg6W

— Cricketwallah (@cricketwallah) November 19, 2017
Drs
Dressing room system #INDvSL #ViruPanti #ViratKohli

— Jack (@jack_jimkhan) November 19, 2017
Dilruwan Perera clearly looked at the dressing room or got the time to look at the dressing room for that DRS. #INDvSL

— KASHISH (@crickashish217) November 19, 2017
What just happened there? #DilruwanPerera walks back and suddenly decides to use DRS? There was definitely some indication from the dressing room which needs to be looked into. #INDvSL

— Suhail (@imroz_suhail) November 19, 2017
According to Dilruwan, I think DRS means Dressing Room Review System.
Highly inspired by Steve Smith, though.#VIRUPANTI #NEHRAJI

— Bittoo Bhatkar (@bittooRights) November 19, 2017
DRS : Dressing Room Review System#Dilruwan #Brainfade

— Sagar Chembolu (@sagarchembolu) November 19, 2017
DressingRoom Review System returns! Dilruwan Perera caught seeking tips on whether to review LBW decision or not. #INDvSL #DRS

— Sahil Bakshi (@SBakshi13) November 19, 2017
@stevesmith49 bro! You saw what just happened? Dilruwan perera went through Brain fade 2.0 #IndvsSL

— Bleed Blue (@ANUBHAV_D) November 19, 2017
A similar controversy first took place during the 2nd Test between India and Australia in Bengaluru in March.
After being given out LBW, Smith was seen seeking an opinion from his dressing room on whether to review his leg-before dismissal during the second innings of the second Test.
The Australian captain later acknowledged his fault at the incident and dubbed it a 'brain fade'.
Virat Kohli later accused the Australian side of other such instances, where they looked towards the dressing room for help in reviewing decisions during the 2nd Test.
Topics mentioned in this article