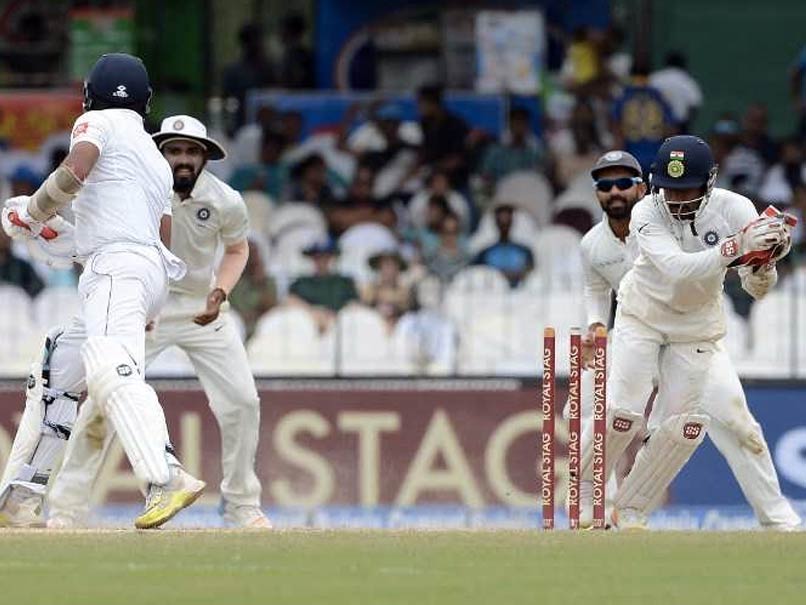 Wriddhiman Saha was brilliant behind the stumps against Sri Lanka in the second Test match
© AFP
Wriddhiman Saha took a couple of brilliant catches in the second Test match against Sri Lanka to dismiss Kusal Mendis and Angelo Mathews. India won the Test match by an innings and 53 runs and with that the series. Saha had a very good Test match behind the stumps and also contributed with the bat in hand as India piled on the runs in the first innings of the Test match. Ravichandran Ashwin picked up a five-wicket haul in the first innings while Ravindra Jadeja returned with a five-for in the second innings of the Test match on a pitch that was assisting the spinners. 
Keeping on pitches that offer turn and bounce makes the job of a stumper challenging but for Saha it becomes more enjoyable when Jadeja and Ashwin bowl on such wickets. "I enjoy keeping to Ashwin-Jadeja on such wickets. If a lot of balls come to the keeper it is good, otherwise we only get 10-12 balls all day coming to us. If you get more balls coming to you then you are always more focussed," Saha said at a press conference.
"If you have to adjust to the bounce you have to get up a little early and it went well. It is a basic. I have been seeing and learning this from childhood that you have to get up with the bounce of the ball. But on this track, there was more bounce so I changed a bit to get up a fraction earlier.
"The wicket had some spots where the ball was getting more bounce, almost like a bouncer off spinners as well. I was getting up early for the bounce but pacers weren't bouncing it as much. Hardik or Shami, they were using slower balls and cutters, so I was standing up so that edge could carry but they didn't come apart from that inner edge off Kusal Mendis. We have to make such adjustments. We work and prepare differently with R Sridhar for such pitches," he explained.
Saha pulled off two stunning catches, one to dismiss Kusal Mendis and the other to get rid of Angelo Mathews. However, he also outlined which other catches he considers his best efforts in Test cricket.
"First when Mendis got the inner edge I thought he will be bowled, the ball came in but hit the pad and lobbed up. The pace was slow so I got more time to get to the ball and I could dive because of that time based on my assumption.
"It was a good wicket. It helped increase my confidence on a tough wicket. The Mathews' catch just stuck. I was lucky. It could have gone over Ajinkya Rahane but I was lucky it got stuck," said Saha, with a laugh.
"Steve O'Keefe in Pune (2015), AB de Villers in Bangalore (2015), and Mathew Wade in Bangalore (2017), I think they are my best catches in Test cricket," he added.
In the second Test, Saha also contributed 67 runs and put on partnerships with Ashwin, Jadeja and Hardik Pandya, allowing India to score 622/9d.
"Team management sets the batting order, whether no. 6 or 7, whatever they decide we have to apply ourselves accordingly. They see who can bat better with the lower order and adapt and they want to extend the batting line up also by sending Ashwin ahead and holding me back.
"He is consistently making runs and taking wickets, so individual preferences don't count. Team is always first. Whether I bat at 6, 7 or 8 it doesn't matter, if the ball is to be hit I will hit it. But we have to take the situation into consideration," said the keeper-batsman.
Talking about DRS, Saha said, "Virat has always said that whoever is close to the wicket should give input. And bowlers' individual view too - do the bowlers think the batsman is out or not, 100 percent sure or not, how much confident is the bowler and the fielders around."
"So after we tell him all this, he decides and takes the final decision. Sometimes, I have said yes but Virat has not taken DRS and it has also happened that I have said no but he has taken the review. So plus-minus happens but we decide on DRS as a team. But afterwards Virat doesn't say why did you take the DRS or did not take DRS."
(With PTI Inputs)