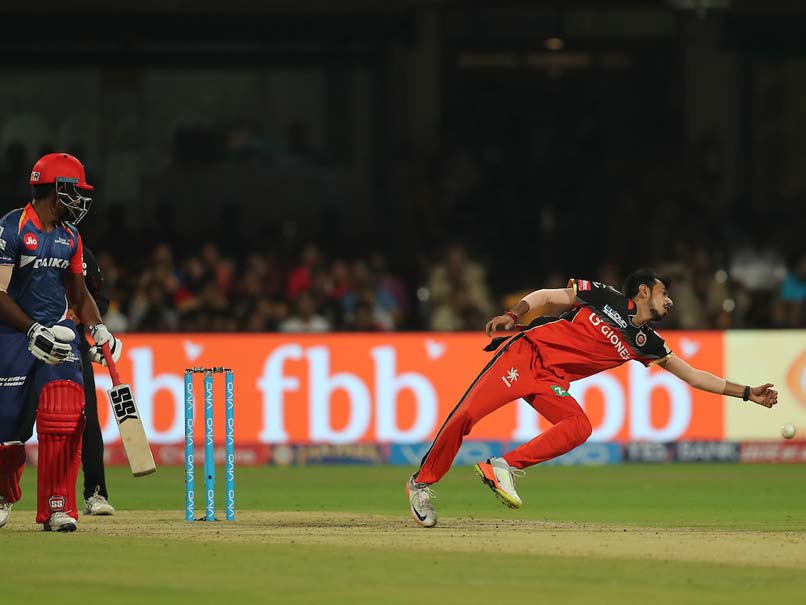 RCB finished at the bottom of the table with just seven points from 14 games
© BCCI
Royal Challengers Bangalore (RCB), in spite of boasting star names like Virat Kohli, AB de Villiers and Chris Gayle, ended up at the bottom of the Indian Premier League Season 10. The pathetic performance led to a lot of dismay among the RCB supporters and surprise all around the cricketing fraternity. Many fingers were raised towards the batting stars - Kohli, Gayle and De Villiers - for the lacklustre show of the outfit.
But, RCB's young spinner Yuzvendra Chahal feels that the big players shouldn't be blamed for team's dismal show.
"Why should they be blamed? They are the world class players. These three took RCB to the final last season. If you see their records, that says it all. They are the best in the world. All I want to say is, it was a bad season for us. We will come back hard next season," Chahal told NDTV in an exclusive interview.
"Our batting didn't click. Last year we made it to the final because of our batting. This time, our batting didn't click so the performance dipped badly. Our bowling and fielding departments were really good," Chahal said.
RCB managed just three wins in 14 matches in the tournament. Kohli and boys got the better of Delhi Daredevils by 10 runs to end their forgettable campaign on a positive note.
Despite the win, RCB finished at the bottom of the table with just seven points from 14 games.
"You can't predict anything in T20s. RCB have done really well in the last season. We made it to the final last year," the leg-spinner said.
Chahal also said how Kohli motivated players after they failed to make it to the Play-offs.
"We were all disappointed on not making to the Play-offs. But, our captain Virat came to everyone's rooms, motivated us and asked to give our best in the remaining matches. He asked us to play for our fans and pride. We are proud that we have a captain like him," Chahal, who claimed 14 wickets in 13 matches, said.
The Indian leg-spinner bowled the spell of his lifetime to help India secure a 75-run victory over England in the third T20 International late last year and helped India clinch the three-match series 2-1.
Chahal, who was named 'Man of the Match' and 'Man of the Series' for his spectacular show, ended the match with figures of 6/25. He became the first Indian bowler to pick up a 5-wicket haul in T20Is.
Despite two impressive IPL seasons and a T20I series against England, Chahal failed to grab a place for the ICC Champions Trophy, starting on June 1.
"Honestly, I didn't expect my call-up. I was just playing my game and will continue giving my best. Rest will be taken care by selectors. If they think, I am good enough, they will take me in. Champions Trophy is a very big stage and there will be lot more opportunities for me in the coming future," Chahal said.
Asked if he will bring any variation in his bowling, the 23-year-old said: "I have some tricks in my mind and would like to first try them out in the practice sessions."
All the players will be up for auction next year and Chahal was clear about his preference.
"I will stick with Virat Kohli and RCB," he signed off by saying.