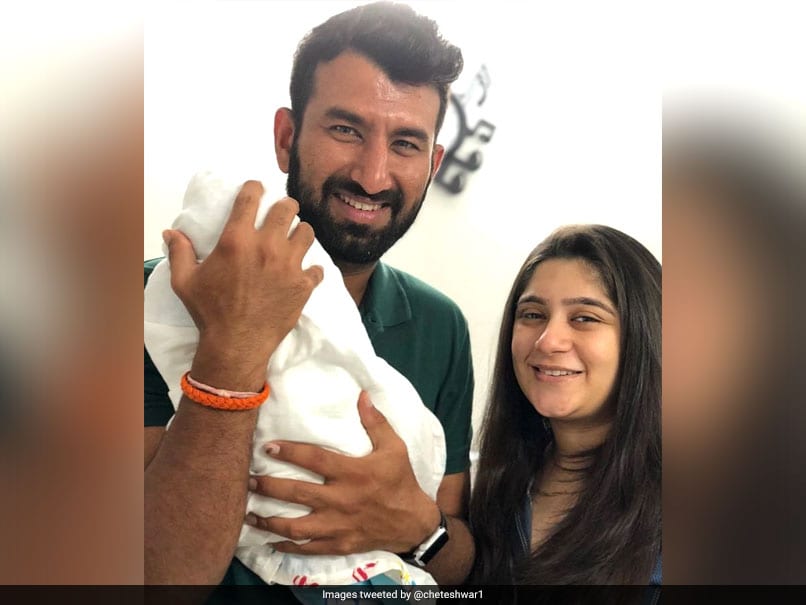 Chesteshwar Pujara took to Twitter to announce the birth of his daughter.
© Twitter
India's star Test batsman Cheteshwar Pujara and wife Puja were blessed with a baby girl on Friday. Sharing the news, Pujara took to Twitter and uploaded a family picture and captioned it, "Welcome lil one. Excited and super happy for the new roles in our lives. We made a wish and she came true!" Pujara, who went unsold in the Indian Premier League (IPL) auction 2018, is currently playing in the Vijay Hazare Trophy. His team Saurashtra beat Baroda by three wickets on Thursday to enter the semi-final of the tournament.
Pujara had on January 1 taken to Instagram to break the news that he and his wife were expecting a "little bundle of joy this year".
The right-handed batsman's preparations for India's tour of England will start early as he is all set to play for English county team Yorkshire.
Pujara is returning to Yorkshire for his second stint after turning out in 2015, a County Championship winning year.
Despite a deal for the Rajkot-born right-hander being struck several weeks ago, the club's announcement had been purposely delayed until after the Indian Premier League auction.
In the Vijay Hazare Trophy quarter-final, Avi Barot scored 81 runs while Pujara made 40 runs and Aarpit Vasavada scored 45 runs.
For Baroda, Atit Sheth was the lone successful bowler, scalping three wickets for 38 runs.
Maharashtra will face Karnataka on Saturday and Andhra will take on Saurashtra on Sunday in the semi-finals.