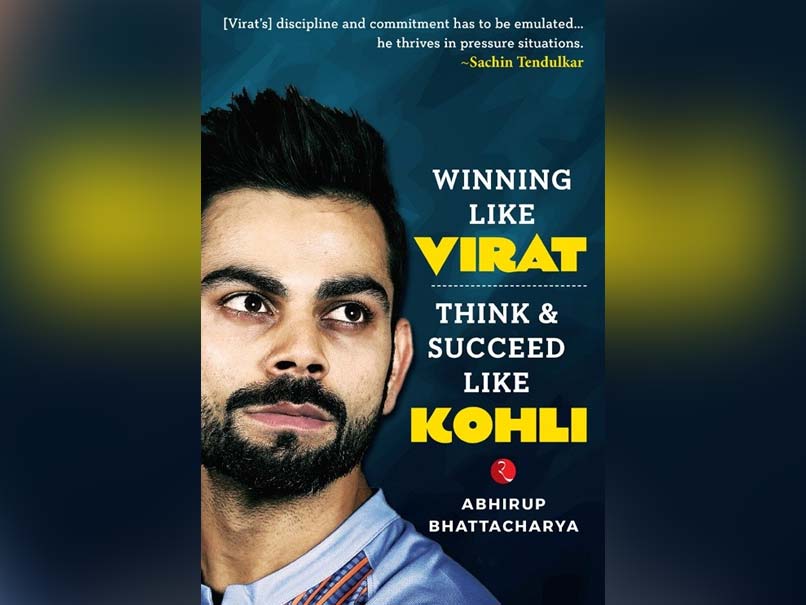 Cover of Abhirup Bhattacharya's book Winning Like Virat: Think And Succeed Like Kohli
If we focus on Virat, the cricketer and the man, we will find some extraordinary traits -- his leadership skills, the ability to keep his cool under pressure, a fearless attitude and a desire to win every game -- that have shaped him as he is today. Off the field too, his maturity in handling the media and business acumen testify to his excellent leadership and man-management skills. There is little doubt that Virat's success is not a matter of luck alone but of relentless hard work and a dedicated goal to succeed.
Virat has already led his team as a captain in two major achievements-winning the Under-19 Cricket World Cup and securing the number one International Cricket Council (ICC) Test ranking. His form in the Indian Premier League (IPL) too has been outstanding where he had scored nearly a thousand runs in the ninth edition of the IPL in 2016. His form overseas has been even better. He makes batting seem extremely simple when others find it difficult. Just like bowlers used to fear Sachin Tendulkar's batting, Virat, too, instils fear in the minds of the opposition bowlers. Virat's cricketing exploits can also be compared with a chief executive officer (CEO) who is trying to make a difference in his company.
It is often seen that legends are not born with a silver spoon in their mouth but they are generally the ones who pave way in the face of adversity. The case of Virat Kohli is not different. Virat's family had little or no link with cricket. However, guidance from his father and an able coach in the form of Rajkumar Sharma probably shaped the career of arguably the best batsman in the current era.
Amidst the noise of the sixes and fours and the whistles from the crowd, this gladiator proves that if there is a CEO of cricket, he is rightfully the one. Now imagine the trading floor and people calling the buy and sell discussions on the floor. The CEO looks intensely at the stock pulse of his/ her company and tries to decide whether he/she has made the right decision.
While every professional aims to be a CEO, not everyone quite possesses the skill sets required to take the tough decisions needed even if it makes one unpopular. Jack Welch, the legendary former CEO of GE, totally transformed the company with clear decision making and his single-point agenda. He wanted GE to be present only in those businesses where it was either the top one or two in the market. It is such clear thinking that makes all the difference. Are the challenges facing Virat Kohli any less than that of a CEO? The way a CEO has to face the shareholders, Virat has to bear the expectations of the spectators and a cricket-fanatic nation of 1.3 billion people. A CEO is answerable for his/her decisions; so is Virat for his decisions both on and off the field.
Every professional needs to earn the respect of his/her team members as that plays a pivotal role in gaining the trust of the people he/she works with. You must always remember- whether you are on a sports ground or on the office floor- that you have to earn the respect of your peers as well as opponents. Why do CEOs like Steve Jobs revered so much? It is largely because of the actions they took before emerging as the CEO of the firm. Steve, for instance, being a co-founder of the company, started it from scratch and progressively built it as one of the largest technology giants in history. Even after he got fired from his firm, he ended up building two other companies (Pixar and NeXT) before returning to Apple to create iPhones, iPads and IPods. Jobs made only those products which led Apple into transforming the industry.
In a similar fashion, Virat too started from scratch by performing consistently in under-15, under-19 and domestic circles before attaining phenomenal success in the international arena as a player and now as the captain. His work ethics and dedication earn him the respect from his fellow teammates which makes it easier for him to implement the right strategy in an effective manner.
Ever since assuming the captaincy in Test cricket, Virat has been quite methodical in his approach towards both his game and his style. If we consider the move to have Ravichandran Ashwin bowl early as a strike bowler or backing youngsters such as K.L. Rahul or Karun Nair, it is small strategic moves like these that set Virat apart from the rest.
It is important to think clearly to produce results. Virat focuses his entire game plan on factors that he can control. For instance, how an opposition player will bat or bowl is completely beyond his control but he can definitely have his strategy ready according to the opposition's strengths and weaknesses.
Cricket as a game involves real-time action. In such a scenario, the plan that has been created in the dressing room may not get executed at all while on the field. It is extremely important to understand that after a delivery is bowled it takes just a fraction of a second for it to either fetch a wicket or get dispatched for a six. Nevertheless, Virat takes the lead by constantly reviewing his decision and changing his game accordingly.
Excerpted with permission of Rupa Publications India from Winning like Virat: Think and Succeed like Kohli by Abhirup Bhattacharya available in bookstores and online.