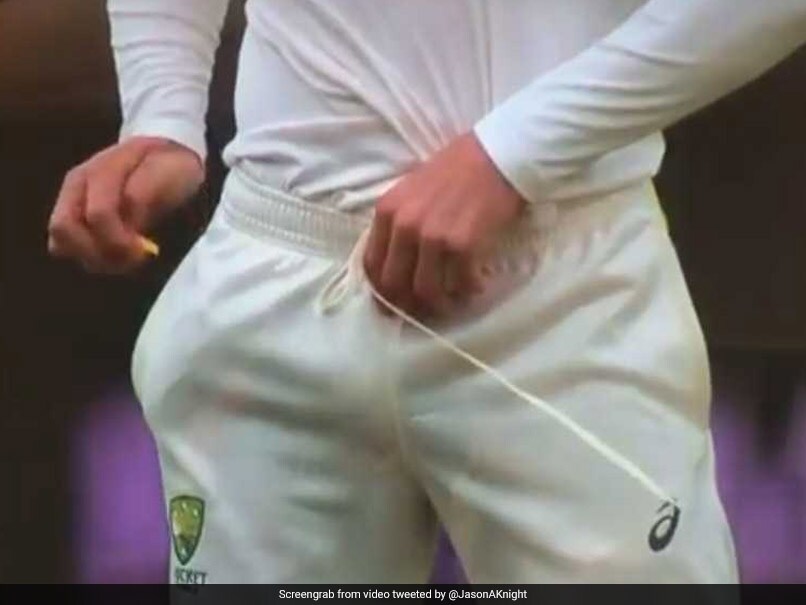 Cameron Bancroft was seen rubbing his hands over the ball during the 3rd Test against SA
© Twitter
Former Pakistan bowler Waqar Younis on Saturday said that reverse swing could be achieved without cheating. Regarded widely as one of international cricket's most destructive new-ball bowlers and one of the greatest exponents of both conventional and reverse swing, Waqar said, "Of course, reverse swing can be achieved without cheating. Nowadays most of the bowlers do that and get wickets and help their teams win."
Waqar's comments come days after the ball-tampering scandal came to the fore which saw Australian cricketers Steve Smith, David Warner and Cameron Bancroft being banned.
Smith had to step down as Australia captain and Warner as vice-captain after they orchestrated ball-tampering through batsman Cameron Bancroft in the Cape Town Test against South Africa last week.
Bancroft was found to have used a piece of sandpaper in an attempt to alter the condition of the ball while on the field to create swing for Australia's bowlers and deceive the South African batsmen.
Cricket Australia came down hard, handing a one-year ban each to Smith and Warner and nine months to Bancroft for sullying the country's sporting image.
Waqar also stressed on the need for the usage of only one brand of cricket ball in international cricket, saying it would lead to a fairer contest.
"Why do we use different brand of balls in different countries?" Waqar asked. "In my opinion the Duke ball is the best and the SG comes close to it. They are the best balls for swing so in order to have uniformity and better swing these balls should be used everywhere. This will help bowlers and this will also produce better batsmen. We should solve the problem and not indulge in the blame game", he added.
Another former Pakistan fast bowler Sarfraz Nawaz, who was widely regarded as a pioneer of reverse swing, refused to accept the implication that the skill requires ball-tampering.
"This is ridiculous to say reverse swing is cheating," Sarfraz told news agency AFP. "You can achieve reverse swing without tampering with the ball. 
"There is a conventional swing which is done with the new ball and then there is reverse swing which is achieved with an old ball and it has been proved in laboratories that reverse swing is a scientific phenomenon", he added.   
Sarfraz took 177 wickets in 55 Tests, including an amazing nine for 86 against Australia at Melbourne in 1979 that included a spell of seven wickets for a mere one run in 33 balls.
"When I passed the art to Imran Khan he developed it and then taught Wasim Akram and Waqar Younis, and in those times everyone called it cheating but when the Englishmen started to reverse swing it became an art," said Sarfraz.
"It was and will remain an art, but resorting to tampering is cheating and that was what Australians did to beat South Africa and were deservedly punished.
"Conventional swing is simple -- if the seam is angled toward the slip fielders it will swing away from the right-handed batsman, and if the seam is angled towards the leg side it will swing into the batsman," explained Sarfraz. "Reverse swing is totally opposite."
Sarfraz passed the art to another former Pakistan's legendary bowler Imran, who achieved more success than his master but also confessed to ball-tampering by using a bottle top to roughen one side of the ball. 
Asked in a 1994 television interview whether he would have got 362 Test wickets had he not tampered with the ball, Imran replied, "Yes, it's a misconception that whoever scratches the ball can get wickets. 
"The whole Sussex team knew I could reverse swing and I would swing at one end while other bowlers could not swing it," said Imran, who played for the English county.
(With AFP Inputs)