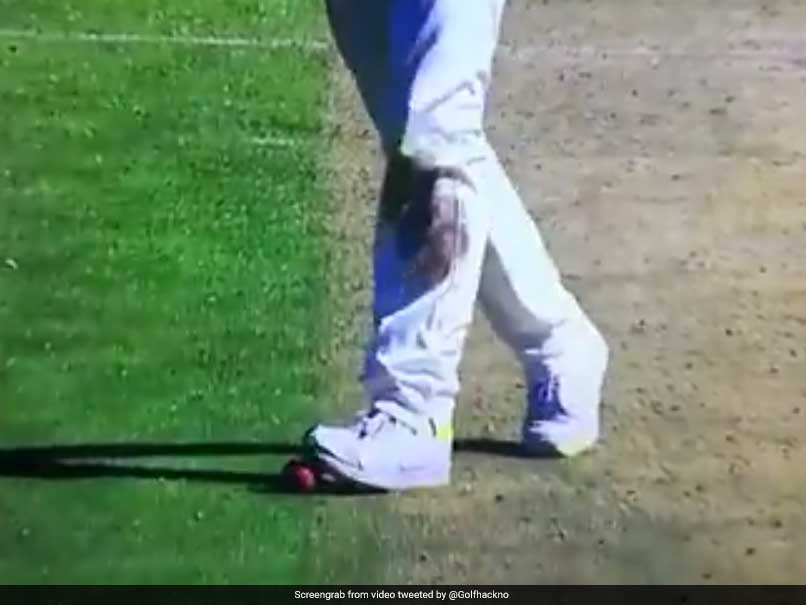 Pat Cummins is Australia fast bowler
© Screengrab
The ball-tampering saga doesn't seem to end as a new video has surfaced on Twitter where Australian fast bowler Pat Cummins can be seen stopping the ball and then stepping on it with the spikes under his boot. The video is from the first day of the third Test between Australia and South Africa when Proteas batsman Dean Elgar played the ball back towards Cummins during the 53rd over of the first innings. The video shows that the bowler's spikes remained on the ball for a few seconds before he got rid of it. The incident was not taken seriously earlier, but former South Africa captain Graeme Smith did say "accidentally on purpose" during the commentary.
#SAvAUS Pat Cummins could be in trouble here. Stands on the ball "accidentally on purpose" as @GraemeSmith49 points out pic.twitter.com/FDLa6joXG8

— Michael Sherman (@Golfhackno1) March 22, 2018
In fact, on-field umpires Richard Illingworth and Nigel Llong did inspect the ball and allowed play to continue. The incident raised eyebrows in the press box too and questions were asked during the press conference after day's play.
"It was a mistake. I looked straight back and the umpire (Richard Illingworth) started to giggle. It was very unintentional," said Cummins.
Two days later, Australia's opening batsman Cameron Bancroft was caught on camera tampering the ball with sandpaper and later in the press conference, captain Steve Smith accepted the mistake and said that the leadership group had planned about it. The trio of Smith, Bancroft and David Warner were later banned and since then the developments have shook the Australian cricket.
The 28-year-old Smith broke down while addressing the media on Thursday, accepting full responsibility for the controversy that has resulted in a one-year ban for both him and his deputy David Warner and a nine-month ban for Cameron Bancroft.