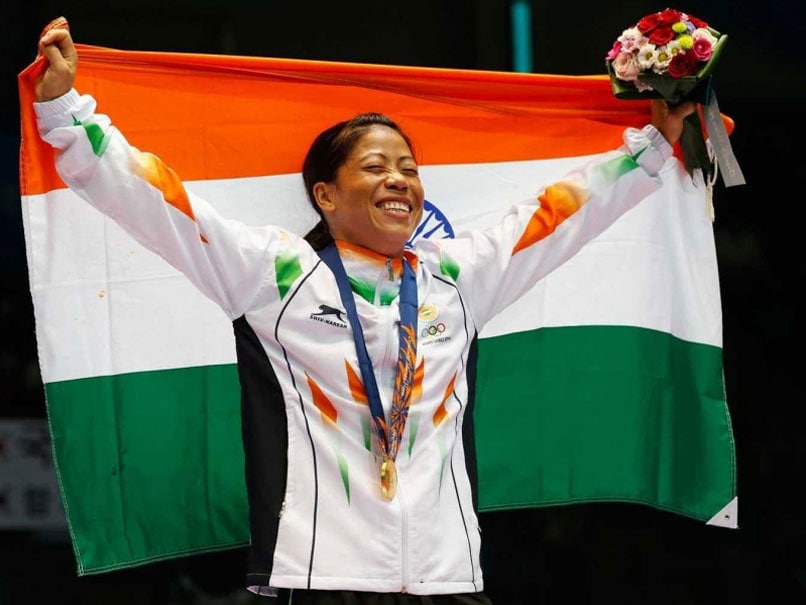 Mary Kom won a 5th Asian gold at the continental championship earlier in the week.
© PTI
Young Bollywood actress Zaira Wasim of Dangal fame on Thursday said Mary Kom is her favourite sportswoman and would like to play her on silver screen. Zaira's comment came after Mary Kom notched up her fifth gold medal at the Asian Women's Boxing Championships in the 48kg category. The five-time world champion and Olympic bronze-medallist defeated North Korea's Kim Hyang Mi in a unanimous 5-0 verdict to add another accolade to her already crowded cabinet.
"I am in love with Mary Kom ever since I have been involved with the Rotary Club. She is my favourite," Zaira said.
Asked if she would prefer to play Kom's role on silver screen, she said "If it is happening, I would love to do it."
However, Bollywood actress Priyanka Chopra has already played the role of the Olympic medallist in the movie 'Mary Kom'. The movie was released in 2014.
The Dangal actress also said Virat Kohli is her favourite cricketer.
"I am in awe of Virat Kohli, and who is not?," she said.
This was Mary's first international gold medal since the 2014 Asian Games and her first medal in over a year.
In Hyang Mi, the 35-year-old Mary Kom found her most aggressive opponent so far in the tournament but she was up for the task.
Replying to a query, Zaira said: "I dont plan my future. I believe in destiny. I have realised in last three years, that whatever you plan, it does not materialise because destiny has its own plans," she said.
However, studies is her priority for now, Zaira said.
(With inputs from PTI)