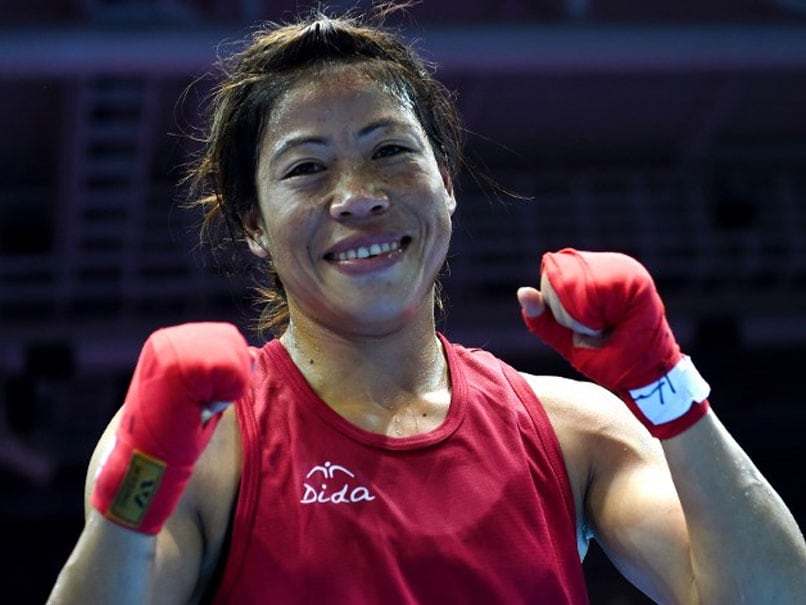 Mary Kom defeated North Korea's Kim Hyang Mi in a fiercely-contested battle.
© AFP
The redoubtable MC Mary Kom (48kg) notched up her fifth gold medal at the Asian Women's Boxing Championships, winning a fiercely-contested summit clash on Wednesday. Up against North Korea's Kim Hyang Mi, the five-time world champion and Olympic bronze-medallist Indian prevailed in a unanimous 5-0 verdict to add another accolade to her already crowded cabinet. This is Mary Kom's first international gold medal since the 2014 Asian Games and her first medal in over a year. In Hyang Mi, the 35-year-old Mary Kom found her most aggressive opponent so far in the tournament but she was up for the task.
Unlike her previous bouts, in which the opening three minutes were invariably spent measuring up the rival, both the boxers were lunging at each other within seconds of the bell going off.
Matched quite evenly with speed and precision, Mary Kom scored for her ringcraft, which included some fine footwork to outpace Hyang Mi at crucial junctures.
There was hardly any power-hitting on display but the contest was made engaging by the boxers' fast-paced exchange of punches.
The North Korean was relentless with her left hooks but the Manipuri did not allow herself to be rattled and scored on the counter-attack with her combination blows.
Earlier, the Indian remained on course for a fifth gold medal at the Asian Championships after she advanced to the final of the event on Tuesday being held in Ho Chi Minh City, Vietnam. Mary Kom defeated Japan's Tsubasa Komura in a unanimous 5-0 verdict to make the summit clash for the fifth time in her sixth appearance at the event.
Before that, Kom stormed into the semi-finals of the Asian women's Boxing Championships on Saturday. Kom defeated Chinese Taipei's Meng-Chieh Pin in a split verdict in the quarterfinals to make the last four stage of the light flyweight (48kg) category.
(With PTI Inputs)