Story Progress
Back to home
World Series Boxing: Shiva Thapa, Vikas Krishan Among Seven Indians in Fray
Shiva Thapa has prior experience of competing in the World Series of Boxing, while Vikas Krishan has been active in AIBA Professional Boxing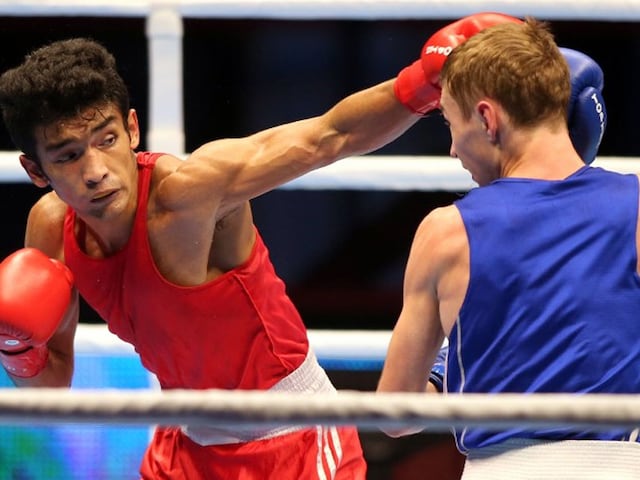 Shiva Thapa (L) is among the seven Indian boxers to be up for auction in the WSB.
© AFP
Highlights
Seven Indian boxers will be up for auction at the World Series of Boxing

Shiva Thapa and Vikas Krishan are among the seven boxers in fray

Shiva Thapa has previously competed in the WSB
Shiva Thapa, a World Championships bronze medallist, and Asian Games gold medallist Vikas Krishan are among list of seven Indian boxers set to go under the hammer for the draft pick of AIBA's semi-professional World Series of Boxing 2017 edition.
The other five boxers in the fray are Manoj Kumar, a former Commonwealth Games gold medallist, Sumit Sangwan, Mandeep Jangra, Madan Lal and Gaurav Bidhuri. Bidhuri has been India's best performing boxer in WSB.
Of these seven boxers, Shiva Thapa, Gaurav Bidhuri and Sumit Sangwan have previously competed in the WSB, while Vikas Krishan has competed in AIBA Professional Boxing (APB).
Vikas (75kg), in fact, is currently in Switzerland to receive the Best Boxer award for 2016 during the AIBA's 70th anniversary celebrations.
"This year seven Indian boxers will be up for auction. Shiva Thapa, Manoj Kumar, Gaurav Bidhuri, Sumit Sangwan, Vikas Krishan, Mandeep Jangra, Madan Lal," Boxing Federation of India President Ajay Singh, who is currently in Switzerland to attend the AIBA's annual congress, told PTI.
Shiva and Manoj, on the other hand, were recently crowned national champions in Guwahati, their first titles in new weight categories after both of them decided to jump divisions to 60kg and 69kg respectively.
"I am glad to be finalised for the auctions. Hopefully, I would be picked. I look forward to a great start next year," Shiva, who is currently nursing a deep gash on his forehead sustained during the Nationals, said.
"The idea is to keep getting competitive fights to become a tougher boxer," added Manoj, who would be trying his luck in WSB, which gets underway from February 3 with 12 teams in 3 groups, for the first time.
The 23-year-old Shiva had competed for USA Knockouts in the 2014 edition of WSB along with Sumit but fought only a couple of bouts. Gaurav, on the other hand, has participated in three editions of the event for different franchises, winning four and losing four.
"I have completely recovered from my injuries and raring to go now. Finger crossed, I hope to be in good shape for WSB," Sumit, who had to pull out of the nationals earlier this month due to a cut above his eye, said.
Mandeep had also been laid low by a wrist injury but has recovered from it now.
Meanwhile, BFI chief Ajay Singh said he discussed the possibility of bringing a WSB franchise to India next year with the event's top brass. India had a franchise in WSB till 2012 before administrative turmoil and financial crunch resulted in the franchise owners backing out.
Singh said the idea of India hosting the AIBA Youth World Championship for women was also put forth by him.
"We met the Managing Director of WSB to discuss how to include an Indian franchise in WSB next year. We also discussed possibility of hosting the World Championship for Women (Youth) in India," he said.
Asked about the key takeaways for India from the AIBA Extraordinary Executive Committee meeting yesterday, Singh said, "Indian delegation had a long meeting with Dr. C.K. Wu, AIBA President. He offered full support and congratulated BFI on its speed and efficiency.
Promoted
"Also, they have offered to help set up boxing academies in India, run a train-the-trainer program for coaches and RJs (Referees and Judges)," he added.
(With inputs from PTI)
Topics mentioned in this article