Story Progress
Back to home
Vijender Singh vs Ernest Amuzu, Highlights: Indian Star Registers 10th Straight Win
Vijender Singh vs Ernest Amuzu Highlights: Vijender Singh beats Ghana's Ernest Amuzu to register 10th consecutive win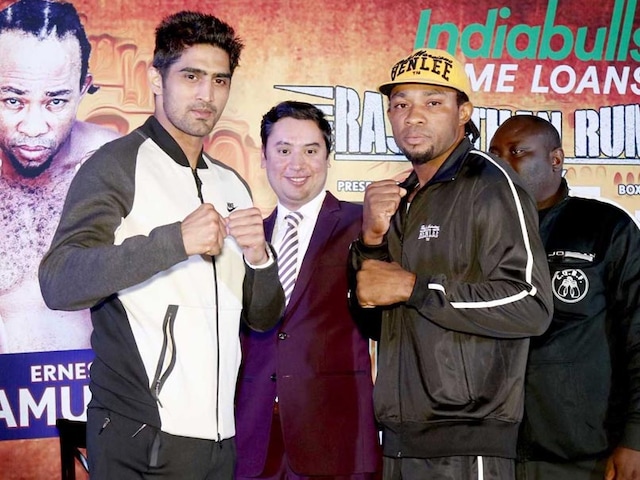 Vijender Singh beats Ghana's Ernest Amuzu to register 10th consecutive win
© NDTV
Vijender Singh beat Ernest Amuzu of Ghana at Sawai Man Singh Stadium to maintain his unbeaten streak. He stretched his streak ten wins out of ten. With this win, he defended his WBO Asia Pacific and WBO Oriental Super Middleweight successfully. A good offensive show by Vijender earned him the points in this match. Before this match, the Indian had nine wins under his belt with seven of them being won by knockouts (KO) and two by unanimous decision.
He has played 40 rounds in his nine fights of pro career so far. In his last three title fights held in India, Vijender has won two KOs and a unanimous decision. Before winning against Maimaitiali, Vijender had retained his WBO Asia Pacific title against Francis Cheka of Tanzania and had also won his maiden title last year in July after defeating Kerry Hope of Australia. Commenting on his double title defence, Vijender Singh he is fully prepared physically and mentally to defend his titles and want to end this year on a winning note in front of his countrymen.
Highlights of the bout between Vijender Singh vs Ernest Amuzu straight from Sawai Man Singh Stadium, Jaipur
22:04 IST- Thank you for staying with us. 
22:02 IST: Vijender Singh is the winner. He maintains his unbeaten streak and is now 10 matches unbeaten. Unanimous points decision. 
21:58 IST- Round 10
The last round begins now. Vijender is already way ahead in points. Amazu is trying his best to score some points. The crowd is cheering Vijender. They are sensing a win for him. This has been a one-way traffic for Vijender. Vijender's defensive technique has been superb. Amazu fought back but the ten rounds are over. A good show by both the fighters.
21:55 IST- Round 9
Then ninth round begins. Amazu has done little attacking. He has only been defensive throughout. This is his 26th bout. A low blow by Vijender. He is warned by the referee. The crowd is enjoying every second of this bout. Vijender has clearly outfoxed him. Two titles at stake for Vijender. All Asian judges.
21:50 IST- Round 8
Both look cautious now. Amazu is on the backfoot now. Vijender wants to finish the round it seems. Vijender is content with his moves. Both keeping a low guard in this round. Amazu in a spot of bother. Amazu has been able to weather the storm this round. Two rounds to go.
21:46 IST- Round 7
Vijender still on top. He is dictating the pace and tempo of the bout. He is using his long range to his advantage. Amazu is unable to land a telling punch. Another punch for Amazu. Vijender leading from the front. Vijender is a cool customer. Amazu has been defending the whole match. This round was way too defensive. Vijender is almost there now, its only a matter of time. This is definitely Vijender's round. 
21:42 IST- Round 6
Vijender has got the left jab working well for him. Amuzu is on the backfoot now. Vijender now senses the end. Amazu is hanging on now. Vijender has taken the initiative now. Vijender has done enough to win this round now. A couple of big shots for him will go in his favour. Vijender has a wry smile on his face, he can sense a win.
21:37 IST- Round 5
Vijender is dictating the pace but not the tempo. Amuzu goes to the right to deal some blows. Three combinations from Vijender. The match is getting aggressive now. Midway to the fifth round, both boxers exchanging blows. That left jab is causing problems to Amuzu. Vijender is bleeding from a cut on his head. Another great combination by Vijender. Interesting fifth round. Vijender was top in the last four rounds. It was an all-action round.
21:33 IST- Round 4
Vijender Singh looks on the offensive now. Vijender is leading with his legs. Vijender is 2008 Olympics bronze medal winner. A lovely combination of punches on Amuzu for Vijender. These will surely win him some points. It appears Vijender has the edge over his opponent here. Amuzu is trying his best to avoid blows from Vijender. So far so good for Vijender.  
21:29 IST- Round 3
Amuzu may be 34 years old but he has shown glimpses of his experience. Vijender is seizing the initiative. Both boxers are giving each other's a lot of respect. Vijender is working his left jab, Vijender has dealt some good blows but Amuzu has evaded them well. Amuzu is trying to come back in this third round.
21:21 IST- Round 2
Amuzu proving a tough nut to crack. Vijender is trying to find out the weaknesses. Vijender had the right uppercut hit on Amuzu's face. Vijender is having a better second round. This appears to be a cagey contest. Vijender is looking for openings. Amazu lost his balance for a while but recovered well.
21:19 IST- Round 1
Both look cautious in the first round.  Just a few knocks here and there. A slow start by both of them. Amuzu trying to gain an advantage but Vijender wards off his knocks. A very even first round, nothing separates the two.
21:18 IST- Round 1 begins
21:16 IST- There will be ten rounds in this bout. Ernest Amuzu has never been knocked out in his professional career bouts while Vijender Singh has an unblemished record of 9 wins on the trot
21:13 IST- The main event is about to begin after the national anthems of both India and Ghana
21:11 IST- Vijender Singh enters amid loud cheers from the Jaipur crowds. The knock-out king Vijender Singh enters the ring. The roars from the crowd shows his popularity in Jaipur
21:10 IST- Ernest Amuzu walks towards the ring. He is in the blue corner of the ring. 
21:07 IST- This is Vijender's tenth professional bout. He is unbeaten in the last 9 matches.
21:02 IST- A huge crowd has gathered to cheer for Vijender. The epic clash is going to begin soon
21:00 IST - Time for the big match Vijender Singh vs Ernest Amuzu
20:20 IST: Split decision goes in favour of Amandeep after the end of four rounds
20:08 IST- Manoj Kumar takes on Amandeep Singh in a Bantamweight classification bout (55.5 kg)
19:50 IST- In other match, Kuldeep Dhanda has won and by unanimous decision. Fateh Singh gave a tough fight but eventually lost.
19:10 IST: Rajasthan Rumble is here. Vijender Singh will take on Ernest Amuzu in the fight of the night. There will be six other fights too.
Promoted
19:05 IST - Hello and welcome to the Live Updates of the much-anticipated fight night
The 34-year-old Amuzu, on the other hand, is confident of winning his first fight in Asia. The West African Boxing Union Middleweight champion and Ghanaian middleweight champion holds a record of 23 wins with 21 knockouts and 2 loss out of total 25 fights he has played so far in his career. Amuzu has also participated in the Commonwealth Games 2002, All Africa Games in 2004 and two African Championships in 2003 and 2005.
Topics mentioned in this article