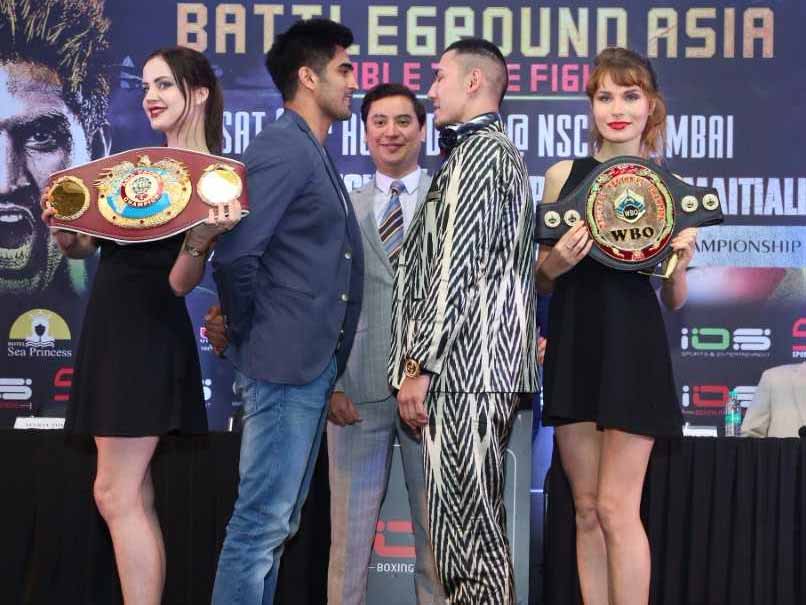 Vijender Singh will take on China's Zulpikar Maimaitiali on August 5 in Mumbai.
© NDTV
WBO Asia Pacific Super Middleweight Champion Vijender Singh will be aiming to continue his undefeated record in pro boxing but standing in his way is China's WBO Oriental Super Middleweight Champion Zulpikar Maimaitiali. The double title fight will take place on August 5 at NSCI, Mumbai. The Chinese boxer has revealed that he is training for 10 hours a day to knock out Vijender and said that the Indian star has "started feeling like a king" and it was time to "get him down onto the ground".
Vijender clinched his first title, in July 2016, against Kerry Hope of Australia, becoming the WBO Asia Pacific Super Middleweight Champion.
Overall, Vijender has fought eight bouts with seven of them being won by knockout. He has 30 rounds under his belt, eight more than his opponent from China.
"I take every bout seriously and try to push myself to the limit every time. Vijender will be one of the rivals that I beat, I know his traits and I am preparing accordingly, I am putting in 10 hours every day into training to make sure Vijender is knocked out in the first 2-3 rounds itself. On 5th August, Vijender will actually face the toughest opponent in his pro boxing career," Maimaitiali said in a press release.
Maimaitiali talked tough and said that Vijender will be "surprised" when he throws punches at him.
"My team has watched all his bouts. At this phase, maybe only myself and my coach should understand the training schedule that have been implemented. Vijender will be surprised when I throw punches at him, he thinks I am a kid, but he has no idea who I am."
"Fighting abroad is not fresh to me and I respect the audiences, hoping they will like our fight. I hope they won't feel bad when their favourite boxer is getting beaten up by me," he added.
India's star boxer is on a dream run after joining the professional circuit and holds a record of seven since his debut. Vijender's next month opponent said that he is confident that he would inflict the first loss on the Olympic bronze medallist.
"Both of us have no loss record since pro debut, both of us have high ratio of KO. As I said, the pressure should be on his side, as it will be too old for him to suffer and recover from a loss, what will be worse is losing from someone as young as me. He is considered the king of boxing in India, so he has started feeling like a king, its time I get him down onto the ground," said Maimaitiali.
Battleground Asia will also feature Olympic quarter-finalist Akhil Kumar and Jitender Kumar along with WBC Asia Welterweight Champion Neeraj Goyat, Kuldeep Dhanda, Pardeep Kharera, and Dharmendra Grewal.