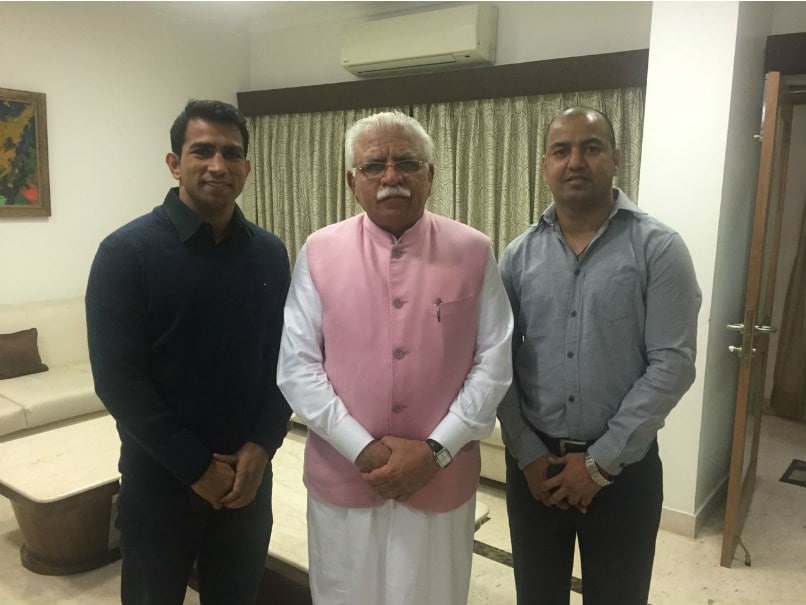 Akhil Kumar and Jitender Kumar met Manohar Lal Khattar on Friday at the Haryana Bhawan in New Delhi.
© IOS
New Delhi:
Their application for permission to enter professional boxing pending with the Haryana Police, Akhil Kumar and Jitender Kumar on Friday met the state's Chief Minister Manohar Lal Khattar to seek his assistance in the matter.
Akhil and Jitender met Khattar on Friday at the Haryana Bhawan in New Delhi.
Both the boxers met with the Chief Minister to seek permission to return to the ring and begin their professional career.
The boxers have already applied for the permission with their department Haryana Police. They met the Director General Police, Haryana Police, KP Singh, November 7 to request him to grant them permission to join professional boxing.
"It was a pleasure meeting the Honourable Chief Minister of Haryana, Shri Manohar Lal Khattar today. We have submitted a request seeking permission for us to turn towards professional boxing," Akhil said after the meeting.
"We are hopeful that our permission will be granted soon, and we will be able to start our pro boxing training. While in the meeting, we also discussed about the future of professional boxing," he added.
The Beijing Olympics quarter-finalists are serving DSPs with Haryana Police, and wish to return to the ring, through professional boxing.
The duo have signed up with Infinity Optimal Solutions (IOS), the promoters of reigning WBO Asia Pacific Super Middleweight champion Vijender Singh.
Vijender is also serving with the Haryana Police and followed the same route for permissions to enter professional boxing.