Story Progress
Back to home
Dubai World Superseries Finals 2017 Highlights: Silver For PV Sindhu After Titanic Contest Against Akane Yamaguchi
PV Sindhu vs Akane Yamaguchi, BWF Superseries Highlights: The 22-year-old shuttler lost to top seed Akane Yamaguchi in a match that lasted one hour and 30 minutes.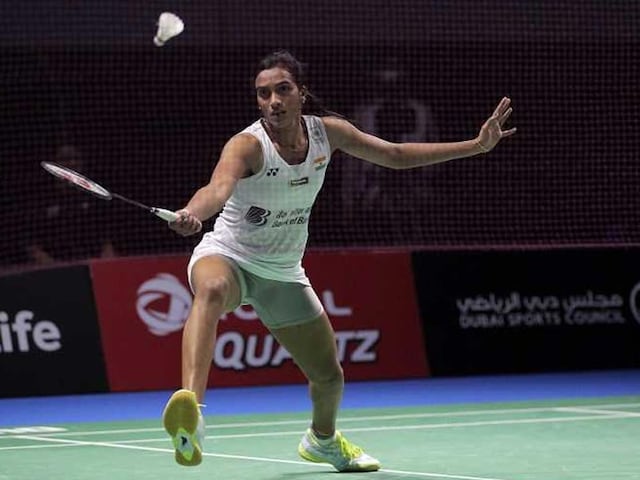 PV Sindhu gets silver after losing to top seed Akane Yamaguchi in summit clash.
© AFP
World No.3 PV Sindhu went down fighting to World No.2 and top seed Akane Yamaguchi in the finals of Dubai World Superseries Finals 2017 on Sunday. In a match that lasted over an hour and 30 minutes Sindhu lost 21-15, 12-21, 19-21 as she was outlasted by her Japanese opponent. Sindhu, in the first game, dominated her opponent and soon went on to win the first game in 24 minutes. But Yamaguchi, who had revenge on her mind, upped her ante and gave Sindhu the fight of her life. The match showcased stamina, energy and agility of both the players. The Indian fought tooth and nail but could not match the stamina that the Japanese showcased. The 22-year-old Indian shuttler now has three silvers and two titles to her name.
Highligts of BWF Superseries Final, Badminton Dubai World Superseries Final
17:20 IST: Thank you for joining us for the live blog.
17:18 IST: And it is done! Japan's Akane Yamaguchi beats India's PV Sindhu in the finals to win the Dubai World Superseries Finals 2017.
17:13 IST: Yamaguchi is turning out to be a difficult roadblock for the India. The game is levelled at 18-18.
17:11 IST: After trailing 15-17, Sindhu comes back in the game and draws level at 17-17.
17:06 IST: Both players are tired as they are going neck and neck.
17:04 IST: What a rally! What a rally! Sindhu picks up three consecutive Yamaguchi smashes with ease and takes a 14-13 lead as Yamaguchi failed to pick up a beautiful drop shot from the India.
17:01 IST: Three consecutive points for the Japanese as she draws level at 13-13.
16:58 IST: Yamaguchi is trying to break Sindhu's momentum but the Indian is no mood to give away the chance to lift the title. The match at this point has crossed the one hour and 15 minutes mark.
16:52 IST: Sindhu is all fired-up now as she leads Akane 11-8 in at mid-break. Can Sindhu get her name etched in history books or will Yamaguchi prove a big obstacle for the India?
16:48 IST: Wonderful drop-shot from the India earns her a two-point lead in the decisive game. Leads 8-6.
16:45 IST: Yamaguchi is building her momentum quite fast now, draws level at 5-5.
16:44 IST: Yamaguchi makes a three-point come back, trails 3-4.
16:41 IST: Sindhu takes a 4-0 lead in the third and final game. The Indian is giving her all in for the title.
16:35 IST: Alright then, Yamaguchi takes the second game 21-15 after dishing out a aggressive game. Third game is on the cards and it seems Sindhu is tired as compared to her Japanese opponent. 
16:33 IST: Yamaguchi now enjoys a huge seven-point lead over the India, leads 19-12. What a coma back from World No.2 player.
16:30 IST: Sindhu is trying hard to comeback in the game after losing a massive five-point advantage but Yamaguchi is making the India fight for every point.
16:28 IST: What a game this is turning out to be. Sindhu trails Yamaguchi 13-11. Both players are giving their best to down the other.
16:24 IST: Sensational comeback from the Japanese as she leads the Indian 11-9 at mid-break of the second game.
16:21 IST: For the first time in the second game, Yamaguchi takes a two-point lead in the second game with the longest rally in the game of 41 shots.
16:20 IST: What a body smash! Akane is finding her mojo back as draws level at 8-8 after trailing in the second game.
16:15 IST: Hard luck! Yamaguchi sets up Sindhu beautifully for a cross-court smash but smashes the shuttle a little wide of the line, Sindhu leads 6-2.
16:12 IST: Five minutes into the second game and Sindhu has already taken a massive five-point lead in the longest rally of the game which comprised of 35 shots. The Indian leads 5-0.
16:10 IST: Sindhu takes the first two points of the second game. Sublime form the Indian is in, leads 2-0.
16:07 IST: Jump and smash! Sindhu takes the first game 21-15 with a powerful cross-court smash. The Indian after the break has been unstoppable and has taken points at will as her opponent couldn't match the reach and agility.
16:04 IST: Smash and smash! Sindhu is running away with the first game with brilliant smashes down the the line, leads 19-13.
16:00 IST: The Japanese is clawing her way back into the game, trails 13-14. However, an unforced error from Yamaguchi gives her a 15-13 lead.
15:59 IST: Placement! Yamaguchi finally gets a point, trails 13-9.
15:56 IST: Sindhu is mixing her shots very well and leads Yamaguchi 11-8 at break. Wonderful play from the Indian. 
15:53 IST: Brilliant defense from the Indian, gets three consecutive points to equal the score at 8-8. The first game is having quite a lot of long rallies.
15:50 IST: Smash! Brilliant comeback from Sindhu, draws level at 5-5 after trailing 3-5.
15:48 IST: Four consecutive points for the Japanese, she leads 4-2.
15:46 IST: Sindhu makes an unforced error to put Yamaguchi on the score-board.
15:44 IST: Sindhu takes the first point of the game, leads 1-0.
15:41 IST: Both players are on the court and are warming up. Will Sindhu beat Yamaguchi yet again?
15:34 IST: Sindhu enjoys a 4-2 advantage in head-to-head meetings against Yamaguchi. Will she extend her lead?
15:30 IST: Sindhu will be looking to become the first Indian to clinch the Dubai Superseries title when she taken on Japan's Akane Yamaguchi.
15:23 IST: We are just minutes away from the summit clash. Stay tuned folks!
15:20 IST: Hello and welcome to the live blog of the DUbai Superseries Finals between PV Sindhu and Akane Yamaguchi.
Meanwhile, Yamaguchi had beaten Ratchanok of Intanon of Thailand 17-21, 21-12, 21-19 in the first semifinals earlier in the day. Despite easily overcoming Yamaguchi in the group-stage, Sindhu admitted her Japanese opponent wil be a different kettle of fish in the final. "I am not expecting an easy match. But I will be ready for a long match and (am) 100% confident. There will not be any easy points where I was leading 11-2, 11-3 like yesterday (vs Yamaguchi on Friday). But I think there will be long rallies and (I'll have to) fight for each point," she said.
Promoted
The 22-year-old shuttler became only the second Indian singles player to reach the final of the year-ending World Superseries Finals following her win over Chen Yufei.
"I definitely want to become the first Indian woman to win the title. I will be playing against Yamaguchi again so it is going to be a different game. Overall, I'm very happy, but it is not over. I have to be prepared for the final," Sindhu added.
Topics mentioned in this article