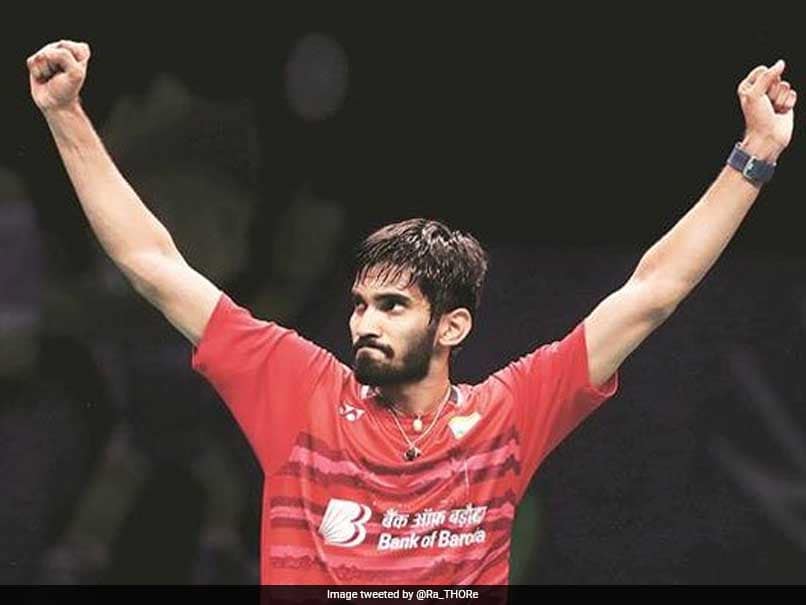 PM Narendra Modi congratulated Kidambi Srikanth for winning Denmark Open
© Twitter
Prime Minister Narendra Modi on Sunday congratulated badminton player Kidambi Srikanth for winning the Denmark Open, saying it had made every Indian proud. "Congratulations @srikidambi! Your remarkable victory at the #DenmarkSSP makes every Indian proud and happy," he tweeted. Srikanth clinched his third Super Series Premier title with a dominating straight-game victory over Korean veteran Lee Hyun II in a lop-sided final of the USD 750,000 Denmark Open in Odense. Playing an opponent 12 years his senior, Srikanth asserted his dominance with a 21-10 21-5 win over 37-year-old Lee in a match that lasted just 25 minutes.
Congratulations @srikidambi! Your remarkable victory at the #DenmarkSSP makes every Indian proud and happy.

— Narendra Modi (@narendramodi) October 22, 2017
Going from strength to strength! ??

Srikanth Kidambi continues his red-hot form in 2017.

This baddie is on ??! pic.twitter.com/p5YFsDy6Gz

— PBL India (@PBLIndiaLive) October 22, 2017
Sports minister Rajyavardhan Singh Rathore and former India cricketer Virender Sehwag too wished Srikanth for a superb show in the finals.
What a day for Indian sports! @srikidambi wins #DenmarkSSP, and with it, his THIRD super series for the year! Well done, champ! Way to go! pic.twitter.com/3sO0pHd1fl

— Rajyavardhan Rathore (@Ra_THORe) October 22, 2017
. @srikidambi Wow ! 3rd Superseries title of the year.
Congratulations Champion !

— Virender Sehwag (@virendersehwag) October 22, 2017
Srikanth registered a comfortable 21-10, 21-5 victory over his opponent Lee Hyun-Il of South Korea to win his third Superseries Premier title. The 37-year-old Lee Hyun couldn't anticipate Srikanth's shots as the match ended in just 25 minutes. The World number 8 Srikanth, who won 5th Superseries title and third this year, overshadowed his opponent with his down the line powerful smashes and deceptive net play.
In the opening game, the duo were tied 4-4, before Srikanth changed gears and used his skills and power to lead 9-5. A return going to the net gave a point to Lee but Srikanth produced a brilliant cross court net dribble to bamboozle his opponent and moved into the break with a healthy 11-6 lead when the Korean went wide.
Lee had no answers to Srikanth's razor-sharp smashes and cross court returns as the Indian led 14-8. Lee also made judgement errors at the baseline and also miscued his strokes as Srikanth extended his advantage to 17-8 with another smash.
The Korean hit two long shots and then sent one at the net to hand over a 20-8 lead to Srikanth.
The Indian made two unforced errors to allow Lee get into doubles figures. But Lee again erred with the length of his return as Srikanth pocketed the first game.
In the second game, Srikanth stepped on the gas and zoomed to a 11-1 lead even as Lee struggled with his strokes, hitting wide and long and often finding the net.
Post mid-game break, Lee produced a steep cross court return, much to the cheer of the sizable crowd who had turned out to watch the finals. The Korean lacked anticipation as Srikanth smashed his way to the title.
(With PTI inputs)