Story Progress
Back to home
PV Sindhu vs Saina Nehwal, India Open 2017 Quarter-Final, Highlights: Sindhu Marches Into Semis
PV Sindhu will face South Korea's Sung Ji Hyun in the semi-final on Saturday.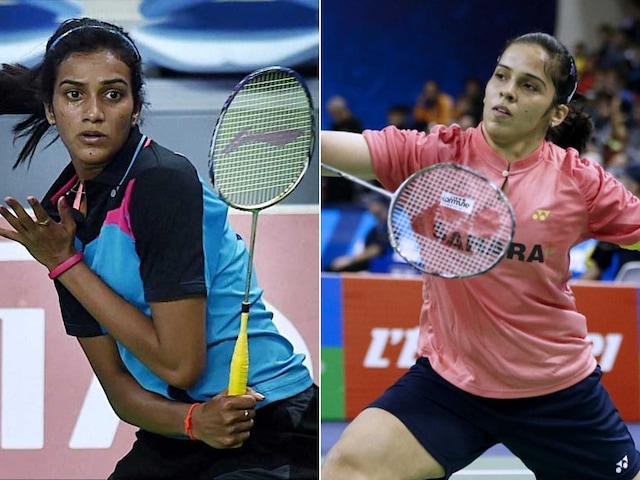 PV Sindhu beat Saina Nehwal to enter the semi-final of India Open 2017.
© NDTV
PV Sindhu marched into the women's singles semi-finals of the India Open Super Series 2017 with a comfortable 21-16, 22-20 win over compatriot Saina Nehwal in the quarter-finals. This was only the second time that the Indian heavyweights clashed at the international level. And after Saina's triumph at the Syed Modi Grand Prix in 2014, Sindhu made it 1-1 in head to head with her win on Friday. The Olympic silver medallist proved why she is the higher-ranked player out of the two with a clinical performance. Saina too her credit put up a valiant fight but lost to the better player on the day. Sindhu will now face South Korea's Sung Ji Hyun, who is seeded second, for a place in the final.
Catch all the highlights of PV Sindhu Vs Saina Nehwal match in India Open 2017 here.
19:05 IST: That's all from us here. Hope you enjoyed our live coverage.
19:03 IST: Saina put up a brave fight but Sindhu was just too good. Sindhu will now face second seeded South Korean shuttler Sung Ji Hyun in the semis. 
19:00 IST: And that's it!! Sindhu wins the game 22-20 and with it the match to march in to the semifinals.
18:59 IST: Match point for Sindhu!
18:58 IST: Game point for Saina but inexcusably she throws it away by netting on serve.
18:57 IST: Sindhu is back on level terms. It's 19-all!! Just brilliant from both players. The last one was a 23-shot rally.
18:56 IST: But Sindhu is refusing to give it up so easily. She trails 18-19.
18:55 IST: Sindhu's backhand straight into the net. Saina just two points away from leveling the match.
18:53 IST: Saina once again stretches her lead. She is 18-15 in front.
18:52 IST: Thunderous smash from Sindhu. She now trails by just one.
18:50 IST: Saina's smash is in overdrive today and she is aiming at Sindhu's body to which the lanky Indian shuttler seems to have no answer.
18:49 IST: An error from Saina. Sindhu trails 12-14. Nail biting stuff from both players.
18:47 IST: Another body smash from Saina and she now leads 13-9.
18:46 IST: Another point for Saina and she now holds a five point lead.
18:44 IST: Too good from Saina! She leads 11-7 at the break in the second game.
18:41 IST: Saina challenges for a point and it's a good challenge, which puts her in a 9-6 lead.
18:40 IST: An absolutely brilliant 24-shot rally ends with a Saina smash in to Sindhu's body. Saina leads 7-5.
18:39 IST: Saina led 6-3 but once again Sindhu fought back and made it 5-6. Both players are giving it their all!
18:38 IST: But Sindhu reduces the arrears to 3-4.
18:37 IST: It's 4-1 now. What a start for Saina!
18:36 IST: Saina takes a 2-1 lead in the second.
18:35 IST: And on to the second!
18:34 IST: That game lasted just 19 minutes.
.@Pvsindhu1 draws first blood. Will Saina make a comeback? Yonex Sunrise #IndiaSS #IndiaMeSmash pic.twitter.com/Yyssr4FRmX

— BAI Media (@BAI_Media) March 31, 2017
18:32 IST: First blood to Sindhu!! The Olympic silver medallist wins the first game 21-16.
18:31 IST: But she may be now. Game point to Sindhu!
18:30 IST: Saina makes it 16-19. She is still not out of it.
18:29 IST: Saina showing a bit of fight but it's Sindhu who still leads 19-14.
18:26 IST: Sindhu has now stretched her lead to 17-11.
18:25 IST: Four consecutive points and Sindhu now leads 15-9.
18:23 IST: Two forceful shots and Sindhu leads 11-9 at the break.
18:20 IST: It's neck and neck between the two with Sindhu edging in to a 9-8 lead.
18:19 IST: Sindhu draws level with a brilliant cross court drop shot.
18:18 IST: Poor judgement from Sindhu and Saina takes a 7-5 lead.
18:17 IST: Sindhu looks fired up!
18:16 IST: Boom!! What a down the line smash from Sindhu, Sain didn't even move. It's tied at 4-4.
18:15 IST: Saina takes the lead for the first time but immediately throws it away with a poor drop shot.
18:14 IST: Two very incisive smashes from Saina to draw level at 2-2.
18:13 IST: Saina will serve first. And the first point goes to Sindhu.
18:12 IST: Here we go!!
The champs take the center stage! pic.twitter.com/EATcL2hmdV

— BAI Media (@BAI_Media) March 31, 2017
18:09 IST: Both players are practicing on the court. In international head to head, the two have met just twice with Saina coming out trumps on that occasion. But that was in 2014 and how things have changed in three years.
18:08 IST: And we are all set for the big match.
18:05 IST: Chris and Gabrielle win the match 16-21, 21-15, 21-15.
17:40 IST: They win the second game 21-15. So we go in to a decider.
17:34 IST: The English team lost the first game 16-21 but have fought back valiantly and lead 15-9 in the second. That means if this goes in to the deciding game, we would have to wait a bit longer for the big clash.
17:26 IST: The mixed doubles match between Thai pair Bodin Isara and Savitree Amitrapai, and English duo Chris Adcock and Gabrielle Adcock is currently taking place on Court 1, which will be followed by the match we are all waiting for.
17:25 IST: Hello and welcome to the live blog of the quarter-final match between Saina Nehwal and PV Sindhu.
Saina, who had struggled past Pornpawee Chochuwong in the final of the Malaysia Masters in January, brushed aside the 19-year-old Thai girl 21-14, 21-12 in a lop-sided women's singles contest on Thursday.
Sindhu then staved off the challenge of Japan's Saena Kawakami 21-16, 23-21 to set up a quarter-final clash against world No. 8 Saina on Friday.
Promoted
"Anything can happen tomorrow in this fast court where attacking is difficult, and also playing a rally game is also tough. It is very difficult to control the shuttles," Saina had said.
Talking about her quarter-final clash against Saina, Sindhu said: "I know everybody would be looking forward to the match (against Saina) and hope the best player wins."
Topics mentioned in this article