Story Progress
Back to home
Denmark Open Final Highlights: Kidambi Srikanth Wins His 3rd Superseries Premier Title
Denmark Open Super Series Final highlights: Kidambi Srikanth won his third Superseries final title of 2017 against Korea's Lee Hyun-Il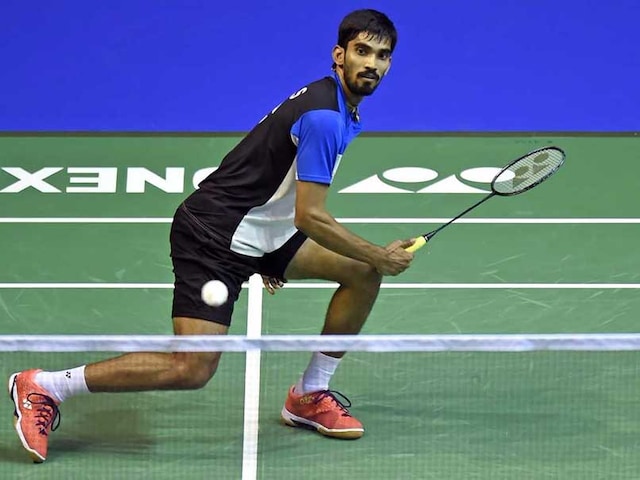 Denmark Open Super Series Final Highlights: Kidambi Srikanth beat Lee Hyun-Il of Korea.
© AFP
India's Kidambi Srikanth won his third Superseries Premier title when he beat Lee Hyun-Il of Korea 21-10, 21-5 in just 25 minutes in the final of Denmark Open Superseries on Sunday. In a one-sided affair, the Indian eased past through his opponent, who did not put up any fight right from the very beginning of the game. Srikanth dominated the match as he maintained a healthy points gap at all stage of  the game. The 25-year-old had won Indonesia Open and Australian Open and also ended runner-up in the Singapore Open this year. 
Catch highlights of the Denmark Open Superseries final match between India's Kidambi Srikanth and Lee Hyun-Il of Korea
21:45 IST: Brilliant net play from Srikanth earns him the championship point. The Indian wins his third Superseries title of the year.
5th Superseries title for Srikanth Kidambi.

His third Superseries title this year. His astounding run of form continues. #DenmarkSSP pic.twitter.com/0ujd58Nto7

— BAI Media (@BAI_Media) October 22, 2017
21:42 IST: Jump and smash, yet again! Pullela Gopichand nods his head in satisfaction as Srikanth is not breaking a sweat to win the match.
21:40 IST: Srikanth's smashes down the line have been on spot!
21:39 IST: Halfway through the second game Srikanth leads 11-1.
21:36 IST: Srikanth with 6-point advantage is being the alpha in the game.
21:35 IST: Jump and smash! Hyun-Il is unable to pick-up Srikanth's deadly smashes down the line. Brilliant play from the 24-year-old.
21:33 IST: Kidambi Srikanth wins opening game 21-10 with ease. The Indian was confident in his approach and read his opponent well.
21:29 IST: Srikanth is running away with the first game as he enjoying a huge 6-point gap over his opponent.
21:28 IST: Srikanth leads Hyun-Il 11-6 at lemon break.
21:24 IST: Unforced error committed by Hyun-Il gives Srikanth a two point lead. Srikanth 6-4 Hyun-Il. 
21:21 IST: Jump and smash! Srikanth takes his first point of the match.
21:19 IST: Game time! Srikanth serves and Lee Hyun-Il takes the first point.
21:18 IST: This is the first meeting between the two players.
21:15 IST: Both players have arrived and are engaging in a practice session.
21:12 IST: We are minutes away from the match. Stay tuned!
21:01 IST: Srikanth will be eyeing his third Superseries premier title.
Promoted
21:00 IST: Hello and welcome to live blog of the final match between Kidambi Srikanth and Lee Hyun-Il
Going into the match, the World No. 8 was an overwhelming favourite against the World No. 15. The Guntur shuttler held his cool as he maintained a healthy point gap at all times of the game. Srikanth, who had defeated world champion and local favourite Viktor Axelsen in the quarter final of the tournament, displayed brilliant skills as not for a single moment did it look like that he was low on confidence. As the second game began, Srikanth was all over his opponent by winning long rallies but trailed 9-11 in the break. Both the players played their heart-out as they remained neck and neck in the second half of the second game. The 27-year-old Hong Kong player tried to halt Srikanth's momentum with smashes towards the end of the game but Srikanth returned the smashes with ease thus breezing past him to win the second game 21-17.
Topics mentioned in this article