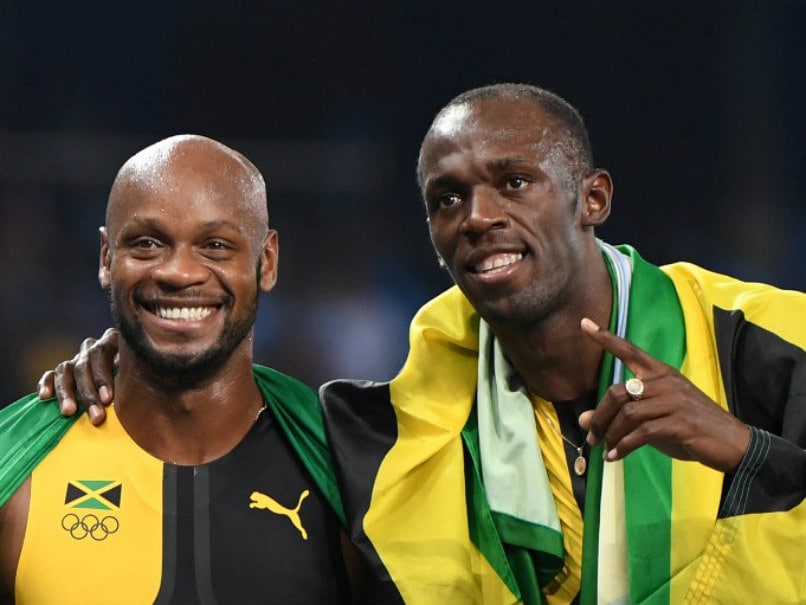 Asafa Powell himself held the 100m world record of 9.72 secs before Usain Bolt took it over.
© AFP
New Delhi:
Out of the two world records held by track superstar Usain Bolt, his 100m dash timing of 9.58 seconds is more likely to be broken than the 200m mark of 19.19secs, his fellow Jamaican sprinter Asafa Powell said on Friday.
Former 100m world record holder Powell, who is in New Delhi to support the Delhi Half Marathon to be run on Sunday, said that it would be very tough to break Bolt's two individual world records.
"It will be very difficult to break these two records. I feel breaking the 9.58secs (in 100m) could be more likely, if at all it happens. 19.19secs in 200m is ridiculous," Powell said, when asked which one of the two sprint records will be easier to break.
Both the existing 100m and 200m world records were set by Bolt on his way to winning gold medals during the 2009 World Athletics Championships in Berlin.
Powell himself held the 100m world record of 9.72 secs before Bolt took it over.
The 33-year-old Powell is known as 'Sub-10 King' for running 100m dash below 10 seconds for 98 times, the maximum by any sprinter and said he would like to notch up his 'century' of sub-10sec in Jamaica.
"It is difficult to say specifically when I will run my 100th sub-10 sec but I hope it comes sooner than later and I would like to do that in my home country of Jamaica," he said.
Surprisingly for a celebrated sprinter like him, Powell has never won an individual medal in the Olympics though he has two gold medals in the 4x100m relay (2008 and 2016). In the Championships, he has won two 100m individual bronze medals (2007 and 2007) besides two gold in 4x100m (2009 and 2015).
Asked if he thinks he will run for Jamaica in the 2020 Tokyo Olympics, he said, "It is difficult to say now that I will run in 2020 Olympics. I have not thought that far. As of now I feel I can plan to run till 2018."
Powell said with the advancement in technology and better coaching techniques, more records will tumble and athletes will run faster in future. But, he said that the most important factor for breaking of records was the raw talent of the athlete.
"Coaching play a big role, so does technology. But, ultimately the raw talent is what matters. 100m dash is a very technical race and you need to be perfect if you want to break records. But an athlete having better raw talent are more likely to break records."