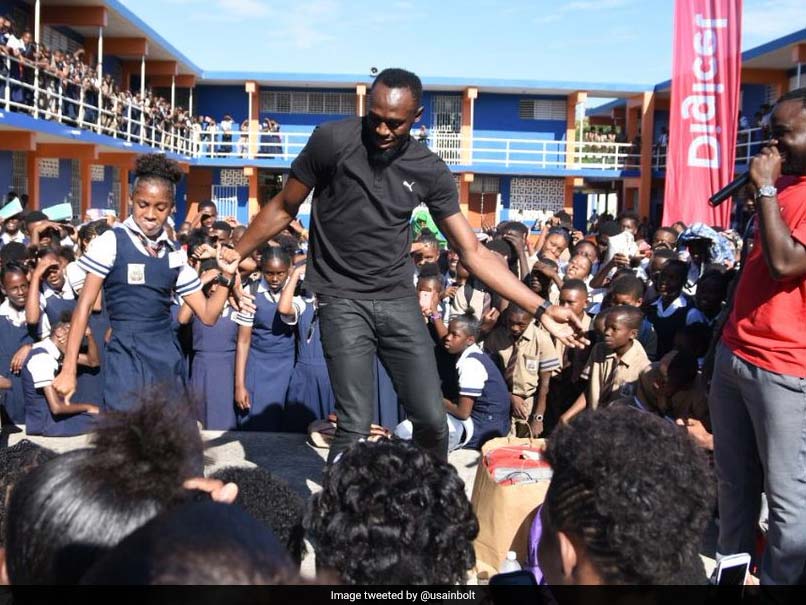 Usain Bolt visited the students of Tivoli Gardens High School in Jamaica.
© Twitter
Sprint legend Usain Bolt dominated the track and field arena for a long time before retiring from athletics after the 2017 IAAF World Championships in London. The superstar often visits schools in Jamaica for motivational talks. He recently visited the students of Tivoli Gardens High School and spoke to them about working hard to achieve their dreams. After the session, the Jamaican legend danced with a schoolgirl and uploaded a video on his official Twitter handle.
Dancing can't done at Tivoli Gardens High this morning #Fling pic.twitter.com/gmdpRz8h5P

— Usain St. Leo Bolt (@usainbolt) February 26, 2018
Following the post, fans were quick to point out how the young girl outperformed the track and field king.
Usain looks like him get schooled lol

— christine (@mindbalance22) February 26, 2018
She showed u up Usain lol

— Zak (@Zak07731136) February 26, 2018
She done you me boss. Sorry

— Leortha Mealody (@Misty_Lee24) February 26, 2018
This girl got swag! U didn't do bad yourself tho

— Kenny Oke (@oke4Eva) February 26, 2018
She baaadddd. Serious dancer

— Debby (@debbrisse22) February 27, 2018
"Never give up. I know it is gonna be hard in high school, it is never an easy road but you should always enjoy school. The goal behind this is to give your best at all times. With me, when it comes to track and field, one thing I've always learned. If you want to be great, you cannot just sit down and not do anything. You have to work, work, work and push yourself," Bolt said to the students.
"No one in my family, friends and anyone that I know thought I would be the fastest man when I started track and field. But with the effort and the talent that I had, I worked and I pushed myself, pushed myself and now I'm the fastest man in the world. All I am saying is that always work for what you want because you never know where it might take you," Bolt further added.
Meanwhile, Bolt had earlier teased his fans after revealing in a Twitter post that he had signed for a football team.
Breaking the suspense on Tuesday, Bolt uploaded another video where he announced that he will be playing in 'Socceraid for UNICEF'.
Excited to announce that I will be playing in @socceraid for @UNICEF_uk 2018 at Old Trafford on Sunday 10th June. Make sure you're ready @robbiewilliams pic.twitter.com/t2sDB1iLP8

— Usain St. Leo Bolt (@usainbolt) February 27, 2018
The match will be played at Old Trafford on June 10.