Story Progress
Back to home
Asian Athletics Championships: Sudha Singh Wins Gold In 3000m Steeplechase
Sprinter Sudha Singh won the seventh gold medal for India.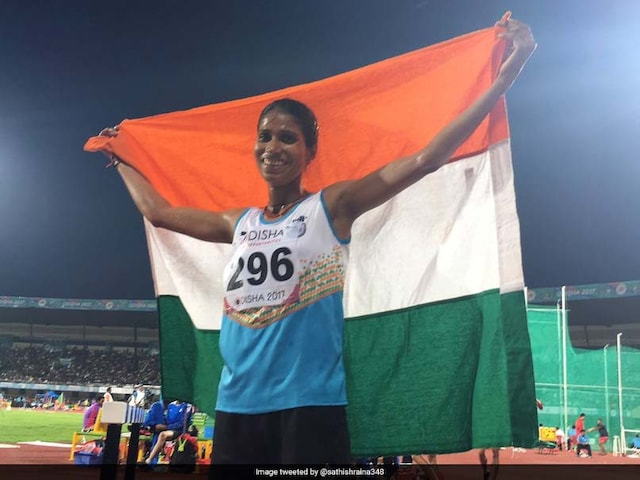 Sudha Singh clocked 9:59.47 to win gold.
© Twitter
Highlights
Sudha Singh won gold in the women's 3000m steeplechase

This was India's seventh gold in the championships

The Asian Athletics Championships are underway
India's sprinter Sudha Singh won the women's 3000m Steeplechase race at the Asian Athletics Championships at Kalinga Stadium on Saturday. Sudha's gold was the seventh for India in the championships so far. Sudha clocked 9:59.47 to win the gold medal. She finished ahead of DPR Korea's Hyo Gyong and Japan's Nano Sato. With this remarkable victory Sudha also qualified for the upcoming World Championships scheduled for August 2017.
Anu Raghavan added a silver in the women's 400m hurdles, while woman triple jumper N V Sheena, men's 400m hurdler Jabir MP and the women's 4x100m relay team grabbed bronze medals. With one day left in the championship, India remained on top of the medal tally with 7 gold, 4 silver and 9 bronze. China are second spot with 5 gold, 6 silver and 4 bronze while Iran are on third with 4 gold and 1 bronze.
Sudha, who had also won a silver each in the 2009, 2011 and 2013 editions, was a gold medal contender in the absence of compatriot Lalita Babar, who skipped the event after her recent marriage, and Bahrain's world and Asian record holder Ruth Jebet.
The 31-year-old Sudha led from the very beginning, and after running together for a while along with the other five competitors, broke away around the halfway mark and left all her rivals way behind to win the gold. She took a lap of honour after her win.
It was a creditable sub-10 minute win for Sudha who has been away from training for several months after she suffered from swine flu on her return from the Rio Olympic Games last year.
"I am very happy to win this gold. This is my top level competition after Rio Olympics. I was down with swine flu after the Rio Olympics and I was down for five-six months and after that I started training slowly and steadily. So, this win is special. It is a slow timing but the conditions are not that good," she said after her win.
However, in men's 3000m steeplechase, Naveen Kumar, a bronze medallist in 2014 Asian Games, and Durga Das Budha finished a disappointing seventh and eighth in 9:02.95 and 9:04.05, respectively.
In men's 110m hurdles, India's Siddharth Thingalaya finished fifth in 13.72 seconds. Kuwait won both the gold and silver with Abdulazia Al-Mandeel and Yaqoub Al-Youha clocking 13.50 and 13.59 respectively.
(With PTI inputs)
Topics mentioned in this article