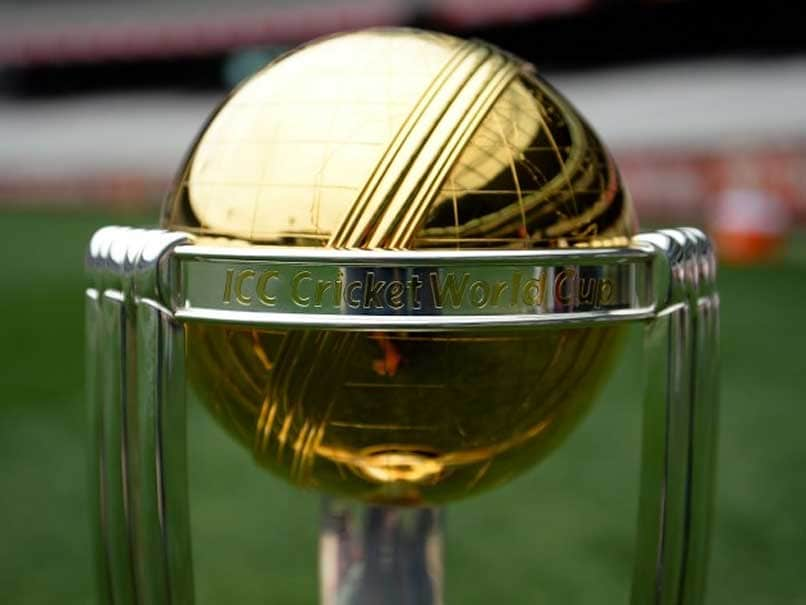 Hosts England will take on South Africa in the tournament opener.
© AFP
After hosting the ICC Champions Trophy last year, England and Wales Cricket Board are all set to host 2019 ICC Cricket World Cup. The 10-team cricket extravaganza will be played between 30 May and 14 July next year, the International Cricket Council confirmed the schedule through a media release on Thursday. Australia, Bangladesh, England, India, New Zealand, Pakistan, South Africa and Sri Lanka all confirmed their place at quadrennial tournament thanks to their ICC ODI rankings on the cut-off date of 30 September 2017. They were joined by the West Indies and Afghanistan, who booked their spot for the mega event through the ICC Cricket World Cup Qualifier in March. Hosts England will take on South Africa in the tournament opener at The Oval, while India, the 1983 and 2011 world champions who also won the ICC Champions Trophy in 2013 in England and Wales, will play their first match against the Proteas on June 5. The blockbuster match against traditional rivals Pakistan is scheduled to take place on June 16. 
48 matches
45 days
10 teams
1 trophy

The full fixtures for the 2019 @cricketworldcup have been announced!

https://t.co/NuqazYbhv8#CWC19 pic.twitter.com/Yx51IGJU8y

— ICC (@ICC) April 26, 2018
Eleven world-class venues will be used in the 46-day tournament in which each side will play the other once in a single-league format with the top four sides after 45 matches progressing to the semi-finals.
Old Trafford in Manchester will host maximum six matches, while Edgbaston in Birmingham, Hampshire Bowl in Southampton, Lord's and The Oval (both in London), and Trent Bridge in Nottingham will stage five matches each. Cardiff Wales Stadium in Cardiff and Headingley in Leeds have been allocated four matches each and County Ground Bristol in Bristol, County Ground Taunton in Taunton and The Riverside in Chester-le-Street have got three matches each.
"It's always an exciting moment ahead of any major event to announce the schedule and for the ICC Cricket World Cup. Next summer fans around the world will be treated to compelling and competitive cricket as the best teams in the world go head to head in this round robin format for the right to be crowned World Champions", said ICC Chief Executive David Richardson.
"This schedule also gives fans across England and Wales the opportunity to watch world-class cricket on their doorstep with all teams moving around the country. We know from previous ICC events that every country will be proudly supported at each of the venues creating an exceptional atmosphere and a real celebration of the game."
ICC Cricket World Cup 2019 Schedule
Thursday 30 May: England v South Africa, The Kia Oval
Friday 31 May: Windies v Pakistan, Trent Bridge
Saturday 1 June: New Zealand v Sri Lanka, SSE SWALEC
Saturday 1 June: Afghanistan v Australia (day-nighter), The Brightside Ground, Bristol
Sunday 2 June: South Africa v Bangladesh, The Kia Oval
Monday 3 June: England v Pakistan, Trent Bridge
Tuesday 4 June: Afghanistan v Sri Lanka, SSE SWALEC
Wednesday 5 June: South Africa v India, The Ageas Bowl
Wednesday 5 June: Bangladesh v New Zealand (day-nighter), The Kia Oval
Thursday 6 June: Australia v Windies, Trent Bridge
Friday 7 June: Pakistan v Sri Lanka, The Brightside Ground, Bristol
Saturday 8 June: England v Bangladesh, SSE SWALEC
Saturday 8 June: Afghanistan v New Zealand (day-nighter), County Ground, Taunton
Sunday 9 June: India v Australia, The Kia Oval
Monday 10 June: South Africa v Windies, The Ageas Bowl
Tuesday 11 June: Bangladesh v Sri Lanka, The Brightside Ground, Bristol
Wednesday 12 June: Australia v Pakistan, County Ground, Taunton
Thursday 13 June: India v New Zealand, Trent Bridge
Friday 14 June: England v Windies, The Ageas Bowl
Saturday 15 June: Sri Lanka v Australia, The Kia Oval
Saturday 15 June: South Africa v Afghanistan (day-nighter), SSE SWALEC
Sunday 16 June: India v Pakistan, Emirates Old Trafford
Monday 17 June: Windies v Bangladesh, County Ground, Taunton
Tuesday 18 June: England v Afghanistan, Emirates Old Trafford
Wednesday 19 June: New Zealand v South Africa, Edgbaston
Thursday 20 June: Australia v Bangladesh, Trent Bridge
Friday 21 June: England v Sri Lanka, Emerald Headingley
Saturday 22 June: India v Afghanistan, The Ageas Bowl
Saturday 22 June: Windies v New Zealand (day-nighter), Emirates Old Trafford
Sunday 23 June: Pakistan v South Africa, Lord's
Monday 24 June: Bangladesh v Afghanistan, The Ageas Bowl
Tuesday 25 June: England v Australia, Lord's
Wednesday 26 June: New Zealand v Pakistan, Edgbaston
Thursday 27 June: Windies v India, Emirates Old Trafford
Friday 28 June: Sri Lanka v South Africa, Emirates Riverside
Saturday 29 June: Pakistan v Afghanistan, Emerald Headingley
Saturday 29 June: New Zealand v Australia (day-nighter), Lord's
Sunday 30 June: England v India, Edgbaston
Monday 1 July: Sri Lanka v Windies, Emirates Riverside
Tuesday 2 July: Bangladesh v India, Edgbaston
Wednesday 3 July: England v New Zealand, Emirates Riverside
Thursday 4 July: Afghanistan v Windies, Emerald Headingley
Friday 5 July: Pakistan v Bangladesh, Lord's
Saturday 6 July: Sri Lanka v India, Emerald Headingley
Saturday 6 July: Australia v South Africa (day-nighter), Emirates Old Trafford
Tuesday 9 July: Semi-final 1 - 1 v 4, Emirates Old Trafford
Wednesday 10 July: reserve day
Thursday 11 July: Semi-final 2 - 2 v 3, Edgbaston
Friday 12 July: Reserve Day
Sunday 14 July: Final, Lord's
Monday 15 July: Reserve Day