Story Progress
Back to home
India vs West Indies, Highlights: Virat Kohli Slams Record Ton As Visitors Clinch Series 3-1
Highlights, India vs West Indies: Mohammed Shami was the pick of the Indian bowlers, taking four wickets for 48 runs in his 10 overs.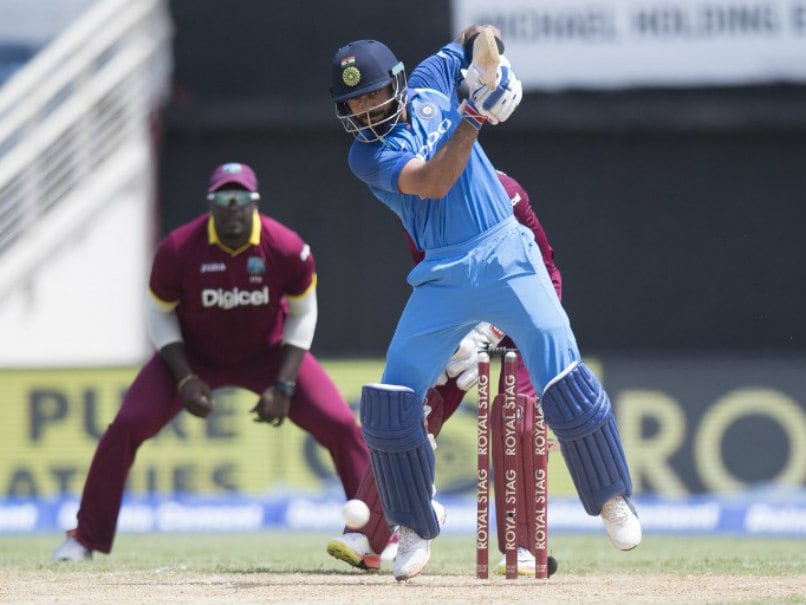 Highlights, India vs West Indies: Umesh Yadav took wickets of consecutive balls.
© AFP
Riding on Virat Kohli's record ton and Dinesh Karthik's fifty, the Indian players made amends to their loss in the previous game with a solid performance in the fifth and final one day of the series at Sabina Park on Thursday to clinch the series in style. There was a lot of hue and cry after India's poor performance against the second string side of the hosts, but not only the batsmen, the bowlers too were intimidating enough to take the team home with eight wicket victory to seal the five-match series 3-1.
Earlier, Mohammed Shami and Umesh Yadav starred for India as hosts West Indies were restricted to 205 for nine in the fifth and final ODI at the Sabina Park on Thursday. The West Indies got off to a solid start courtesy Evin Lewis and Kyle Hope but kept losing wickets in groups. Shai Hope (51 off 98) top scored for the West Indies. Skipper Jason Holder hit a breezy 36 to put Indian bowlers under pressure but the visitors kept pegging away at the wickets. Shami was the pick of the Indian bowlers, taking four wickets for 48 runs while Umesh chipped in with three. Hardik Pandya and Kedar Jadhav took a wicket each. (Scorecard)
Catch highlights of the match between India and West Indies straight from Sabina Park, Kingston.
02:53 IST:Good to see happy faces lifting the winner's trophy. That's it from us. Hope you enjoyed our coverage.
02:52 IST: Ajinkya Rahane receives Man of the Series award.
02:50 IST: Virat Kohli, Man of the Match:First and foremost, the aim was to win the series. Some special performance from the boys and special mention to Rahane who has been consistent throughout the series. Today was another clinical performance from us. Something we want to do on a regular basis. Two failures in the last 2 games, I never look at stats and numbers. I always look at the scoreboard and focus on what I need to achieve. I like playing with the tempo of the game. Partnerships help. DK and Rahane have been excellent. If you carry 15 or 16 members in the squad, it's important to believe in them. People are grabbing their opportunities. I have always been a batsman that played the situation and that never changed. I still think the same way. I'm relishing the opportunity.
Match Result : India beat Windies by 8 wickets in the series decider and clinch the 5 match ODI series 3-1 #WIvIND

— CricketWestIndies (@westindies) July 6, 2017
02:40 IST:So, India clinch the series 3-1 and Virat Kohli gets the Man of the Match award for his unbeaten 111*
02:20 IST: SIX!! Virat Kohli tonks it and finishes the match in style. India win the five-match series 3-1and the man who made this possible is none other than Virat Kohli himself. What a way to finish  the match.
02:17 IST:Dinesh Karthik scores 8th ODI fifty and India complete 200. Mere formality now
02:15 IST: India need 8 more runs to win now
02:12 IST: Virat Kohli goes past the legendary Sachin Tendulkar to hold the record of most number of centuries while chasing in ODI cricket.
02:10 IST: Hundred!! That's it!! He gets his 28th century in style. And a loud roar again ...very animated celebration by him
02:00 IST: FOUR!!Through the gap this time and Karthik will get a boundary
01:59 IST: Karthik pulls it firmly for two runs. Didn't have complete control but he picks the gap through mid-wicket
01:47 IST: FOUR!! Plays off the backfoot and the bottom hand coming into play. He is on 91 now. India need 36 more runs to win in 114 balls.
01:45 IST: Nicely played on the up and what timing by the Indian captain. He gets a couple
01:45 IST: Kohli averages 95.20 in successful chases in ODIs
01:43 IST: India 161/2 after 30 overs, need 45 more runs to win in 120 balls
01:40 IST: FOUR!! Poor delivery by Devendra Bishoo. Full toss put away by Kohli
01:34 IST: FOUR! Boundary again for Dinesh Karthik. Runs coming thick and fast now for India
01:31 IST: FOUR!Kohli seems to be in a hurry now. He gauged the length early and played it towards covers for a boundary
01:28 IST: FOUR! Too short from Alzarri Joseph and Dinesh Karthik flays it over backward point for a boundary. He is on a move now
01:26 IST: FOUR!Quicker delivery by Ashley Nurse and Kohli is too smart to judge that.
01:23 IST: India need 80 more runs to win in 25 overs. Kohli 63*, Karthik 20*
01:17 IST: FOUR!! Now Karthik gets into the attack and drives Nurse for a boundary
01:14 IST: SIX!! Virat is in a mood to finish it early. He hits it over the long on boundary for a maximum.
A terrific cover drive to reach his 44th fifty in ODI's and 2nd in this series for @imVkohli #WIvIND

— CricketWestIndies (@westindies) July 6, 2017
01:11 IST: FIFTY!! Kohli drives for a boundary to get to his 44th ODI half-century. India 108/2 after 22 overs.
01:06 IST: Karthik has had a wonderful domestic season and that's why he is playing purely as a batsman.
01:05 IST: FOUR! What a shot. Karthik goes on the backfoot and quickly latches on to it for a boundary.
01:04 IST: India 94/2 after 20 overs. Kohli 48*, Karthik 3*
01:01 IST: FOUR! Kohli picks that slower one early and lofts it over mid-on for a boundary
00:59 IST: New batsman Dinesh Karthik gets off the mark straightaway
00:56 IST: OUT!!Thuds into Rahane's pads and the umpire raises his finger after a loud shout by Devendra Bishoo. The opener goes for 39
00:48 IST: FOUR!!Williams drifts down the leg side and Kohli flicks it for a boundary with ease
00:44 IST: Rahane comes down the track but the inside edge of the bat saves him. Frankly, there was no need of that shot.
00:40 IST: India 69/1 after 15 overs. Kohli 34*, Rahane 31*. West Indies were 68/1 at the same stage
00:35 IST: Virat Kohli's batting average in chases is 65.64 before this match.
00:32 IST: FOUR!!Kohli slashes and slashes it hard for a boundary, no half measures from him. India 61/1 after 13 overs.
00:31 IST: 50 runs partnership between Kohli and Rahane. India are playing positive cricket today unlike the last game where they went into a shell and failed to chase down a meager total of 190
00:30 IST: India need 153 more runs to win in 38.4 overs.
00:25 IST: Double change in bowling by West Indies. Kesrick Williams to bowl from the other end.
00:22 IST: Leg-spinner Devendra Bishoo comes into the attack. It will be interesting to see how he bowls.
00:21 IST: India 50/1 after 10 overs. Rahane 24*, Kohli 22*
00:16 IST: Long hop and Kohli smashes it hard for a boundary again. What a balance by him. India 50/1 after 9 overs.
00:15 IST:Kohli drives it hard and misfield by the West Indies captain. He gets two runs
00:09 IST: FOUR! Kohli uses the pace of the ball and swings it for a boundary
00:08 IST: FOUR!!Kohli comes into the attack now. He drives on the up past the bowler and mid-off would only fetch the ball from the fence
00:07 IST: FOUR!!Third boundary of the over. Rahane is already making Windies pay for the drop catch.
00:06 IST: FOUR!! Rahane plays it on the up and gets 4 runs
00:05 IST: FOUR!!Rahane again plays it late and glances it down towards fine leg.
00:04 IST: Five overs gone India 19/1. Kohli 4*, Rahane 11*
00:01 IST: FOUR!! Lovely use of the wrists by Rahane. Goes past mid-on fielder for a boundary
23:58 IST: Chance!! Rahane slashes it hard but Bishoo drops it at point. Windies captain Holder is not happy.
23:56 IST: Rahane plays it late and flicks it towards mid-wicket. He gets two runs
23:55 IST: India 9/1 after 3 overs. Rahane 3*, Kohli 2*
23:50 IST: Indian captain Virat Kohli comes to the crease.
23:48 IST: OUT!! Straight to the fielder at short cover and Joseph draws first blood for West Indies. Shikhar Dhawan goes to the pavilion in the first over itself.
23:46 IST: FOUR!!Short ball and Shikhar Dhawan upper cuts it towards third man area. Good start by India
23:45 IST: Good carry there  but Rahane glides it towards the third man area for a single
23:40 IST: Ajinkya Rahane and Shikhar Dhawan are at the crease. Alzarri Joseph to start the proceedings for West Indies
23:35 IST: Welcome back!! So, India need 206 runs to win to seal the series. Remember, India couldn't chase 190 in the last game in Antigua. My gut feeling, India should be able to score this in 44 overs. Getting over enthusiastic, may be.
22:53 IST: Dot ball to finish things off. West Indies end up at 205/9 in 50 overs.
22:51 IST: WICKET!!Umesh gets the glove of Powell and is caught behind for 31(32).
22:50 IST: Six!!Powell once again clears his leg and once again clears the long-on boundary. Crucial hits these for the hosts.
22:48 IST:Final over of the innings!
22:47 IST: Six!!Powell clears his leg and smashes Shami over long-on. What a hit!
22:40 IST: WICKET!!Shami gets another one! Bishoo caught behind for 6(15). West Indies are 182/8 in 47 overs
22:35 IST: Four!!Edge from Bishoo and the ball runs away to the third-man boundary.
22:28 IST: Dropped!Dhoni puts a catch down -- the most unlikely person to drop one. Unlucky for Kuldeep!
22:25 IST:West Indies are loosing wickets once again in a bunch.
22:24 IST: WICKET!!Another bites the dust! Nurse c Kuldeep b Shami 0(4). West Indies are 171/7 in 43.3 overs
22:17 IST: WICKET!!Shai Hope is also gone. Caught by Rahane bowled by Shami for 51.
22:09 IST: WICKET!!Holder is caught at long-on as Shami picks his first wicket. West Indies are 163/5 in 39.5 overs
22:07 IST: Four!!Holder starting to flex his muscles. Comes down the track and smashes Shami over covers.
22:00 IST: Fifty for Shai Hope!His 3rd in ODIs. He has held one end up well for the hosts.
21:58 IST: Six!!Short arm jab from Holder and it goes over the mid-wicket boundary for the first maximum of the match.
21:56 IST: Big chance missed!Jadeja over runs the ball. Mix-up between Shai Hope and Holder almost resulted in catastrophe.
21:55 IST: Four!!Holder gets down on one knee and reverse sweeps Kuldeep for a boundary.
21:50 IST:West Indies are finding the going hard. They are 135/4 in 36 overs.Will need a big push to go past the 250-run mark.
21:41 IST: Four!!Holder slogs Jadeja to the boundary, a much-needed one for the West Indies.
21:39 IST:Edge from Holder but it hits Dhoni low on his pads. Can't put that down as a chance. West Indies are 121/4 in 33 overs.
21:33 IST: WICKET!!Jadhav strikes for India as Mohammed departs for 16(39). West Indies are 115/4 in 30.3 overs.
21:28 IST:Jadeja has given anything away today. just 20 runs from his 8 overs so far. Excellent stuff from the left-armer.
21:25 IST: Four!!Finally a boundary for West Indies, their first in 61 balls. Poor delivery from Kedar Jadhav. West Indies are 115/3 in 29 overs.
21:18 IST:Another good over from Jadeja. Just two from it. West Indies are 104/3 in 26 overs.
21:11 IST:Great fielding from Umesh in the deep. Saves two runs and his super throw almost results in a run-out!
21:08 IST:Runs coming for West Indies in singles currently. They are 95/3 in 23 overs.
21:04 IST:Spinners managing to keep the Windies batsmen in check. No freebies for the hosts. Run-rate is dropping! West Indies are 90/3 in 22 overs.
20:55 IST:Kuldeep Yadav into the attack.
20:52 IST: Four!!Shai Hope cuts Umesh brilliantly for another boundary. West Indies are 83/3 in 18 overs.
20:45 IST: WICKET! Big shout for LBW!!Very next ball Umesh has trapped Roston Chase plumb in front for a golden duck. Chase asked for a review but turned out to be a poor decision.
20:40 IST: WICKET!!Hope goes for another boundary shot, connects well but finds Dhawan at short mid-wicket. West Indies are 76/2 in 15.5 overs.
20:39 IST: Back to back fours for Kyle Hope!Umesh once again the culprit for spraying it all over the place.
20:36 IST: Four!!Shai Hope cuts Jadeja well for his second boundary.
20:35 IST:Jadeja into the attack. Spin for the first time in the match.
20:34 IST:India have manage to stem the flow of runs in the past two overs. West Indies are 62/1 in 14 overs.
20:31 IST:Windies are rotating the strike well and picking the odd boundaries.
20:26 IST: Four!!Half-volley on stump from Pandya and Shai Hope drives it brilliantly.
20:20 IST:Windies doing a good job here. Despite losing Lewis, they have not stopped attacking.
20:15 IST: Back to back fours!!Hope is looking good here. First one was short and wide while the second was beautifully straight driven. Windies are 49/1 in 10 overs.
20:07 IST: WICKET!!Pandya strikes for India as Lewis lobs a simple catch to Kohli at mid-off.
20:05 IST:Good over from Shami. Just 1 run from it. West Indies are 39/0 in 8 overs.
19:58 IST: Four!!Umesh again strays on to the legs and is once again flicked through square. Just poor bowling from the Indian pacer.
19:55 IST: Four!!Shami get some inswing and Hope expertly clips it past the square fielder.
19:54 IST:Shami is keeping things tight from one end but Umesh has been spraying it all over the place today.
19:52 IST:10 runs from the Umesh over. Windies are 26/0 in 5 overs.
19:50 IST: Four!!Again short and wide, and the same result. Umesh is all over the place today so far.
19:48 IST: Four!!Poor bowling from Umesh. Short and wide, and Hope cuts it brilliantly.
19:47 IST: Brilliant swing bowling from Shami and great control too. Making life difficult for the Windies openers.
19:46 IST:Shami cuts Hope in half with a brilliant in-swinger, which narrowly misses the off-stump.
19:44 IST:Change of ends for Shami.
19:43 IST:Dot ball from Pandya to end the over. West Indies are 14/0 in 3 overs.
19:41 IST:Lewis punches off the backfoot, through the covers and gets three runs for his effort.
19:40 IST:Pandya comes into the attack to replace Shami.
19:36 IST:The Indian pacer overcompensates and provides too much room and Hope puts it away for a double.
19:35 IST: Four!!Umesh strays on to the pads of Kyle Hope and is clipped for a boundary, first of the match.
19:34 IST:Some movement for Umesh Yadav. Windies, though, pick a quick single.
19:33 IST:Cautious start from the hosts. West Indies are 3/0 in 1 over.
19:30 IST:Dot ball to start off with.
19:25 IST: All set as the Windies openers walks out. Shami has the new ball in his hand.
19:03 IST: West Indies captain Jason Holder wins toss, elects to bat.
West Indies have won the toss and elected to bat first #TeamIndia #WIvIND pic.twitter.com/Xza7pfMwHG

— BCCI (@BCCI) July 6, 2017
19:00 IST: Toss time!!
18:58 IST:We are minutes away from the toss.
18:55 IST: STAT ATTACK:India have lost the last four ODIs they have played on this ground while the West Indies have won nine out of their last 10 games here.
18:50 IST:A win for the Windies will see them draw the five-match series 2-2 while a win for India will help them secure a 3-1 series win.
18:45 IST: Hello and welcome to the live blog of the fifth and final match between India and West Indies. The series is on the line today despite India looking the better of the two sides. The hosts stunned the Men in Blue in the fourth ODI and the visitors will be gunning for revenge and looking to seal the series.
Ravindra Jadeja too played an atrocious shot, resulting in his dismissal, which exposed India's tail to a crunch situation. The top order, led by Shikhar Dhawan and Ajinkya Rahane, who has hit four half-centuries in a row, has done the bulk of scoring and India would need the two batsmen to continue in the same vein. It won't be a surprise if captain Virat Kohli, who minced no words in criticising his team's shot selection, brings about changes in the middle-order.
Topics mentioned in this article