Story Progress
Back to home
Wimbledon 2017: Andy Murray Corrects Journalist On 'Casual Sexism', Fans Love It
World No. 1 Andy Murray has a history of standing up for equality in professional tennis.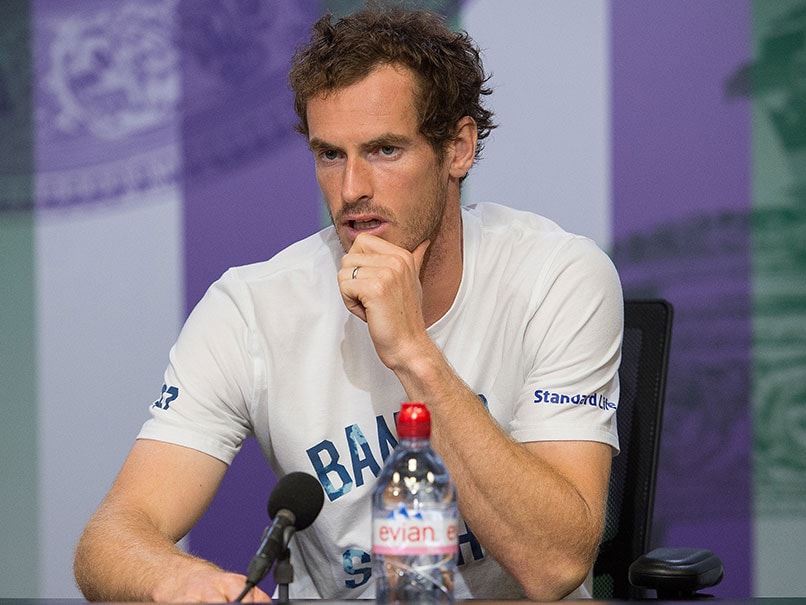 Andy Murray wasn't amused by the journalist's question after his quarterfinals loss.
© AFP
Highlights
Andy Murray was the defending men's singles champion at Wimbledon

He lost to Sam Querrey in the quarterfinals

He shut down a journalist's question on Sam Querrey
Andy Murray may have lost on the Wimbledon Centre Court but he won hearts all around the world at the press conference on Wednesday. The 2016 Wimbledon winner and world No 1 Scotsman was hampered by a hip injury and eventually lost to American Sam Querrey in five sets in the quarter-finals. Then, when a male journalist questioned Murray about the loss, telling him Querrey was the "first US player to reach a Major semi-final since 2009", the Scot interrupted and said he was the first "male player" to achieve the feat. Let's not forget American Serena Williams has won 14 Grand Slams since January 2009.
The journalist seemed taken aback at Murray's interjection and said, "Beg your pardon". The world No 1 repeated his answer much to the delight of fans and didn't seem amused at the casual sexism. Here's the video of the press conference from the official Wimbledon Twitter handle:
Andy Murray may have lost, but nothing got past him post-match...#Wimbledon pic.twitter.com/Uniks77WKu

— Wimbledon (@Wimbledon) July 13, 2017
The response has landed Murray immense respect from all over the world, including from his mother and former coach Judy. His mother tweeted: "That's my boy"
That's my boy. https://t.co/ldZUQ2wbZj

— judy murray (@JudyMurray) July 12, 2017
Here are some tweets from fans after Murray's press conference:
Q: "Andy, Sam is the first American player to reach the semi-final of a Slam since 2009..."

Murray: "Male player."

— Svenja Mastroberardi (@svenja_mastro) July 12, 2017
A fantastic role model @andy_murray - what you've said is bigger than anything close to being Wimbledon champion again. Thanks! pic.twitter.com/2543PiGCCL

— Stephanie Callaghan (@StephySNP) July 12, 2017
Andy Murray calling out casual sexism AGAIN. Fightin' the good fight.

— Jenna McMurdo. (@Jenna_DeVil_) July 13, 2017
This is why I love @andy_murray - he has no time for casual sexism & is a true feminist #EverydaySexism we need men to stand WITH us on this https://t.co/MAnHnseau5

— Jade (@n1njade) July 12, 2017
Murray has a history of standing up to casual sexism in professional tennis. While the men's events in general garner more attention and had until some years ago, more prize money than the women's events, Murray's thought process brings about a change.
Last year after he won the Rio Olympics gold medal, he was congratulated for being the first to win two gold medals. Murray firmly shut down the interviewer, saying he believed Venus (Williams) and Serena had more. For the statistical minded, the Williams' have four Olympic gold medals each.
Murray had created headlines some years before when he hired former Grand Slam winner Amelie Mauresmo as coach. He's previously stood up for equal pay in tennis and scheduling for matches in Majors.
Topics mentioned in this article