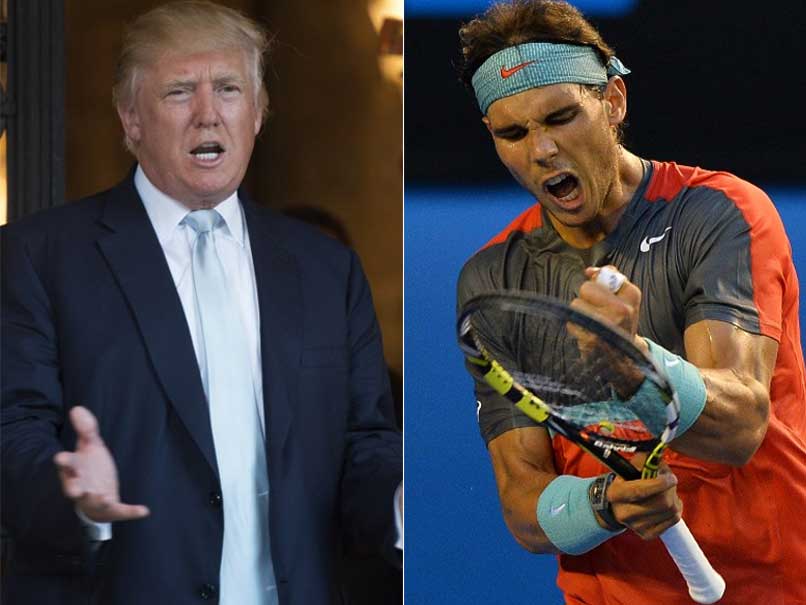 Rafael Nadal said he does not appreciate Donald Trump's style of expressing himself.
© AFP
Tennis player Rafael Nadal on Friday expressed disappointment with US president-elect Donald Trump saying that he was not quite to his taste while lamenting Spanish politics also, in is view, has become too razzmatazz. The former world No.1 said that in a globalised world Trump would not be able to dominate with his own beliefs. "It's not my style. I was in the United States when Trump was on the campaign trail," Nadal told Spanish online site El Espanol during a practice session ahead of the first Grand Slam of the year - the Australian Open.
"It is true that I don't care for his manner of speaking -- his way of expressing himself is not a style I appreciate," added Nadal, while conceding he was no expert on the US political scene.
"Also, I'll be honest -- the other option didn't do much for me either," added the Spaniard in allusion to defeated Democratic candidate Hillary Clinton.
The Spanish tennis star, winner of 14 Grand Slam singles titles, was more guarded in his assessment of the incoming president than actress Meryl Streep, who earlier this week used the Golden Globes ceremony to blast Trump.
Nadal did criticise a Spanish political establishment left in virtual paralysis for much of last year after inconclusive December 2015 elections before conservative leader Mariano Rajoy was sworn in to head a new minority government.
"Everything is turning into a show -- and Spain is not a show. Spain is a country, our present and our future," the 30-year-old said, indicating he believed supporters of different strands of political opinion should reach out for the good of the nation.
Nadal, who was plagued by a wrist injury last season, said he was ready for the Australian Open which starts on Monday.
"I feel good," said Nadal, currently ranked ninth, adding that if he could stay fit he could get back to competing with the best.
Nadal's preparations were hit in terms of match fitness at least when he lost to Milos Raonic in the quarter-finals of the Brisbane International after first winning an exhibition event in Abu Dhabi.
"Injuries or no injuries I've had a fantastic career to date -- but that doesn't mean I don't want to improve. Of course I do," he concluded.
(With AFP Inputs)