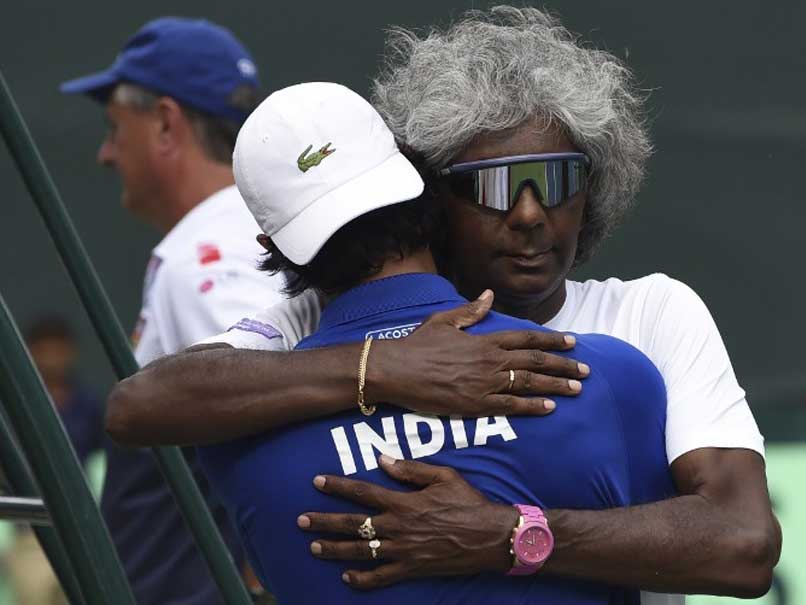 Anand Amritraj (R) was accused of failing to discipline players during his tenure as captain.
© AFP
Expressing surprise at the sacking of his younger brother Anand Amritraj as captain of India's Davis Cup team, tennis great Vijay Amritraj said that the former was the country's best captain in the last three decades.
The older of the Amritraj brothers said Anand was a very committed captain and lauded him for the results produced by India in the Davis Cup under his captaincy.
Vijay Amritraj also defended Anand against the All India Tennis Association's accusation of ill-discipline in the team during his tenure as captain, saying results showed that Anand was a 'spectacular captain'.
"Other issues I don't know. I only see what I read in papers. So in my opinion, Anand was a spectacular captain," he told PTI in an interview.
"I don't follow the intricacies of everything but what I do know is that since 1987-88, there has been no better captain than Anand," Vijay, who twice reached Wimbledon and US Open singles quarterfinals, stated.
"I am not saying this just because he is my brother but because there is hardly any past player in India of his calibre, who has played Davis Cup for 20 years at the highest level, and (played) singles in all Grand Slams and beaten some of the top players and continues to have passion for the sport, where he follows (ITF) Futures, Challengers and ATP 250s on a regular basis.
"My feeling is from the captaincy point of view, from quality standpoint of being captain and needless to say he gets along very well with the team. He hardly had anyone in the top-100 but still managed to get the team into World Group Play-offs all three years, so you can't question the results," he went on to say.
'No questions' on Bhupathi's captaincy
Amritraj also gave his backing to new captain Mahesh Bhupathi, but added that he did not support the move of changing a winning captain.
"The other question is if Mahesh Bhupathi qualifies to be captain, absolutely. No questions. He is been there, done that. But you generally keep a winning captain and in my opinion certainly he (Bhupathi) would be next in line (to be captain)."
Vijay, further emphasising his point of merit, said Anand gave results without top-100 singles players.
"Making the Play-offs in today's environment is not easy. When we were playing Davis Cup, we were the best team in Asia by a long shot. Today we are not. We only make changes when things are not going well.
"I was surprised because I am looking at results. For example, if a guy is ranked in top-100, you can't keep him out of this tournament (Chennai Open) whether you like him or not. it's based on merit."
Vijay, who touched a career-high singles rank of 16 in 1980, also made a point about India not producing enough singles players.
"It's hard for me to believe and it was pointed out to me some time ago that since tennis went open in 1968 and ATP rankings came in 1973, I have the maximum number of singles titles in Asia, next is (Kei) Nishikori, so where are we? if that's what we are relying on for 30-40 years.
"So that is the single focus, we should have. We can't talk anything other than that. Just stay focussed that we get five, six guys in Grand Slam directly. We got to address this."
Asked to share his views on Anand on the issue of discipline, Vijay fully backed his brother.
"You can't get to where he (Anand) got to without discipline. I can only compare him to what we did together. He did it one way I did it another way. It's not easy to play when you have your younger brother in the team. There were times when I played ahead of him in the singles with Shashi Menon because I needed him for the doubles. So you look at merits.
"Who knows what people do in their rooms? I did not know what my team is doing in their rooms. Even when Krish (Ramanathan Krishnan) was captain, he did not know what I was doing in my room. And we reached two Davis Cup finals. I agree to the fact that we have to represent our country in proper manner when we go abroad."
(With inputs from PTI)