Story Progress
Back to home
Davis Cup: Mahesh Bhupathi to be India's Next Captain, Rohan Bopanna Dropped
Mahesh Bhupathi will take over from Anand Amritraj as India captain after the Davis Cup Group 1 Asia/Oceania first round tie against New Zealand in February 2017.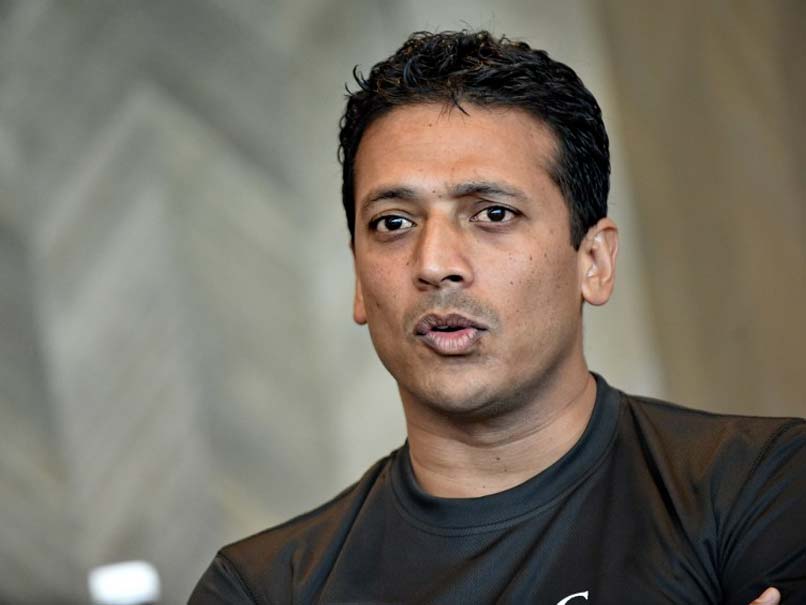 Mahesh Bhupathi will be India's next non-playing Davis Cup captain.
© AFP
Highlights
Mahesh Bhupathi will be India's next Davis Cup captain

He will take over the post in February 2017

India next play New Zealand in the Davis Cup
Tennis great Mahesh Bhupathi was on Thursday named as the successor of Anand Amritraj as India's next non-playing Davis Cup captain.
He will take over from Amritraj in February 2017 after India's Davis Cup Group 1 Asia/Oceania first round tie against New Zealand.
The All-India Tennis Association (AITA) also announced the squad for the upcoming clash which will be played in Pune from February 3 to 5.
Saketh Myneni, Ramkumar Ramanathan, Yuki Bhambri, Leander Paes and Prajnesh Gunneswaran have been named in the squad. AITA said the final four will be selected two weeks before the tie. Meanwhile, Rohan Bopanna has been dropped from the squad.
Till then Amritraj and Zeeshan Ali will remain as captain and coach. The tie will be Amritraj's last as non-playing captain as AITA wants to give him a "farewell".
"Everybody should get a chance to be captain. No post stays with one person forever. I personally spoke to Mahesh and asked if he is available, he said 'yes'. That was it. We also wanted Anand to be given a farewell tie," AITA secretary general Hiranmoy Chatterjee said.
Asked if Amritraj is happy with the decision, Chatterjee replied: "No one wants to go but everyone deserves a chance to be the captain."
Asked if players were taken into confidence since they had rallied around Amritraj, Chatterjee said: "It's not their prerogative. We don't need to consult the players. Even Leander Paes was not consulted."
Asked about the history of strained relationship between Paes and Bhupathi and whether the latter's elevation would prove to be end of the road for the former, Chatterjee said: "We will cross that bridge when it comes."
On whether Amritraj giving leeway to players as far as discipline is concerned was an issue along with his views in media, the AITA top official did not deny.
"When a committee meets, we discuss a lot of things. But let me tell you that we did not receive any letter of support from the players," he asserted.
Chatterjee added that there was no communication with either Somdev Devvarman or Ramesh Krishnan regarding coach and non-playing captain's role. He also said that Bhupathi has not demanded any special favours.
"He has not demanded anything and simply said yes to the job. As far as remuneration is concerned he will be paid as per our Davis Cup payment slab," he said.
Bopanna dropped
Meanwhile, former US Open finalist and two-time Olympian Bopanna has been dropped from the squad. The selection committee decided that Paes and Myneni will be the preferred choice for their good show against Rafael Nadal and Marc Lopez in the previous Davis Cup tie against Spain.
While Bopanna's world ranking is 28, Paes is currently 59 and Myneni is 210 in ATP doubles ranking.
"Picking Rohan blocks a place for a third singles player that we wanted to have in the squad. Also, Leander and Saketh were brilliant against Spain. But whenever Leander and Rohan have played together, they have not done well. Take Czech Republic tie as an example," selection committee head SP Misra said.
"The other factor being Rohan being an ad court player. Even Saketh is an ad court player while Leander prefers deuce court (right side of the court). If we pick Rohan and Saketh, then we have two ad court players. Even Rohan and Saketh have not done well as a pair."
He, however, informed that Rohan had told the committee that he is available for this tie. "Look we don't know how long Leander (43 years) will be playing. Rohan (36 years) is much younger and can always make a comeback."
India's squad for New Zealand tie will witness Bhambri's comeback with Myneni and Ramanathan being the other two. Bhambri's comeback means that Sumit Nagal has also been axed.
Fed Cup
AITA's six-member selection committee also nominated India's Fed Cup squad for Asia/Oceania Group I event that will take place in Astana February 6, 2017, onwards.
The Nandan Bal-coached team will have Sania Mirza, Ankita Raina, Snehadevi Reddy, Karman Thandi, Riya Bhatia and Prarthana Thombare. The final team will be selected two weeks before the tie.
(With PTI inputs)
Topics mentioned in this article
Tennis
Mahesh Bhupathi
Leander Paes
Yuki Bhambri