Paris:
"I always say, 'No,'" the 16-time major champion explained, "just because I don't want to be a part of it."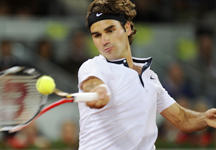 At this year's French Open, Federer did not have a choice in the matter. The French Open, you see, always invites the previous year's male and female champions to help determine the brackets by reaching into the tournament's silver trophies to randomly select numbers assigned to players. Finally, Federer was eligible to participate.
So there he was Friday morning at the French tennis federation's museum on the Roland Garros grounds, wearing a dark blazer, crisp collared shirt and jeans. Smiling for the cameras. Pulling numbers out of a trophy. At last, performing the duties of the French Open's defending champion.
A few hours later and a short stroll away, Federer donned a gray T-shirt, black shorts and aqua headband and worked up a sweat while practicing in the main stadium, on the very court where a year ago he shed tears while kissing the one major trophy that previously was missing from his collection.
Arriving in Paris this time "felt different, because I have so many great memories from this court now, whereas in the past, I mean, I played good matches, but I couldn't come back and think, 'This is where I've had my most emotional wins in my career.' I didn't. They were all at Wimbledon or U.S. Open or other places," Federer said Friday.
Stepping on Court Philippe Chatrier this week has allowed him to relive what happened in 2009 _ the nerves that nearly overwhelmed him before serving for the last time in the final against Robin Soderling, for example, or the sensation of dropping to his knees after winning match point.
And he is thrilled to never be asked again the sorts of questions he was pelted with countless times before last year: Why haven't you won the French Open? Will you ever win the French Open?
"If anything, I feel a little less pressure, because I've proven it to myself _ and maybe to many other people," Federer said. "I feel like I'm entering the tournament in the right spirit."
Only one man has managed to beat Federer at Roland Garros over the past five years: His chief rival, Rafael Nadal. The Spaniard has won the French Open four times, and each journey to the title required a victory against Federer _ in the 2005 semifinals, and the 2006-08 finals. A year ago, Nadal was upset in the fourth round, dropping his career mark at Roland Garros to 31-1.
So now it's Nadal who is getting rather tired of hearing the same query over and over: Does it feel different NOT being the defending champion?
"I know I'm going to have to answer this question 100 times more," Nadal said Friday. "I'm going to repeat the same (answer), no? I didn't win last year, but the goal is still the same every year. ... If I was the champion or I am not the champion last year, doesn't matter."
Nadal leads the head-to-head series against Federer 14-7, and it's 10-2 on clay, including a win over Federer in the final of last week's Madrid Masters.
Still, Federer insisted Friday that he has "no complex whatsoever" about facing Nadal, who hasn't lost a match on clay to anyone this season. Federer added that he might acknowledge having a mental block if the record were "50-0 in his favor, but this is not the case."
Because Federer is seeded No. 1, and Nadal is No. 2, they only could meet in the June 6 final, an appointment most figure they'll keep.
"You have so many good clay-court players, but if I have to pick two guys, I'm going to pick Nadal and Federer," said Bjorn Borg, who counts six French Opens among his 11 Grand Slam titles. "Federer _ he can play great tennis on the clay, and his main goal right now is to do well in the Grand Slam tournaments. And I think Nadal is ... very, very impressive. If he's going to continue to play that kind of tennis on clay at the French Open, he's going to be tough to beat."
Plenty of tennis tournaments, big and small, ask Roger Federer to participate in their draw ceremonies _ show up, shake some hands, pose for a few photos, lend prestige. He has a ready response.