Story Progress
Back to home
Davis Cup: India's Outgoing Captain Anand Amritraj Satisfied With Victory
India defeated New Zealand 4-1 to enter the second round of Davis Cup Asia/Oceania Group 1 and will next take on Uzbekistan.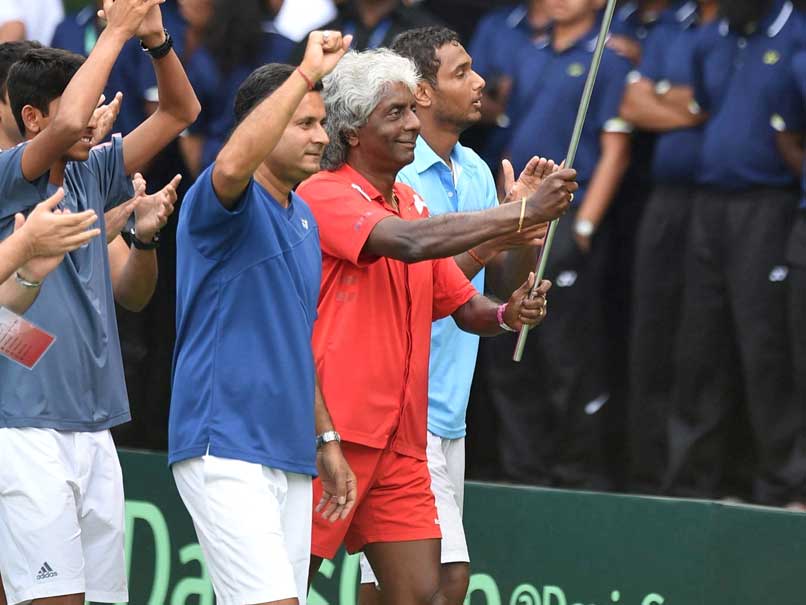 Captain Anand Amritraj led India to a 4-1 victory over New Zealand in Davis Cup.
© PTI
Highlights
India defeated New Zealand 4-1 in Davis Cup

India now progressed to Round 2 of Group 1 Asia/Oceania

They will next take on Uzbekistan in April
Outgoing captain of India's Davis Cup captain Anand Amritraj was pleased with the performance of his team after the hosts defeated New Zealand 4-1 in the Group 1 Asia/Oceania first round. India will now take on Uzbekistan in the second round under new captain Mahesh Bhupathi from April 7 to 9 at home.
"It was very satisfying. I could not have imagined anything better. It worked out as I expected with the focus on singles as I knew doubles was extremely tough. Was hoping for three singles wins, got four, so could not have asked for anything better," said Anand after winning his fifth and last tie as captain in his three-year stint.
India won all four singles through Yuki Bhambri and Ramkumar Ramanathan and lost only the doubles when Leander Paes and last-minute inclusion Vishnu Vardhan lost in four sets.
The hosts sealed their berth in the second round against Uzbekistan when Ramkumar won in straight sets the first reverse singles against Finn Tearney before Bhambri beat Jose Statham 2-1 in the best-of-three dead last singles to complete a thumping victory here.
"It was one of the best matches I saw Yuki play even though it was a dead rubber and was played more for pride and the country,' said Amritraj about Bhambri's win.
He was all praise for the lanky Ramkumar, after having made the right decision to pick him for one of the singles.
"I think he was great, he won six sets (in two rubbers). I am so happy that I picked him to play singles especially that Saket (Myneni) could not play . I am very pleased with his performance and hope he gives better and better performance for India."
Ramkumar said the conditions were not easy but he settled down nicely.
"The conditions being very fast, it was not easy today as you saw. I kept fighting for every point. Boys told told me to keep going and towards the end of the match I started feeling better. It was a great tie for us and the country," the 22-year-old player said.
"I think the second set was close even though I won 6-1. In the third set I was not feeling any pain anywhere. It was because of Emilio sanchez . I went to US (to train at his academy). He was very happy with my win. Good feeling for me when I spoke to him.
"It was not easy for me to control the ball. Basically in the first few games I tried to put every ball in. Once I got the rhythm I started playing better. The crowd also helped," he said.
Asked about his stint as captain, Anand said he was happy the team had won five out of eight and the ties they lost were against top 10 teams in the world.
"It's been a great three and a half years - I was made captain in September 2013. It's great to have these guys in the team as well as Somdev (Dev Varman) for first couple of years, Leander Paes and Rohan (Bopanna). It had been a wonderful experience.
"In my eight ties as captain we won five and lost three to Serbia, Czech Republic and Spain who were all better teams than us. We should have won against Czech but lost 3-2. Having said that they were top 10 teams and I am not too unhappy losing to them. We dominated the Asian zone, beat all teams we were supposed to beat. It was exciting to have been able to do it."
On selection, Anand said that should not be done solely on rankings.
"Rankings are basically a guideline. Form of players, fitness conditions, playing surface and who plays doubles need to be taken into consideration. If it's grass Vishnu's serve volley game will be needed. It depends on a combination of factors.
On the next round tie against Uzbekistan, Bhambri said he was prepared to play on grass "if needed".
Ramkumar concurred with his view.
Anand said the problem in India was that players who were good at the juniors level fell behind when they made the transition into the senior ranks.
Bhambri said that the AITA should show the desire to see Indian tennis on the world map.
Promoted
"It is not what they can do, but whether they have the desire to do. Everyone of us has come up by himself not by system. Question is if they are willing or passionate to do for the next generation to see Indian tennis on the world map."
(With inputs from PTI)
Topics mentioned in this article