Story Progress
Back to home
Japan's Sakura Mori Completes Grand Double at India Open
Japanese table tennis player Sakura Mori won the women's singles crown at the India Open on Sunday.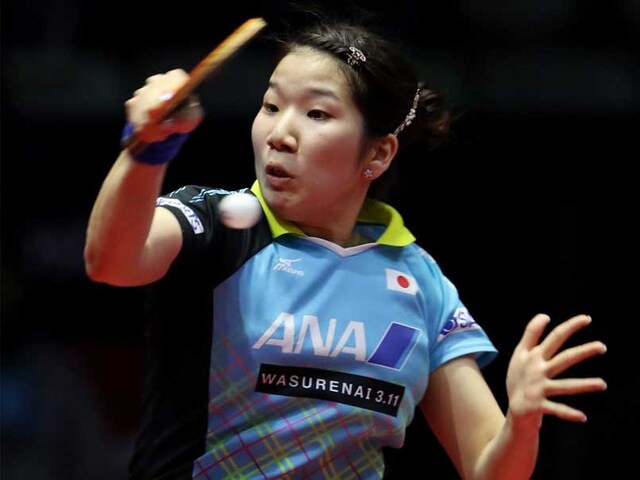 Sakura Mori clinched the women's singles crown at the India Open on Sunday.
© NDTV
Highlights
India Open is the first ever ITTF tournament in the country

Players from 18 countries took park in the event

The total prize money was $150,000
Japan's Sakura Mori completed a grand double in the 2017 ITTF World Tour India Open, adding the women's singles title to her Under-21 crown in New Delhi at the Thyagaraja Stadium on Sunday. The sixth seeded Mori, ranked No.37 in the world, came back from a game down to claim the crown 4-3 (7-11, 11-5, 11-8, 12-10, 6-11, 8-11, 11-6) in a fitting finish to the $150,000 tournament. It was her first World Tour title. Interestingly, 34-year-old Matilda Ekholm also was on the cusp of a double after pocketing the doubles crown in the company of her Hungarian partner Georgina Pota just an hour earlier. She and Pota toppled the top seeded pair of Hoi Kem Doo and Ho Ching Lee from Hong Kong in a five-game thriller 9-11, 11-3, 5-11, 14-12, 11-8.
Ekholm claimed the first game 11-7 even before Mori got into her groove. But once the Japanese player started firing her forehand top spins, she couldn't find the strokes to counter her.
She lost the next two games comprehensively 3-11, 5-11 to almost turn it into a one-sided affair. But then she retrieved some resilience from her repertoire and fought all the way to the wire in the fourth game. She had a couple of opportunities to regain ground but failed to capitalise on them and lost 12-14.
Promoted
That, however, gave her the confidence to take on her 21-year-old opponent in an attacking vein. She used her forehand smashes a lot more diligently to win the next two games 11-6, 11-8 to take the contest to the decider.
The seventh game, sadly, turned out to be an anti-climax. Ekholm committed one mistake after another to quickly go down 0-5. It turned to 2-9 to turn and even though clawed her way back to 5-9, it was just a matter of time after that.
Topics mentioned in this article