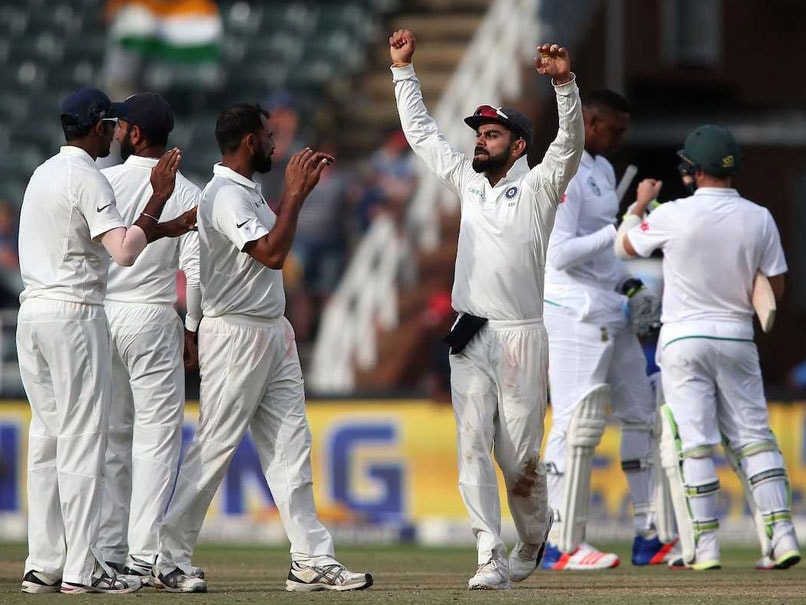 Virat Kohli celebrates after winning the third Test against South Africa.
© AFP
Former South African captain Kepler Wessels feels Indian captain Virat Kohli has his own style of leadership and can't be criticised until he gets the results for India. Kohli-led India garnered a lot of applaud for scripting an incredible comeback victory in the third and final Test against South Africa at the New Wanderers Stadium. Mohammed Shami, who ran through the middle and lower order of the Proteas' team, took five wickets as he helped the Men in Blue to maintain an unbeaten record at the venue in Johannesburg. Wessels echoed Kohli's sentiments of how belief and confidence helped the team beat the mighty South Africans in the last Test.
"Virat Kohli brings out the best in this Indian team. He gives them confidence to win, with his runs and his leadership on the field," Wessels told PTI.
"He shows a lot of emotion on the field. Sometimes this can be a good thing and at other times, maybe it's not such a good thing. Definitely, that is an area where some more balance is needed.
"But you cannot find fault in how he has led this Indian team overall," Wessels said a day after India salvaged some pride winning the third Test against South Africa by 63 runs. India maintained their unbeaten record at the Wanderers and avoided a whitewash in the Test series after losing the first two Tests in Cape Town and Centurion.
Wessels thought that ideally India should have done a lot better in the second Test than losing by 135 runs on a sub-continental type wicket.
"Centurion was their best chance. Wanderers was always going to be a difficult wicket, and we saw it has been even more difficult that normal. The ball moved a lot, unlike in Cape Town. There was so much more pace and bounce.
"At first look, given how this Indian batting had done in this series, it looked very difficult for them to save 3-0 whitewash. But they managed to turn it around with a brave display," said Wessels.
The former left-hander said that some of the careless run-outs were responsible for India's poor show at the Centurion.
"In the second Test, India should have done a lot better definitely. There wasn't as much in the Centurion pitch to support the fast bowlers, especially in the first three days. But then India had careless run-outs and it cost them dearly," he said.
The former cricketer-turned-commentator was impressed with India's bowling and said that the four-pronged pace attack at Wanderers put South Africa under pressure. He also added that the Indian batsmen let their bowlers down across the whole series.
"The Indian pacers have been not just been good but in fact been very good. They have all bowled well, whether it was Jasprit Bumrah, who was playing his first Test series.
"Bhuvneshwar Kumar and Mohammed Shami are both very good Test bowlers, especially in these conditions. Ishant Sharma showed a lot of experience. They have all bowled as a unit. "Even R Ashwin (at Cape Town and Centurion) bowled so much better as compared to his performances in South Africa earlier. So, you cannot really find fault with the Indian bowlers at all for this series' loss. The batsmen have let them down," Wessels said.
Wessels observed that batsmen from both sides found it difficult to adjust to the pace and bounce at Cape Town and Johannesburg.
"Both in Cape Town and Johannesburg, the ball was doing a lot, so you could understand why the batsmen fared poorly. So again you look at the second Test and you think India should have done better there," he added.
When asked what India could have done better to improve their batting performances, Wessels was of the opinion that India needed to be smarter in their team selection through the series and perhaps picked an extra batsman in the first two Tests.
"They should have played the first two Tests with six specialist batsmen. They didn't play a practice match and it takes time to get used to these conditions. And especially with Ajinkya Rahane sitting out in both Cape Town and Centurion Tests, I am of the opinion that six batsmen might have been a better option for them.
"When you play South Africa in South Africa, in such bowler-friendly conditions and without much practice, six specialist batsmen is a necessity," said Wessels. Wessels also felt that Indian often didn't get their combination right during the Test series.
"India didn't quite get their team balance right in this series. But I also understand that it is a tough one to call from the captain's point of view. Looking back at what they went in with, I just think that the Indian batsmen haven't been able to cope with South African conditions and the South African bowling attack. That has been the main reason for their 2-1 series' loss," he concluded.
(With PTI inputs)