Story Progress
Back to home
We Are Ready To Go To England and Australia: Bhuvneshwar Kumar
Bhuvneshwar Kumar said variations and timing were key to his success in T20 cricket.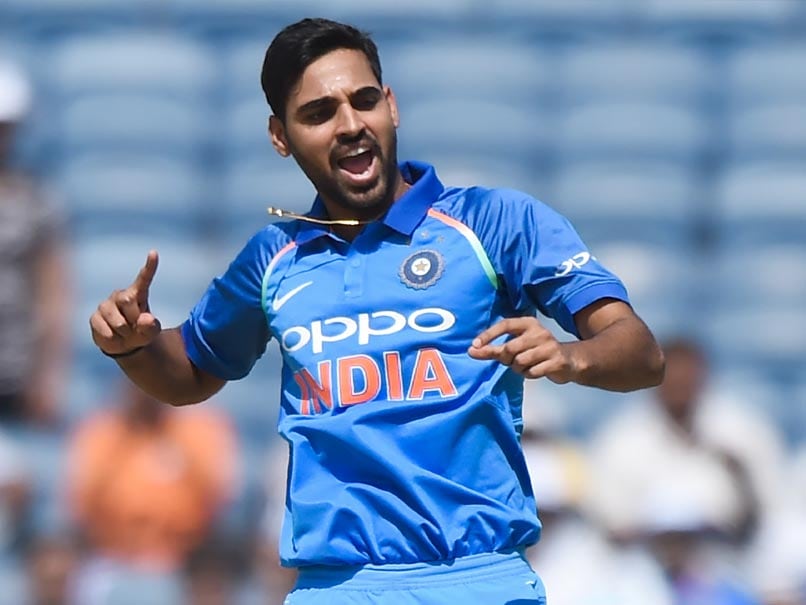 Bhuvneshwar Kumar received the Man of the Series award against SA in T20I series
© AFP
Highlights
India beat South Africa by 7 runs at Newlands to win Twenty20 series

India had won the ODI series 5-1

India are scheduled to tour England and Australia later this year
Bhuvneshwar Kumar, Man of the Series in the Twenty20 internationals against South Africa, feels that the Indian cricket teamis ready to face the tough competition in England and Australia later this year after team's stupendous performance against the Proteas. After starting the tour with a narrow 1-2 loss in the Tests, India ended the bilateral series on a high after notching up a thrilling seven run win in the third T20 International for a 2-1 result. The visitors had also recorded a dominating 5-1 win series win in the one-dayers. "We don't want to be too greedy and we are happy with these two trophies. Hopefully next time we will win all the three trophies," said Bhuvneshwar after the match.
"This tour has been brilliant, particularly talking about Test series. Yes we lost two matches, but they were very close. We could have also lost 3-0 or won 2-1 instead. But it gives us confidence in whatever way we have played, and we are ready to go to England and Australia, and do better there," he added.
Kumar said variations and timing were key to his success in T20 cricket.
T20 cricket is all about using variations and timing has to be perfect. Whatever knuckle ball I have bowled, I wanted batsmen to go after that. That way you can get wickets and that's one of the main reasons why I have been successful in power plays, he said.
Pointing out the difference in the formats, Kumar said one has to be proactive in the shorter formats of the game.
T20 is such a format that finishes quickly, and you only have four overs. If there are three bad balls in one over you will go for runs and your whole analysis suffers. The team is on back foot because of three balls. So each and every ball becomes very important. It makes the bowler think. Every ball has to be proper and you have to execute the plan properly, said Kumar.
In Test matches you don't have to do something different as compared to ODIs or T20 cricket. It's not much variation but it's about line and length. When you come to one-day cricket you look for yorkers and slower ones. It is never easy to switch between formats but it is all about practice and preparation. You need 2-3 overs to adjust when you play but when it comes to T20s, you have to be proactive and you cannot react after what the batsman does, he added.
India's strength in this T20 series has been powerplays. They have looked to dominate with both bat and ball, particularly in the last game as Kumar bowled a tight first spell to leave South Africa at 25/1 in six overs at Newlands .
However, Kumar said the key to India's success was in bowling well throughout the innings.
"Power plays are very important in both formats, but you cannot win matches based on power plays alone. If any team is down 4-5 wickets in the power plays but you still end up giving too many runs in the end, then you cannot win," he said.
"Power play is an important factor to win matches but you have to contain the runs in middle overs and you have to do brilliantly in the death overs", added Kumar who played an instrumental role as India beat South Africa by 7 runs to win the three-match T20I series 2-1.
Throughout the tour, Kumar has been the standout bowler for India but pacer didn't take any credit and attributed his success to the entire bowling unit.
When bowling, I don't think I am the leader. Instead whenever anyone is bowling in this team, he thinks he is the leader. Then only we can win matches. Individually you need to have a brilliant day to take 10 wickets on your own. Mostly you can take only 4-5 wickets. So it's about partnerships and hunting in the pack. That's what cricket is about whether batting or bowling," said Kumar.
When asked about his omission from the second Test, Kumar brushed it off in jest, instead choosing to revel in the present moment.
"I don't know about that (not playing in second Test at Centurion). I don't want to go back to the Tests, or why I didn't play. It's all about team effort. If you talk about that match, there were bowlers who could bowl brilliantly in those conditions," he added.
Talking about bowling to new faces in the South African team, Kumar said, "Heinrich Klaasen is an amazing player given the way he batted in the last two matches and in the ODIs also. They are very good players. When you play against new players, you don't know what their strengths are, especially Christiaan Jonker, we didn't know what he does. It is never easy to play first match against any player. They are new players but I think we bowled well to get them out."
Indian bowlers picked all 60 wickets on tough surfaces during their narrow 1-2 loss in Tests and Kumar hoped they can dominate the longer format of the game when they tour South Africa next.
"Of course, we want to win the Test series (here in South Africa next time) but it won't be easy. We have done well this time but there is no guarantee that it will be the same next time. We might win all the three series but we might lose all. When we come again we will start afresh," he signed off.
(With PTI inputs)
Topics mentioned in this article