Story Progress
Back to home
Ravichandran Ashwin, Ravindra Jadeja 'Not Out Of 2019 World Cup Race': Bharath Arun
India's bowling coach Bharat Arun on Friday countered Virat Kohli by saying that Ravichandran Ashwin and Ravindra Jadeja are still "not out of the race".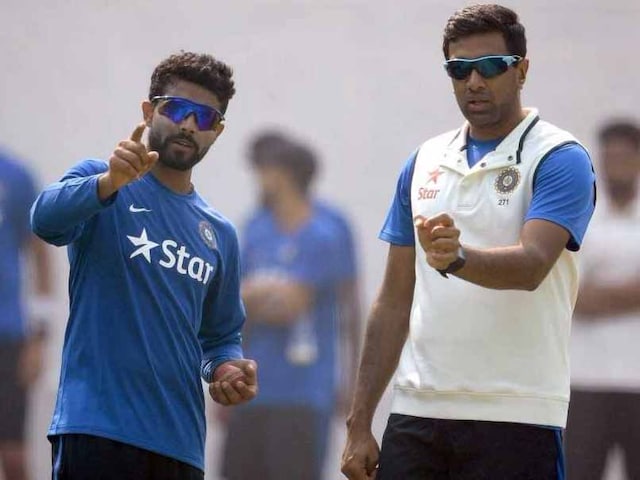 Ravindra Jadeja and R Ashwin are not part of India ODI team in South Africa
© AFP
Highlights
Chahal, Kuldeep have together accounted for 21 victims in 3 matches

Chahal has taken 11 wickets in the series so far

India are 3-0 up in the series
India bowling coach Bharath Arun on Friday countered India skipper Virat Kohli's comments by saying that Ravichandran Ashwin and Ravindra Jadeja are still "not out of the race" for 2019 World Cup. Kohli had stated that the wrist spin duo of leggie Yuzvendra Chahal and chinaman Kuldeep Yadav could be a massive X-factor in the 2019 World Cup. After Chahal and Kuldeep triggered a South African collapse, taking four wickets apiece in the huge 124-run win in the third ODI at Cape Town, Kohli went on to praise the duo, saying: "They might get hit for 70-odd in the next game. But there is no problem in that because you know that if they bowl attacking lines then they will end up picking two-three wickets every game."
"In these conditions now and we are going to play the World Cup away from home, that I think is going to be the massive X-factor for us."
After impressive outings in the home season last year, Chahal and Kuldeep have together accounted for 21 victims in three matches in the ongoing six-match ODI series against the Proteas.
However, Arun's comments on the eve of the fourth ODI at the New Wanderers Stadium here, could come as a new ray of hope for Ashwin and Jadeja, who were ruling the ICC ODI bowlers' rankings not very long ago.
"We wanted to look at all the existing talent that we had. We wanted to look at the pool of talent and then we would decide on who we would want for the ultimate goal of the World Cup," Arun told reporters here.
"It is not that Ashwin and Jadeja are out of the race. They could still be in the team," he added.
Praising the performances of Chahal and Kuldeep, Arun said: "They are extremely positive. They are not afraid to flight the ball. They are not afraid to impart that extra spin. And they are not dependent on the wicket.
"They get lot out of the air. They have enough skills to beat batsmen in the air. And they just back their instincts," he added.
When queried about the decision to pick Chahal and Kuldeep in Sri Lanka last year ahead of Ashwin and Jadeja, Arun explained that it was to "rotate" the bowlers and check the "good pool of bowlers".
"At that point of time (in Sri Lanka series) we wanted to try out all our talent. We had a good pool of bowlers. As you would understand, the volume of cricket that we are playing, we need to keep rotating those bowlers so that they are fresh for every format," he said.
"These two bowlers showed a lot of promise and we said in overseas conditions a wrist spinner would do lot more than finger spinner. Rightly so they have come to the party here," added the 55-year-old former India all-rounder.
(With IANS inputs)
Topics mentioned in this article