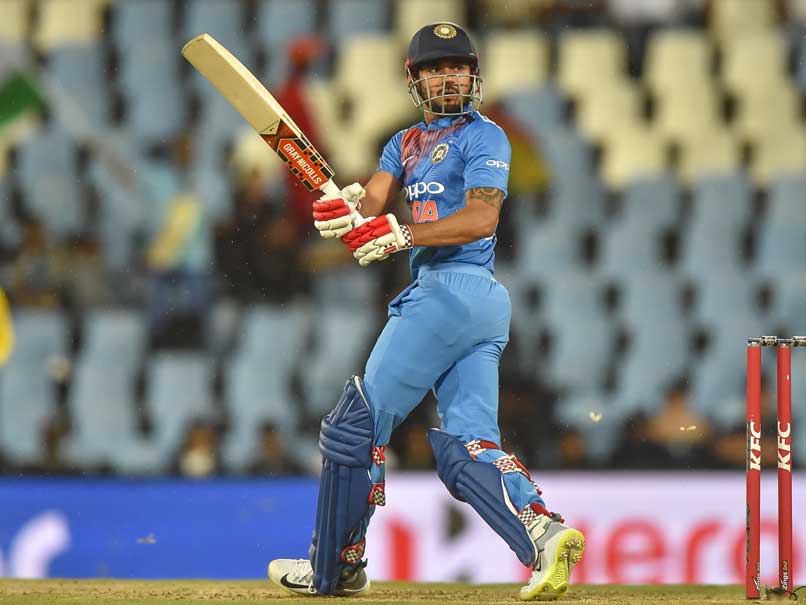 Manish Pandey remained unbeaten on 79 in the second T20I match against South Africa.
© AFP
Indian middle-order batsman Manish Pandey played a solid knock against South Africa in the second T20I in Centurion as he remained unbeaten on 79 off 48 balls. While the right-handed batsman has an erratic attendance in the Indian playing XI, he believes that he has what it takes to be a regular pick in the star-studded middle-order if given a longer rope. "Honestly, it's a little tough (waiting for chances) and it works on your mind a lot. Especially on this tour, I have felt it a lot actually but that is what cricket is all about," Pandey said.
"You have to wait for your chances to play for a team like India where you have so many stars and legend after legend (in the team). So I am trying my bit there," Pandey added.
"I have got a few chances at number four and I have delivered. So the batting combination sometimes pushed me down to number five. I have tried my bit (at number five), but I also feel that I could probably do a little bit more with myself," he said.
Pandey feels that if he is given more chances in the middle he can deliver.
"...India has a really good top-order line-up and they bat out nearly 30-35 overs in ODIs with guys like Virat (Kohli) and then MS Dhoni comes ahead of me (at times). So yeah, with some more chances, I feel I can deliver a lot more than what I am doing right now."
Pandey sat out the entire ODI series and didn't come into the side even when Kedar Jadhav was injured with Shreyas Iyer preferred in his place.
Pandey, who had scored the first IPL hundred by an Indian batsman at Centurion back in 2009, said it is tough following in the footsteps of the likes of Suresh Raina and Yuvraj Singh who have batted before at number five for India.
"I was waiting to play here. Even in the ODIs, I was trying to squeeze my chances in but that didn't happen. But in the T20s, it has been good and Centurion has always been good to me. I still remember the hundred I got here about 9-10 years ago, so it is good to always bat here," he said.
"As I said, it is tough playing for India at number five. The people who have batted at this spot before me, like Raina and Yuvi, well, it is also tough to fill in their shoes. Over the last couple of years, Indian batting has also been doing very well. So you have to be very patient for your chances," he added.
Pandey admitted he was a bit slow in his first outing on this tour at the Wanderers, where he scored 29 not out off 27 balls. In this second game though, Pandey did it very well as he put on 98 off 56 balls with MS Dhoni.
"From ball one, you have to go for it. That's what I tried to do in the first game but I played a little slow. It happens coming back after a long time and staying here. It was in my mind a little bit but today was a good day for me.
"I want to continue playing the way I have always played. That's how I have to keep squeezing my chances in there, he said.
India scored 62 runs off the last five over to end the innings at 188 and Pandey credited Dhoni for the fireworks.
"Mahi just woke up, he added, with a laugh. That was his chance. He is the best when he bats lower down the order. He takes a couple of overs, looks to dominate and that's what happened," Pandey quipped.
Pandey said they were thinking 170 would be a good score initially as South Africa were bowling a tight line and length.
"South Africa bowled well and at the start we were thinking about 170 to finish with. Then Mahi and I got that partnership. A couple of inside edges went to the boundary. There were also some great shots by Mahi that took us to 188, so we were thinking these are bonus 20 runs," he said.
(With PTI inputs)