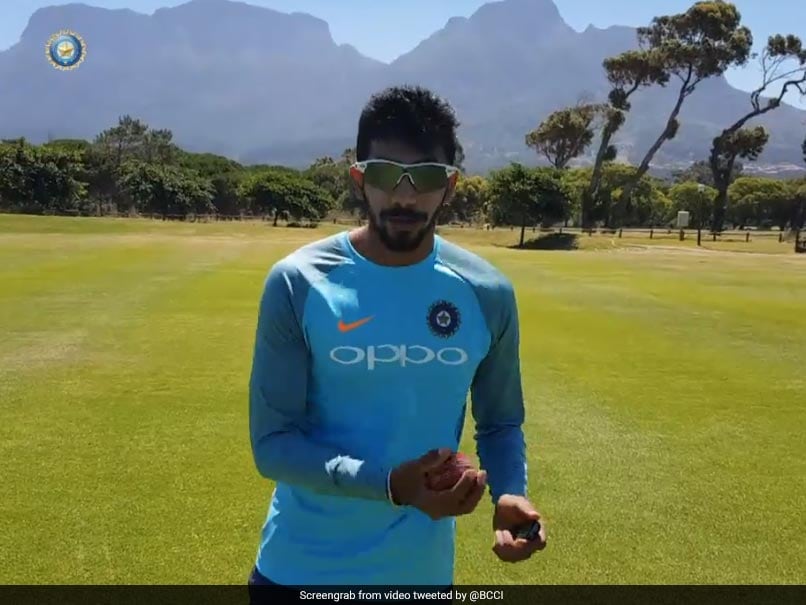 Jasprit Bumrah spoke his first practice session with the Indian Test squad.
© Twitter
Virat Kohli-led Team India will be aiming their first ever Test series victory over South Africa in their backyard. With different bowling conditions in play, the Indian bowlers, during their practice sessions focussed on bowling multiple long spells in order to up the ante during the series. India will be relying on their bowling department comprising of Mohammed Shami, Umesh Yadav, Bhuvneshwar Kumar, Ishant Sharma, Jasprit Bumrah and Hardik Pandya. For Bumrah, who will be featuring in his first Test match for the Indian side, it will be a challenge to master his bowling on the bouncy wickets.
In a video uploaded on Twitter by the Board of Control for Cricket in India (BCCI), Bumrah spoke about his journey from white ball to the red ball and also shed some light on India's first practice session.
"This is our first practice session after arriving at Cape Town. We are doing centre-wicket practice and the batsmen are playing according to their batting order. It was a good productive session as we got a feel of the wicket and the weather. It was a good practice session for the team as they put in a lot of hard work," Bumrah said.
VIDEO: From white to red: @Jaspritbumrah93's first foray with India's Test squad
What happened during India's first practice session in South Africa? Jasprit Bumrah, the latest entrant to the Test squad has all the answers.https://t.co/18ACICCJNQ #SAvIND

— BCCI (@BCCI) January 1, 2018
Speaking about his first time with the Test team, the right-arm bowler said, "For me as well, it was a good session as it is my first trip to South Africa with the Test team. I have been with the team in the ODI set-up but being a part of the Test team is a good feeling. I have a lot to learn from the senior bowlers and the bowling coach as well.
"It was a good long productive bowling session for all the bowlers. Since there was a little bit of juice in the wicket, our wicket-keeper too was feeling a little bit of pace which are bowlers were generating," Bumrah further added.
The first Test match will be played at Newlands, Cape Town on January 5.