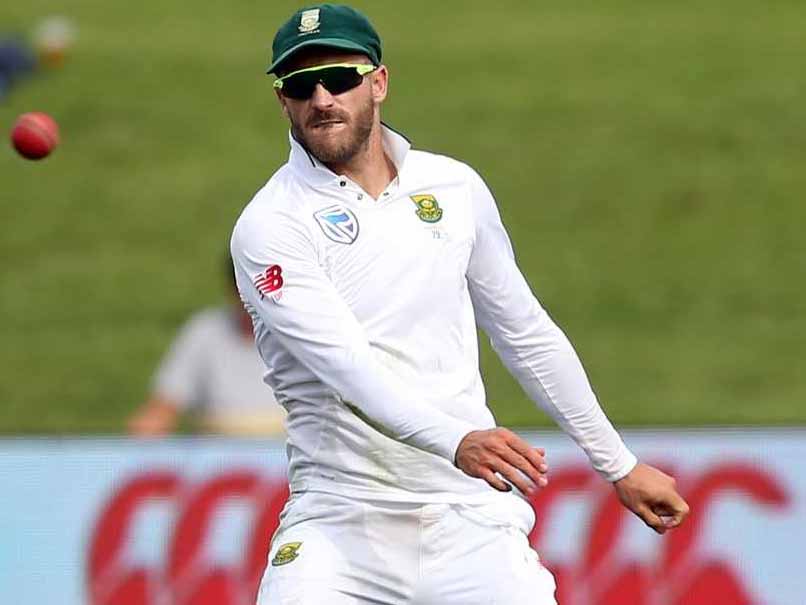 South African captain Faf Du Plessis gestures during a match in this file image
© AFP
South Africa skipper Faf du Plessis expects another huge performance from India as his team takes on the visitors in the second Test at Super Sport Park at Centurion on Saturday. "India, at times, were really good in that first Test match. That's why I said it was one of the best Tests I've played in, because there were so many ups and downs for both teams. India was in the game for 90 per cent of the game, so it was a fantastic contest between two really strong teams. Their bowlers took 20 wickets, but the only part when we were a little bit better was we got more runs in the first innings. I expect another huge performance from them," Du Plessis said on the eve of the second Test.
India go into this second Test with their record of nine consecutive series' wins on the line. This is a must-not-lose match for them.
Plessis added that he won't mind if their fast bowlers, who have "X factor", shape their victories against India and admitted they have demanded wickets which assist pace and bounce. "Sitting here as a batsman, the first priority is to win games. If we play in series where the ball takes the upper hand, so be it. As long as we are winning it is fine," Du Plessis said 
The home captain though said the wicket at the Supersport Park is a lot browner than he thought. "The information from the groundsmen is that the grass on the wicket has been burnt from the heat over the last week. It was very hot. We've asked for pace and bounce so hopefully we will get that. It is the key thing," he said.
"If there was a bit of grass on it, it's fine then we back ourselves. If it was a low-scoring game, we'd want to get 20 or 30 or 50 more. I expect a good cricket wicket and hopefully pace and bounce. We prepare bowling friendly conditions because we want to win Test matches."
The hosts, who lead this three-match series 1-0, have one selection headache. They need to replace injured Dale Styen, with homeboy Lungi Ngidi awaiting his Test debut. All-rounder Chris Morris though is expected to take that slot. "Right now I look at Morry (Morris) as a fourth seamer replacement. If you pick four seamers, he can be in amongst them. Consistency-wise he has got a bit of work to do to be a third seamer. If you pick three seamers, he will consistently have to be on the money. Dale, Morne (Morkel), Vernon (Philander) and KG (Kagiso Rabada) are a step above in that regard. But if we play four seamers he is someone who gets talked about because he has pace and x-factor, and obviously he bats as well," said Du Plessis.
The Proteas are expected to retain the remainder of their bowling attack with Philander leading and the Test no.1 bowler in the mix as well. "KG (Rabada) is an incredible athlete - I think that's his strongest attribute. He's just such a strong bowler. He can bowl the whole day and he doesn't get tired. He's very fit, which is a great thing for a captain, because you know you can always throw the ball to him.
     
Despite the brown grass on the pitch, du Plessis was of the opinion that the spinner might not have much to do in this Test. "Generally Centurion doesn't spin that much, but there is a thick layer of ground grass on it, which is not something we're used to seeing. So it's an unknown. Hopefully it doesn't turn. To get the conditions that we would like, the ball must spin as little as possible. To have pace anywhere in the world is an advantage. If you don't have pace, your attack can get one-dimensional. I feel our attack has a lot of variety, so there is a huge X-factor to it," the skipper said.
(With PTI Inputs)