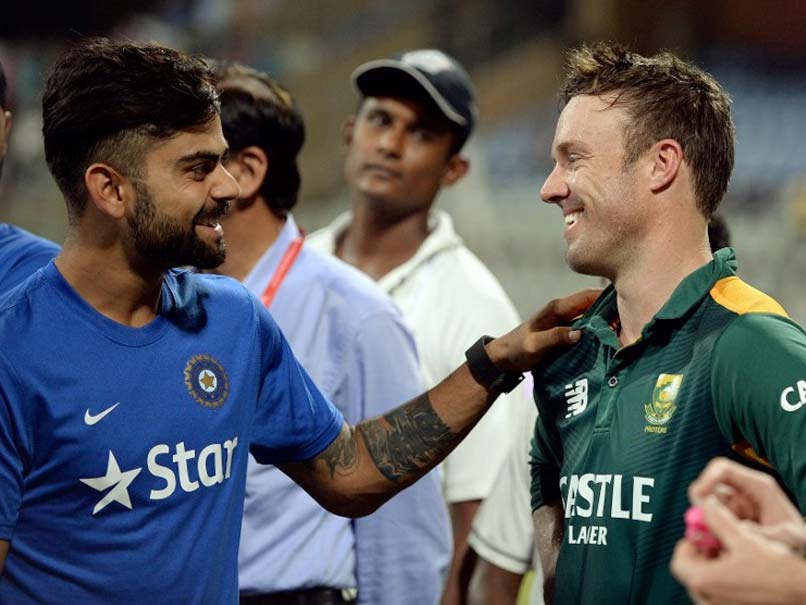 AB de Villiers and Virat Kohli share a great bond off the field.
© AFP
Star South African batsman AB de Villiers has warned his teammates about Virat Kohli and his Indian team ahead of the Freedom series early next year. De Villiders feels Kohli's team has undergone a transformation of late and that the visitors will be eyeing history against the Proteas. The South African described his Indian Premier League teammate as one of the best captains in the world now. "I'd say Virat is one of the best captains at the moment, the most improved -- there's a big change from when I first saw him captaining to now," he said.
"We know all about Virat Kohli, how determined he is as captain; he'll definitely come here trying to win and to make history," De Villiers added.
India have never won a Test series in South Africa, a 1-1 draw in the 2011 being their best result. The upcoming three-match series begins January 5.
De Villiers has been out of Test cricket on a injury-induced exile for almost two years, having last played in this format against England in January 2016.
He will return to Test cricket in the one-off Test against Zimbabwe beginning Tuesday before the series against India.
The 33-year-old South African said it would be a challenge for his side against a young Indian side led by a highly competitive Kohli.
"I'm very excited that they (India) are going to be touring in South Africa. I have not played against India for a while now, so it's going to be a really good series," de Villiers was quoted as saying by 'Sunday Times'.
"It will be a great challenge. They (India) are a team that's young and determined. They have played a lot better over the last few series we've played here compared to the 90s," said de Villiers who has amassed 8074 runs from 106 Tests at an average of 50.46.
De Villiers' last outing in Test cricket was a forgettable experience as he registered a pair of ducks, first dismissed by Stuart Broad and then by James Anderson. In fact, his last three innings before his break were ducks.
But he said his motivation for returning to red ball cricket is to help South Africa regain the number one position in the rankings this summer.
(With inputs from PTI)