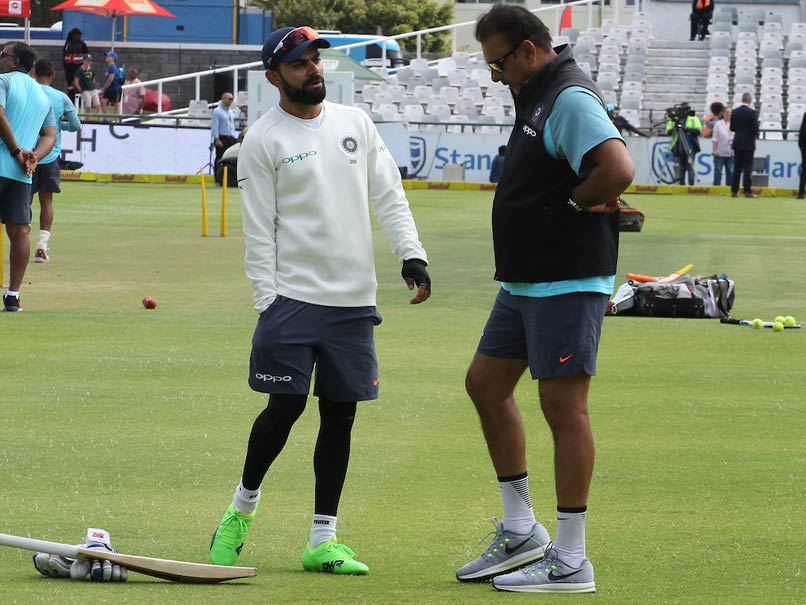 Virat Kohli said the team is picked based on conditions on offer.
© BCCI
India cricket captain Virat Kohli on Friday clarified his position on the team's balance and composition, stating that opinions outside the dressing room will not influence the playing XI for the 2nd Test at Centurion, starting today. "Its funny. Before the last Test, everyone was saying Ajinkya Rahane should not be included in playing XI. Now, in one week, that has changed. Everyone is saying he should be. We don't decide the playing XI as per outside opinion," Kohli told reporters ahead of the 2nd Test.
Kohli made it clear he would welcome another no-holds-barred battle in conditions as tough as they were in Cape Town, where South Africa won the first Test by 72 runs.
"We were pretty happy with the wicket and the way it played in Cape Town, it gave us many opportunities to stay in the game," said Kohli. "This pitch will again test us to play our best cricket and that is something we are looking forward to."
Kohli said India's bowlers had shown their ability in Cape Town. "We're very happy with the way the bowlers went about their business. We believe we can get them out twice again."
But the Indian batsmen needed to step up. Kohli said they had gained from their experience in Cape Town - and the mistakes they had made there. "There is no need to panic as a batting unit, we have played well for a long time - and we have played well away from home as well. We just need to apply ourselves better."
South Africa have to make at least one change following a series-ending injury to Dale Steyn.
"The team we selected last week was the right team and it worked pretty well," said Du Plessis. "We have to decide whether we go with the same balance of four seamers and a spinner or whether we go for more of an all-rounder."
Kohli was quizzed on possible changes among the batsmen. He admitted that there would be some discussion about India's opening batting combination, which suggests that Shikhar Dhawan's place could be in doubt after two poor dismissals against short-pitched deliveries last week.
(With inputs from AFP)