Story Progress
Back to home
Nidahas Trophy Final: Dinesh Karthik Was Upset After Being Demoted In Batting Order, Says Rohit Sharma
Dinesh Karthik was sent in to bat ahead of Vijay Shankar in a move that almost backfired.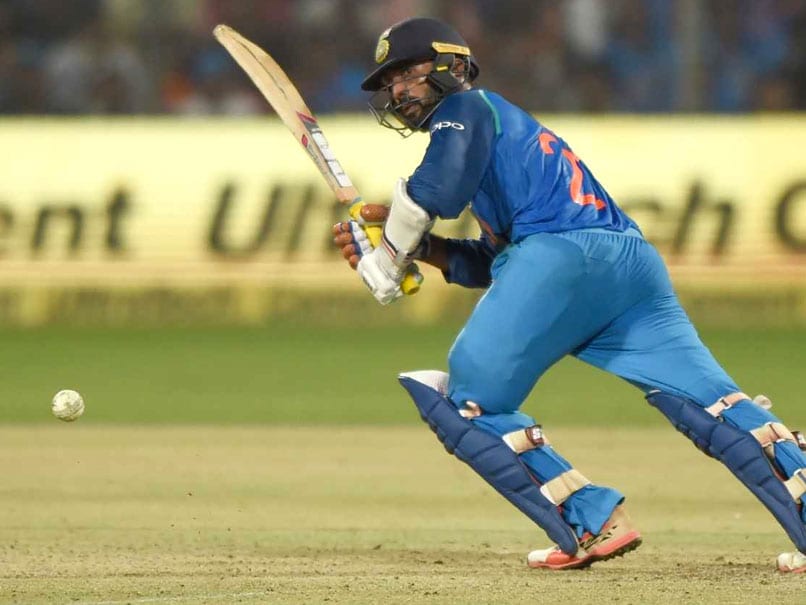 Skipper Rohit Sharma sent medium-pacer Vijay Shankar ahead of Dinesh Karthik
© AFP
Highlights
India clinched a nail-biting thriller, beating Bangladesh by four wickets

Karthik smashed 29 runs off eight balls to gift India a memorable win

Karthik was sent to bat ahead of Shankar in a move that almost backfired
While Dinesh Karthik was the toast of India's cricket-following public for his superlative showing that snatched the Nidahas Trophy 2018 from Bangladesh, the fact that he was not sent in to bat at usual position of No. 6 did not sit well with the wicketkeeper-batsman. Stand-in India skipper Rohit Sharma sent medium-pacer Vijay Shankar ahead of Karthik in a move that almost spelled disaster for India and they were down and out till Karthik came in to bat. "Karthik is always ready to deliver whatever the situation may be and his experience and repertoire of strokes make him a suitable candidate to provide the final flourish for India at the death overs", Sharma said.
Karthik (29 of 8 balls) produced a last-ball six as India pulled off an incredible chase beating Bangladesh by four wickets.
"He was with us on the previous tour in South Africa and didn't get much game time. To do what he did today will give him a lot of confidence going forward," Sharma told reporters.
"Most important thing he has is belief in himself. Whatever situation comes, he's ready - whether he bats up the order or down the order. That's the kind of guy we need in our team."
Sharma revealed Karthik was not happy that he was not batting higher in the order but the Indian skipper defended his decision of sending him at number 7 saying his experience and skills made him a suitable candidate to provide the late charge in the final overs.
"When I got out, I went and sat in the dugout and Dinesh was quite upset that he didn't bat at No. 6," Sharma said.
"But I told him: 'I want you to bat and finish off the game for us, because whatever skill you have, it will be required in the last three or four overs'. That is the only reason he was not batting at No. 6 in the 13th over when I got out. He was upset with that, but he'll be quite happy now how he finished off the game."
Lavishing praise on Karthik, Sharma said: "I have to go back to the kinds of shots that he has in his books - it suits him to finish off games at the death where you have to use that one fielder that is inside the circle - either fine leg, or mid-off or short third man.
"He can always play those ramp shots which he played in the end to Rubel Hossain. He knows that. I thought Mustafizur (Rahman) would bowl probably the 18th and the 20th overs, and we wanted an experienced guy to handle him.
"We knew he would come out with his offcutters and Dinesh probably would have been a better choice at that point.
"He has done it for his state team and also for Mumbai Indians," Sharma added.
Washington Sundar along with Yuzvendra Chahal finished as the tournament's highest wicket-takers, with eight dismissals apiece and Sharma singled out the all-rounder for special praise.
"I think throughout the series Sundar's bowling has been magical for us. What he has done with the new ball is quite incredible, I would say. Not anyone can just take the pressure of bowling within the Powerplay. Not to forget he also got wickets at the same time. He didn't allow any of the opposition to score runs really in the Powerplay," he said.
Promoted
"The skillset that he has - he's quite courageous to do what he wants to do in the middle. It's not just one or two games. He consistently bowled in the Powerplay, and always kept us in the games. We identified him as one of the promising talents who can play for the national team for many years. This tournament will give him a lot of confidence."
(With PTI inputs)
Topics mentioned in this article