Story Progress
Back to home
India vs New Zealand Live Score, Over 1 to 5 Latest Cricket Score, Updates
Live Updates of Today Match between New Zealand vs India from Westpac Stadium, Wellington. Check commentary and full scoreboard of the match.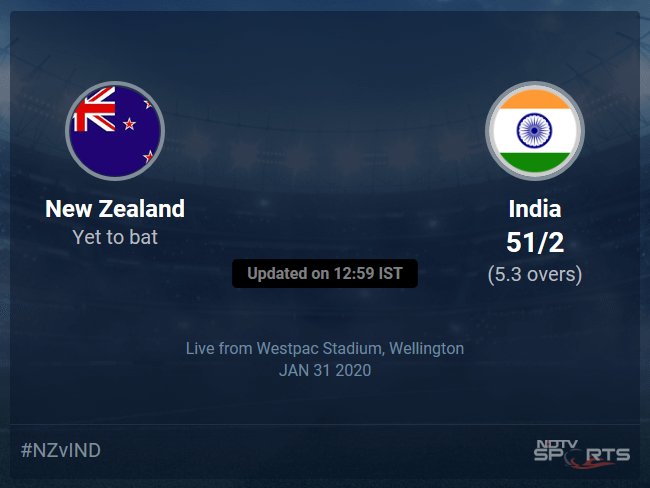 IND vs NZ Latest Score
Follow the New Zealand vs India, 2020 live cricket score on Sports.NDTV.com. After 5.3 overs, India are 51/2. Get live score, ball by ball commentary and much more. Keep track of New Zealand vs India, 2020 today match between New Zealand and India. Everything related to New Zealand and India match will be available on Sports.NDTV.com. Stay updated with New Zealand vs India live score. Do check for New Zealand vs India scorecard. You can get scorecard updates, match related facts. Get quick live updates with ads, Sports.NDTV.com, which is the perfect destination for live cricket score.
4.6 overs (0 Run) A dot to end an action-packed over. On a length and around off, this is guided to point.
4.5 overs (1 Run) A single now as this is worked towards mid-wicket.
4.4 overs (1 Run) Off the mark is Iyer! Shorter and outside off, Iyer upper cuts it, it lands well short of the fielder at third man for one.
Shreyas Iyer walks out at number 4.
4.3 overs (0 Run) OUT! In the air... taken! What a catch by Santner. A top-class catch to dismiss a top, top player. Bennett is pumped up. He has a knack of picking wickets and this is a huge one, probably the biggest one in the Indian side. It is on a length and around off, the ball sticks in the surface a touch. Kohli looks to flick but the ball arrives slowly. He gets a leading edge beside the pitch. Santner at short coves dives to his right and takes it brilliantly. So the runs are flowing but New Zealand are managing to take wickets at regular intervals.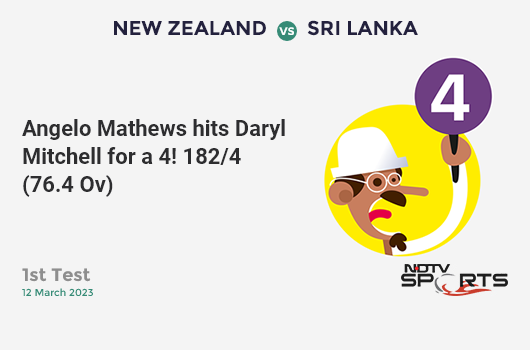 4.2 overs (4 Runs) FOUR! Excellent batting! A boundary through the off side now. A tough start for Bennett yet again. This is outside off and on a length. Kohli waits for it and then guides it down to third man for a boundary.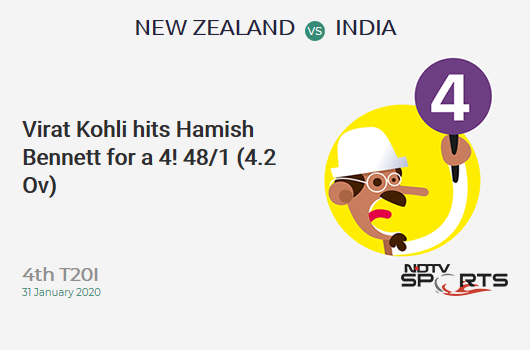 4.1 overs (4 Runs) FOUR! Welcome into the attack, Bennett! Excellent wrist work from Kohli! This is angled into the body. Kohli uses his wrists to whip it behind square on the leg side and bags a boundary.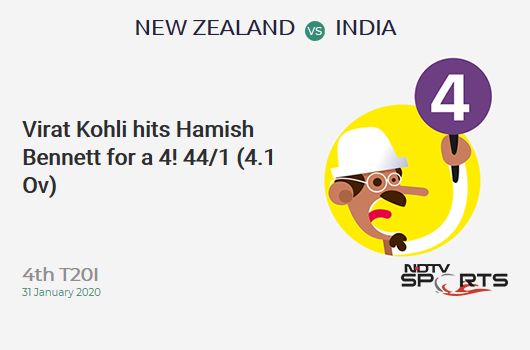 Change in bowling! Hamish Bennett to bowl the second last over of the Powerplay. He was expensive but also grabbed 3 wickets in the previous game.
3.6 overs (0 Run) Play and miss! Back of a length on top of the stumps, Rahul makes room and looks to go over point but he misses. Good over from the skipper, just 5 off it.
3.5 overs (1 Run) Pace off the surface is on display on this ball. Length delivery on middle and leg, Kohli looks to pull but the ball comes quicker off the surface and hits Kohli on his thigh pad. It rolls towards the off side and they take a leg bye.
3.4 overs (1 Run) Back of a length on the body, Rahul looks to pull it fine down the leg side but the ball zooms off the surface and clips his glove. It goes wide of short fine leg and gets a single.
3.3 overs (2 Runs) Smart running this time. Length ball on middle, Rahul flicks it stylishly towards mid-wicket and takes a single. The fielder there has an unnecessary shy at the bowler's end. He scores a direct hit and the ball deflects it towards long off and they take an extra run.
3.2 overs (1 Run) Good running, expect a lot of these when Kohli is in the crease. Full on middle and leg, Virat pushes it towards mid on and takes a single.
3.1 overs (0 Run) Good length delivery, angling in to the Indian skipper. He tucks it to the leg side.
Tim Southee, the skipper, is back from the other end this time.
2.6 overs (4 Runs) FOUR! Another huge over for India! The last two balls spoils the over completely. Rahul makes room this time and it is bowled full outside off. Rahul hits it through covers and bags a boundary.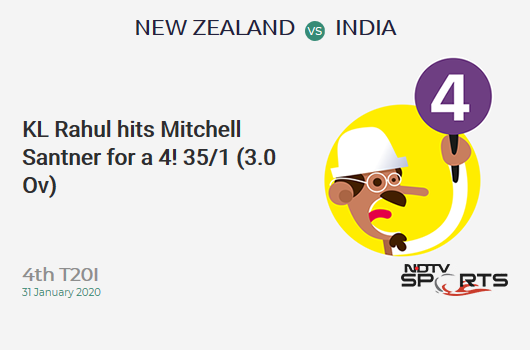 2.5 overs (6 Runs) SIX! Dealing in biggies are India! It is shorter in length and on middle, Rahul rocks back and pulls it just over the mid-wicket fence for a biggie. India off to a flier here.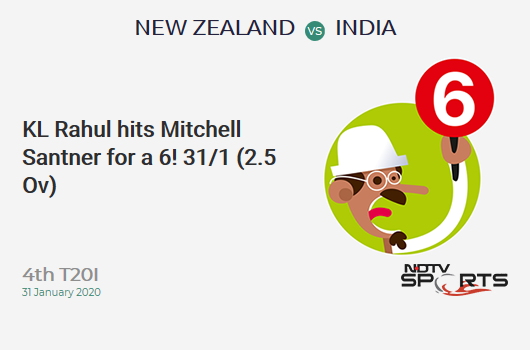 2.4 overs (1 Run) One more ball on the pads, Kohli works it behind square on the leg side for one.
2.3 overs (0 Run) Floats it up on off, Kohli drives it to the man at covers.
2.2 overs (1 Run) Angled into the pads, Rahul works it around the corner with soft hands and gets to the other end.
2.1 overs (1 Run) Shorter and on middle, it is pulled through square leg for one. Kohli is underway.
1.6 overs (0 Run) BEATEN! A good nut to end but a top over for India. It is just behind a driving length outside off. Rahul goes after it but is beaten.
1.5 overs (6 Runs) SIX! Takes full toll of the Free Hit! Second biggie in the over. This is right in the slot. Full and outside off, Rahul clears his front leg and hammers it over the cover fence for a huge one. Already 15 from the over with a ball left.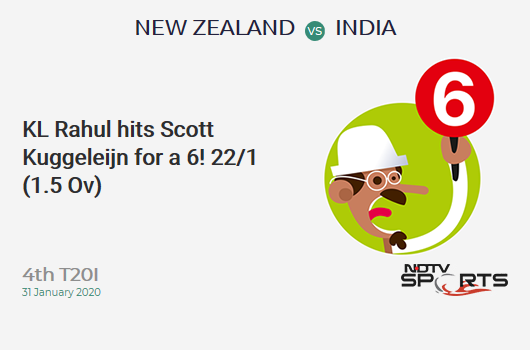 1.5 overs (1 Run) WIDE! Free Hit continues! A slower one way outside off, Rahul swings but misses.
1.5 overs (1 Run) NO BALL! Now then, first it was signaled a wide but then the square leg umpire signals second bouncer of the over so it is now a no ball. Free Hit coming up now. It is short and down the leg side. The umpire first signals it as a wide but then gives it a no ball. Marginal Call that.
1.4 overs (0 Run) Shorter and around off, this is pushed towards cover-point.
Will Kohli once again experiment at number 3 with a new batsman or will the skipper come out in his usual position? It's the latter as Virat joins Rahul out in the middle.
1.3 overs (0 Run) OUT! In the air... Santner is actually struggling under it, he seems to have not picked it but he takes it in the end. Kuggeleijn has the last laugh. Six and out for Samson. Very similar to the last game he played for India. There too, he perished after hitting a biggie. It is a length ball around middle, Samson looks to go across the line, he tried playing a similar shot to the one he played on the first ball of this over. This time there is extra bounce. The bat turns in his hand and that's why the ball goes high up in the air towards the off side. Santner from covers runs in, he maybe fails to pick it but takes it with a dive forward. Santner later on smiles and indicates that the ball was swirling in the air and hence he struggled. Superb catch from the left-arm spinner, he is a brilliant fielder and this catch is a prime example of it. Samson fails to impress in the opportunity he gets. Good start for the Kiwis. An early wicket.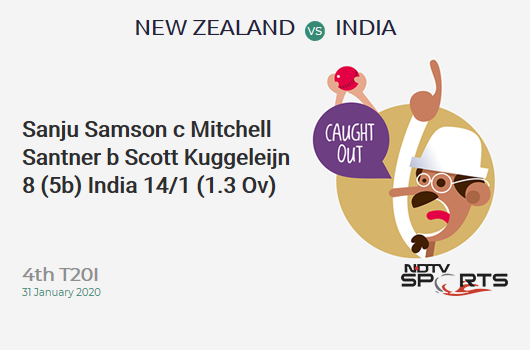 1.2 overs (0 Run) Outside off, slightly fuller. Samson strokes it to point.
1.2 overs (1 Run) A perfect fast bowler's response! Goes short but it is down the leg side. Wided.
1.1 overs (6 Runs) SIX! How easy was that! Brilliant from Samson. That is some shot. This is fuller and angled into the pads, it is actually a delivery which Samson likes. He flicks it nonchalantly over the mid-wicket fence for the first biggie of the game.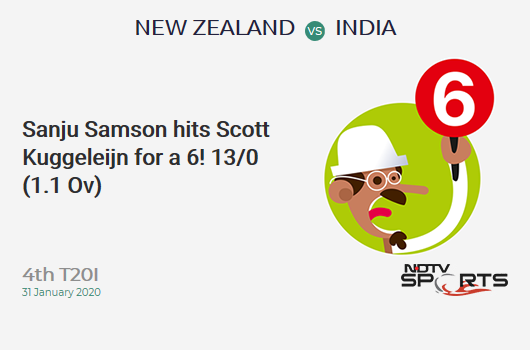 Scott Kuggeleijn to bowl from the other end.
0.6 over (1 Run) A single to end! 7 from the first over. Slightly shorter and around off, Samson pushes it towards cover and takes one.
0.5 over (1 Run) Uppish but just wide! A short delivery outside off, Rahul looks to drag the pull but does not hit it off the middle. It goes over mid-wicket. Mid on chases it down and it is only a single.
0.4 over (0 Run) On the stumps again, Rahul works it to mid-wicket. First dot of the game.
0.3 over (1 Run) Samson is off the mark too! This is angled into the pads, Samson works it wide of mid on and takes one.
0.2 over (1 Run) Good running! Fuller in length and around middle, this is hit back towards mid on. Rahul calls immediately. The fielder at mid on does hit bull's eye at the non-striker's end but Rahul is well in.
0.1 over (2 Runs) Rahul is underway now! This is angled into the pads, Rahul works it through square leg. It is away from the fielder at fine leg and two is taken.
0.1 over (1 Run) False start by Southee and India are underway! He slips this one down the leg side, probably looking to swing it away from there but it goes straight on. Rahul looks to flick but misses. Wided.
We are all set for the action to begin! The New Zealand players make their way onto the field and are taking their respective position. KL Rahul walks with a new opening partner in Sanju Samson. New Zealand skipper, Tim Southee to take the new ball first up. A wide slip in place for Rahul who will face the first ball.
Ish Sodhi is up for a quick interview with Scott Styris. He says they did a few things well in the last game. States they pulled things back well and also almost chased down a big total. Mentions the series is done but it is a chance to play for the Kiwis and they need to play well. Informs in Eden Park he tried to pull his length back a little as the ground is short and the pitch is hard but at the other venue it was turning and he looked to give it more air. Ends by saying they are without Williamson and that is a big hole to fill as he is one of the best batsman in the world. Says it should be a high scoring game with short square boundaries.
India Plying XI - Sanju Samson (In for Rohit Sharma), KL Rahul (WK), Virat Kohli (C), Shreyas Iyer, Manish Pandey, Shivam Dube, Washington Sundar (IN for Ravindra Jadeja), Shardul Thakur, Yuzvendra Chahal, Jasprit Bumrah, Navdeep Saini (IN for Mohammed Shami).
New Zealand playing XI - Martin Guptill, Colin Munro, Tom Bruce (In for Kane Williamson), Ross Taylor, Tim Seifert (WK), Daryl Mitchell (IN for Colin de Grandhomme), Mitchell Santner, Scott Kuggeleijn, Tim Southee (C), Ish Sodhi, Hamish Bennett.
Indian skipper, Virat Kohli says they would have bowled first too, it looks a good track though and should stay good throughout. States the wind can play a role and it is about being smart, you should be probably targeting with the wind and not against it. Mentions they have done well so far in this series and want to continue to do well. Also adds they just spoke how about how good the last game was, they haven't had such a game close game recently and it is an opportunity for the ones playing today to carry forward the momentum. Informs they have rested Jadeja, Sharma and Shami and they are replaced by Saini, Sundar and Samson.
New Zealand skipper, Tim Southee says it looks a pretty good surface and it skids on later on. Williamson has a niggle on his shoulder after a dive in the last game, it is nothing serious though. States they showed a lot of improvement in the last game and it is about to keep improving and they hope to do well here. Informs, Bruce and Daryl come in for de Grandhomme and Williamson.
TOSS - We are all in readiness for the toss. It is not Kane Williamson but Tim Southee who has walked out for the toss and he has the coin in hand. Indian skipper, Virat Kohli calls Heads but it comes down as Tails. NEW ZEALAND OPT TO BOWL!
Pitch Report - Scott Styris and VVS Laxman are doing the pitch report. The latter says it is a nice wicket to bat on, it is rock hard and there is even grass cover. Mentions the dimensions of the boundary will be a challenge for the bowlers, the straight boundaries are longer and the square ones are smaller, so the fuller length will be the one to bowl. Scott Styris ends by saying he does not expect a lot of turn and the ball should come on nicely throughout the game.
India have wrapped the series up and are now eying a whitewash. Virat Kohli and co. have showed skill, dominance and nerves of steel in the first 3 T20Is and it will be interesting to see if they tinker with the winning combination and if so how many changes they make. New Zealand, on the other hand, haven't been able to hold their nerves in the crucial moments and have some thinking to do. Pride is at stake for the Men in Black and they'll be desperate to get their first win of the series. Can New Zealand end their losing run or will it be India once again? Stay tuned to find out as the toss is not far away.
Topics mentioned in this article