Story Progress
Back to home
New Zealand vs India Live Score, Over 46 to 50 Latest Cricket Score, Updates
Live Updates of Today Match between New Zealand vs India from Bay Oval, Mount Maunganui. Check commentary and full scoreboard of the match.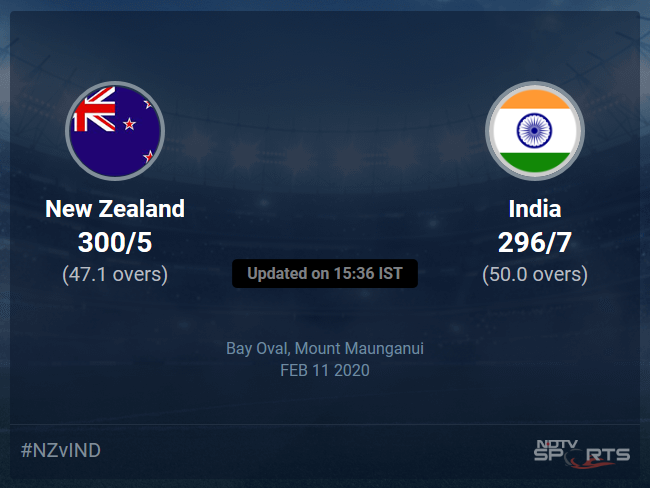 NZ vs IND Latest Score
A dedicated team of experts bring you live score, live cricket score, live match update on Sports.NDTV.com. After 47.1 overs, New Zealand, chasing a target of 297, are 300/5. The live updates of New Zealand vs India scorecard is also available. It is the perfect platform to follow your favourite teams in New Zealand vs India, 2020. Keep a track on your favourite batsmen and bowlers through New Zealand vs India, 2020 today match, ball by ball commentary, New Zealand vs India, New Zealand vs India live score, New Zealand vs India scorecard. Follow the excitement of the New Zealand vs India, 2020 on Sports.NDTV.com as you can follow live match updates and live cricket score through our platform.
So that is it from this game and the ODI series. New Zealand avenge for the T20I whitewash with an ODI whitewash. We now move to the final leg of the tour as we head for the longest format of the game. The teams take on each other for a 2-Test series which will carry 120 points of the World Test Championship. The first Test match begins on Friday, 21st February. The game begins at 1130 local (2230 GMT, Previous day)
New Zealand skipper, Kane Williamson says they were outstanding and clinical. Credits India for putting on a tough challenge. Adds they were clinical against a great side. Tells they had clarity in their roles and that was the main thing. Says the ODI side is looking for the Australian series now. Shares that the team changes a bit for the Tests. On his health, Williamson says he is recovering well.
Indian skipper, Virat Kohli says that they were in the contest in all the games and tells that it is about margins. Credits the batsmen for keeping them in the game. Criticizes the bowling and the fielding and says that if you don't take your chances then you will pay in international cricket. Says they did well in T20Is but New Zealand turned up with more intensity in the ODIs and deserved to win 3-0. Tells there are many things to look forward to in terms of Test and T20Is. Adds that he is looking forward to the Tests because of the Test championship and crucial points are at stake.
For his outstanding series with the bat, Ross Taylor is named the Man of the Series. No interview of Rosco has been taken. He played a vital role in the first two matches which helped the Black Caps take a 2-0 lead.
For his match winning performance of 80, Henry Nicholls has been awarded the Man of the Match. The openers says they wanted to achieve a whitewash and is happy to have achieved that. Tells he is enjoying batting with Guptill at the top of the order and his quickfire knock allowed him settle down. Adds that it was good that they managed to get the opening stands in all the games and that set the platform.
Earlier in the day, after being put into bat, India struggled but a century from KL Rahul along with crucial performances from Shreyas Iyer and Manish Pandey helped them reach a competitive total of 296 but in the end that was not enough for the Men in Blue to get over the line. Hamish Bennett was the tormentor-in-chief with the ball as his 4-wicket haul put brakes on India's budding stands.
A lot of serious questions about the Indian bowling will be raised. In the recent past we all have been ravishing praise on them but when Bumrah does not fire they look like lions without teeth. A rare failure for Bumrah in the series and he ended wicketless in the ODI series. Kudos to the spinners as they brought them back into this contest. Yuzvendra Chahal was the pick of the bowlers and his 3/47 gave them a glimmer of hope.
Chasing 297, New Zealand's openers Martin Guptill and Henry Nicholls laid a platform with a quickfire 106-run stand. Guptill could not continue but Williamson and Nicholls then carried on. They were cruising at one stage but like New Zealand have developed a recent habit, they shot themselves on the foot and from 159/1 they got a hiccup and found themselves stuttering at 189/4. Neesham then calmed a bit of nerves before Latham and de Grandhomme showed how to finish off a game. In the end, it was a comprehensive win for the Black Caps.
Too easy in the end and the saying goes revenge is a dish best served cold but New Zealand do not believe in that. They have given it back to the Men in Blue for the T20I series whitewash with a comprehensive ODI whitewash. India face their first ODI series whitewash in a 3 or more match series for the first time since 1989.
47.1 overs (4 Runs) FOUR! New Zealand finish the game off in style! On the pads, de Grandhomme flicks it through mid-wicket and gets a boundary to finish off the game. NEW ZEALAND WIN BY 5 WICKETS!!!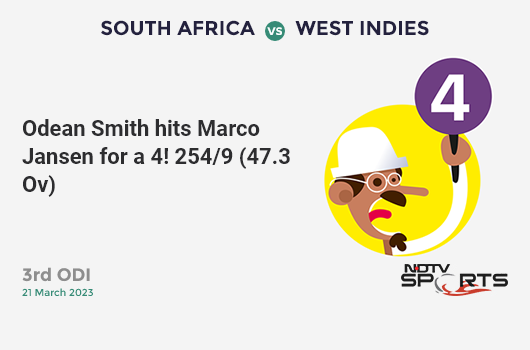 46.6 overs (1 Run) On off, de Grandhomme plays it to point and keeps the strike.
46.5 overs (0 Run) Good length ball on off, de Grandhomme punches it to cover.
46.4 overs (0 Run) Good length ball on off, de Grandhomme calmly blocks it.
46.3 overs (0 Run) Slower ball outside off, de Grandhomme looks to hit but the ball kisses the bottom edge and goes to Rahul on a bounce.
46.2 overs (1 Run) On the pads, TL glances it to the on side and gets to the other end.
46.1 overs (1 Run) Length ball on off, de Grandhomme strokes it towards mid off and gets a quick single.
45.6 overs (1 Run) On the pads, de Grandhomme flicks it to deep mid-wicket for a single. Just 4 needed now.
45.5 overs (4 Runs) FOUR! FIFTY FOR COLIN DE GRANDHOMME! His 4th in ODIs and he has taken his side just away from winning this game and whitewashing India. Full on off, de Grandhomme looks to go straight but gets an inside edge which goes fine down the leg side for a boundary.
45.4 overs (6 Runs) SIX! Powerful from Colin de Grandhomme! Good length ball outside off, de Grandhomme hammers it over the cover fence for a biggie.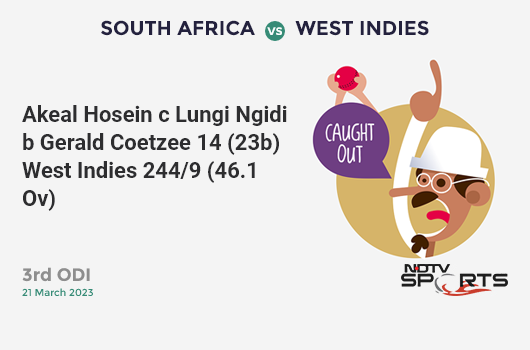 45.3 overs (4 Runs) TOP EDGE AND FOUR! When things go your way, everything goes your way. Bouncer from Shardul. De Grandhomme looks to pull but gets a top edge which goes to the fine leg fence for a boundary.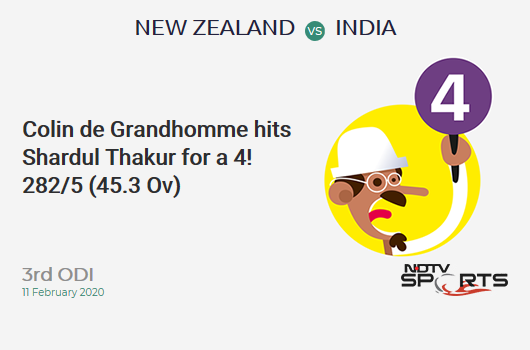 45.2 overs (0 Run) Full on off, de Grandhomme defends it towards cover.
45.2 overs (1 Run) WIDE! Bouncer bounces too high and it is also down the leg side. Wided by the umpire.
45.1 overs (4 Runs) FOUR! Nobody moved! Wide and outside off, de Grandhomme's eyes lit up and he dispatches it through point for a boundary.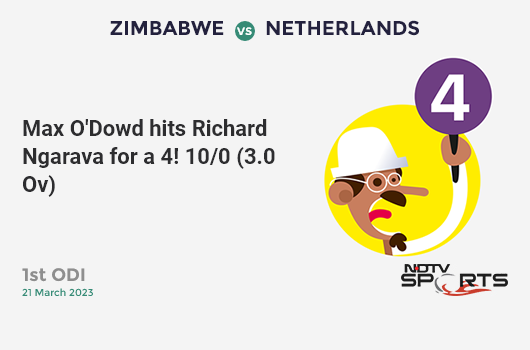 Match Reports
Topics mentioned in this article