Story Progress
Back to home
India vs New Zealand Live Score, Over 1 to 5 Latest Cricket Score, Updates
Live Updates of Today Match between New Zealand vs India from Eden Park, Auckland. Check commentary and full scoreboard of the match.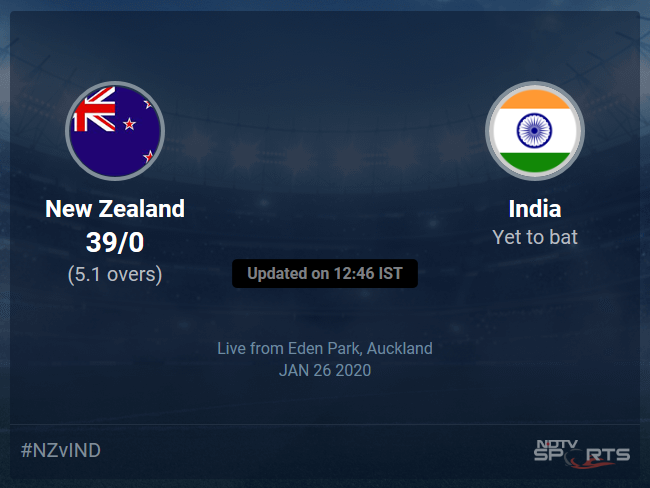 IND vs NZ Latest Score
Follow the New Zealand vs India, 2020 live cricket score on Sports.NDTV.com. After 5.1 overs, New Zealand are 39/0. Get live score, ball by ball commentary and much more. Keep track of New Zealand vs India, 2020 today match between New Zealand and India. Everything related to New Zealand and India match will be available on Sports.NDTV.com. Stay updated with New Zealand vs India live score. Do check for New Zealand vs India scorecard. You can get scorecard updates, match related facts. Get quick live updates with ads, Sports.NDTV.com, which is the perfect destination for live cricket score.
4.6 overs (0 Run) An appeal for LBW from Chahal but it was probably going down leg. It is a slower one on the pads, Guptill looks to go big on the leg side but he is early into the shot. He misses to get hit on the pads. The bowler appeal but nothing from the umpire. 7 from Chahal's first.
4.5 overs (1 Run) Shortish length around off, Munro pulls it to deep mid-wicket for a single.
4.4 overs (1 Run) Full and around off, it is eased for a run to long off.
4.3 overs (1 Run) Tries for the switch hit but another inside edge is induced. It is a fuller ball around off from Chahal. It hits the pads and rolls towards point. They take off for the run, Jadjea quickly comes across, picks the ball up and fires the throw at the keeper's end. Guptill is quick though and is in safely before Rahul can whip the bails off.
4.2 overs (0 Run) Sharp turn there! It pitches on middle and turns. Murno looks to guide it to third man but gets an inside edge on the pads.
4.1 overs (4 Runs) FOUR! Welcome into the attack, Mr. Chahal says Munro. Chahal bowls a loopy ball on middle, Munro gets in position and sweeps it over square leg. There is no protection in the deep and it races away to the fence.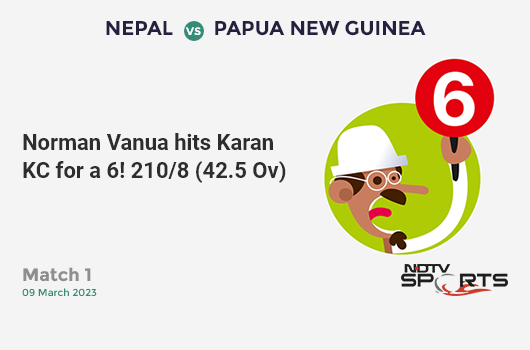 Change in bowling! Time for some spin as Yuzvendra Chahal is into the attack.
3.6 overs (3 Runs) Another excellent fielding effort from India and this time it is the skipper who is leading from the front. Full around off, Munro drives it through covers. This has four written all over it but Virat Kohli runs to his right and puts in a vital dive to save it before the ropes. Saves a run for his side. Kohli said they were looking to improve their fielding and the previous two balls suggest they have done that.
3.5 overs (1 Run) Superb fielding from Manish Pandey and he has saved a certain boundary. Full on off, Guptill whips it to the right of deep mid-wicket. It looks a certain boundary but Manish Pandey swiftly moves to his right and manages to stop the ball before the ropes, keeping it down to one.
3.4 overs (4 Runs) FOUR! Pulled away with disdain! Back of a length on off and middle, Guptill gets on his back foot and pulls it with power over mid-wicket for a boundary.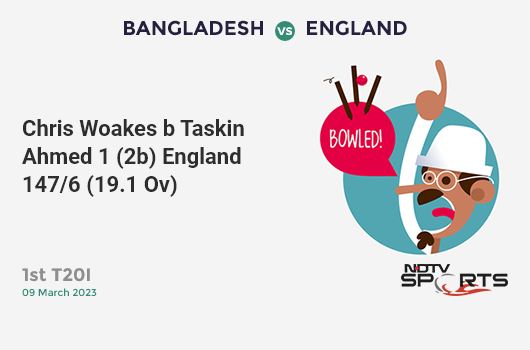 3.3 overs (1 Run) Direct hit and Munro might have been in trouble. Length ball around the pads at 141 kph. Munro looks to flick but ends up getting a leading edge which goes towards mid off. Shreyas Iyer stationed at mid off charges to the ball and tries to score a direct hit on the dive but misses.
3.2 overs (0 Run) Another dot ball and Munro must be getting frustrated out there. This is smart bowling from Shami. This time he goes wide outside off, Munro clears his front leg and swings his bat at it but misses.
3.1 overs (0 Run) India continue their plan to Munro. Once again Shami hits the deck hard and bowls it close to the body. Munro dances down the track and looks to pull but misses.
2.6 overs (0 Run) Brilliant bouncer to end the over! Just 5 from it. Bumrah bends his back and bowls this one around off, Guptill initially wanted to upper cut it but in the end did well to sway away from the firing line. Two tight overs from the Indians.
2.5 overs (2 Runs) Bumrah goes for the yorker but dishes out a low full toss. Guptill flicks it wide of the man at long on and runs a brace.
2.4 overs (1 Run) Very full ball around off, Munro flicks it to mid on and takes another single.
2.3 overs (0 Run) Now a length ball which is angled away from the left-hander. It pitches on middle and goes a hint away. Munro blocks it towards covers nicely.
2.2 overs (1 Run) A quick run! This time Bumrah goes full and bowls it just outside off, Guptill pushes it to mid off and takes a run.
2.1 overs (1 Run) A length ball on off and middle from Bumrah to start his spell. Murno tucks it towards deep square leg and changes his end.
Jasprit Bumrah is on now.
1.6 overs (4 Runs) FOUR! No he cannot! The last ball is thrashed away to the fence but still a very good start for Shami. Just 5 off his first. Length delivery outside off, Guptill hangs on his back foot and cuts it with pure venom through the point region for a boundary.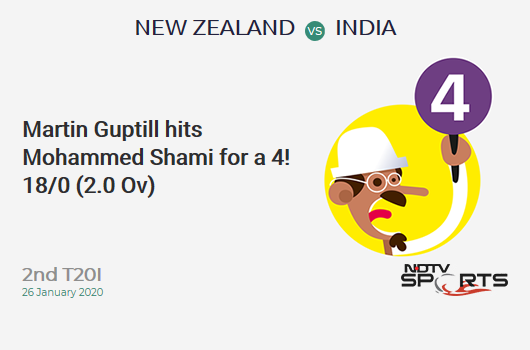 1.5 overs (0 Run) Excellent over so far! Good length delivery around off, Guptill cannot do much but just defend it off his back foot. Just the single off the first 5 balls. Can he end the over well?
1.4 overs (0 Run) Length delivery outside off, Guptill looks to slash but does not time it at all.
1.3 overs (1 Run) In the air but right between first slip and short third man. Munro is off the mark with his heart in his mouth. Slightly shorter ball down the leg side, Murno looks to pull but ends up getting a top edge which flies over first slip. Sharma runs behind from there, Thakur runs to his right from short third man but the ball falls in the gap and spins away allowing Munro to take a run.
1.2 overs (0 Run) Once again Shami hits the deck hard and close to the body. Munro defends it off the back foot.
1.1 overs (0 Run) Shami starts with a length ball on the pads, Munro looks to flick but misses and gets hit on the pads.
Mohammed Shami to bowl from the other end.
0.6 over (0 Run) Good ball to end the over but Shardul showing frustration as well. Good length delivery on the stumps. Guptill defends it back to the bowler. Shardul sends a wild throw to the left of keeper. Luckily for Thakur, Rahul is ready and collects it. 13 off the first over.
0.6 over (1 Run) WIDE! Shardul misses his line and sprays one down the leg side. Martin looks to flick but misses. Wided by the umpire.
0.5 over (0 Run) Very good comeback from Shardul. Much better delivery from him. He goes very full and outside off, Guptill looks to connect but misses.
0.4 over (6 Runs) SIX! Back-to-back sixes. Two dots and two sixes off the first 4 balls. Thakur bangs it in short around the body. Not a bad ball from him. Guptill goes for the pull, he gets a top edge but it flies over the fine leg fence.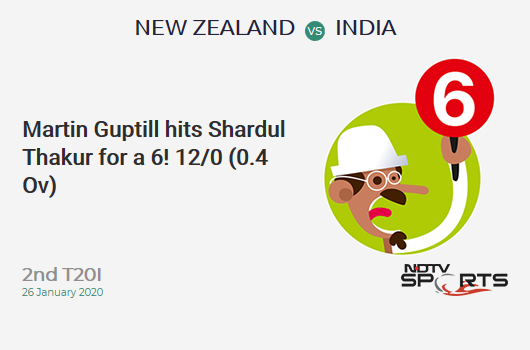 0.3 over (6 Runs) SIX! New Zealand and Guptill are off the mark in style. First runs of the day and it is a maximum. Length delivery outside off, Guptill goes aerial and lofts it over covers for the first biggie of the game. Expect a lot more of these just like the first T20I.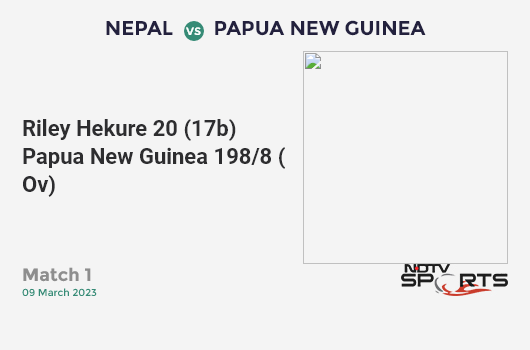 0.2 over (0 Run) Not a lot of swing on this one. It just comes in with the angle. It is on a length on off and middle. Guptill shuffles across and flicks it but finds mid-wicket.
0.1 over (0 Run) Shardul starts with a good length delivery right on off pole. A little bit of away swing for the pacer first up. Guptill shows respect to this delivery and defends it with a straight bat to start his innings.
Done and dusted with the national anthems and we are all set for the action to begin! Indian skipper, Virat Kohli is giving last words of inspiration in the huddle as his side get set to take their respective positions in the field. Colin Munro and Martin Guptill stride out to the middle to open the innings for the hosts. Shardul Thakur to start the proceedings with the ball.
Both set of players walk out to the middle for the respective national anthems. First up it will be the visitors followed by New Zealand's. We are just a few moments away from the start of the action.
India (Playing XI) - Rohit Sharma, KL Rahul (WK), Virat Kohli (C), Shreyas Iyer, Shivam Dube, Manish Pandey, Ravindra Jadeja, Shardul Thakur, Mohammed Shami, Yuzvendra Chahal, Jasprit Bumrah.
New Zealand (Playing XI) - Martin Guptill, Colin Munro, Kane Williamson (C), Colin de Grandhomme, Ross Taylor, Tim Seifert (WK), Mitchell Santner, Blair Tickner, Tim Southee, Ish Sodhi, Hamish Bennett.
Indian skipper, Virat Kohli says that they wanted to bowl first anyway after their brilliant run chase in the last game. Adds that had him or Rahul batted till the end, then they could have won the game with two overs to spare. Adds that the pitch looks like a gun wicket so he is happy. Kohli hopes that they can improve the fielding where they can save 10-15 runs. On how the team is feeling, Kohli says they have slept well and adds they did not show any signs of jet lag in the last game. Tells they came back well with the ball in the first T20I as at one stage it looked like New Zealand were on course to score around 230. On his team changes, Kohli informs they are going with the same eleven from the last game.
New Zealand skipper, Kane Williamson says that it is a used surface and he does not expect dew to play a part like the last game hence the decision. Hopes that the pitch slows down later on but says that they need to do a job with the bat first. On what he expects to improve, Williamson says that he hopes that the team can play with freedom. On the team changes, Williamson says they are unchanged.
TOSS - We are all in readiness for the toss. New Zealand skipper, Kane Williamson has the coin in hand. Up it goes, Indian skipper, Virat Kohli calls Heads but it comes down as Tails. NEW ZEALAND OPT TO BAT!
Pitch Report - Mike Hesson and Sunil Gavaskar are down with the pitch report. Gavaskar says that it is the same pitch as the one used in the first T20I. He expects the pitch to play the same but feels there can be some extra spin on offer for the spinners as the groundsmen would have watered it a bit more. Hesson says the grass cover is very good and the pitch has not been damaged so even he expects there to be plenty of runs on offer.
Happy Republic Day to everyone from India and on this big day we welcome you to the coverage of second T20I between New Zealand and India. The tourists sent out a big statement chasing down a big target of 204 with relative ease. Virat Kohli and co. will be looking to once again repeat their performance with the bat but at the same time improve with the ball in hand. New Zealand, on the other hand, will be looking to bounce back from that defeat and level the 5-match series. Their death bowling was found wanting in the previous match and skipper, Kane Williamson will be looking to sort that out. Can India make it 2-0 and continue to show their dominance in world cricket or will the Kiwis make a comeback?
Topics mentioned in this article