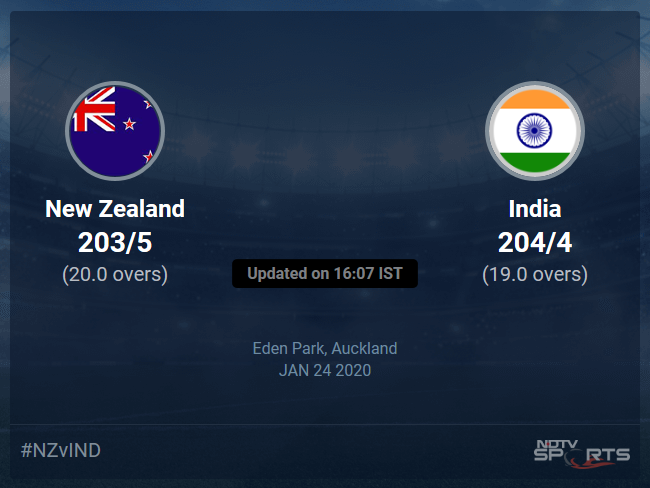 A dedicated team of experts bring you live score, live cricket score, live match update on Sports.NDTV.com. After 19.0 overs, India, chasing a target of 204, are 204/4. The live updates of New Zealand vs India scorecard is also available. It is the perfect platform to follow your favourite teams in New Zealand vs India, 2020. Keep a track on your favourite batsmen and bowlers through New Zealand vs India, 2020 today match, ball by ball commentary, New Zealand vs India, New Zealand vs India live score, New Zealand vs India scorecard. Follow the excitement of the New Zealand vs India, 2020 on Sports.NDTV.com as you can follow live match updates and live cricket score through our platform.
That's all we have from this high-scoring but one-sided affair. The venue for the second T20I will remain the same. Do join us on Sunday at 1950 local (0650 GMT) for all the action. Until then, it's goodbye and cheers!
Indian skipper, Virat Kohli says that they enjoyed the contest. Tells that they landed just two days ago and played a game like this which is fantastic. Mentions that they needed the crowd support while chasing 200-plus and they were right behind them. States that they never spoke about the jet lag in the team and didn't want to take that as an excuse. Further says that they were focused on what needs to be done on the field. Tells that they are playing well as a side and just wants to keep going. Feels that they bowled well in the middle overs and then in the latter half and adds that it appeared a 230 wicket at one stage but they pulled things back nicely. Reckons that they have to improve their fielding and get used to the dimensions of the ground.
New Zealand's skipper, Kane Williamson says that there are a lot of positives and admits that it was hard to defend on this ground. Mentions about the dew as well but feels India are a class team. States that they needed to pick early wickets which didn't happen and again credits India for playing really well. Shares that the wicket was very good for batting and later on dew also made it easy. Feels that they didn't put India under enough pressure. On his own batting, Kane replies that it's nice to build some partnerships and the boys played their roles really well.
Shreyas Iyer is given the Man of the Match award! Says that it was really amazing to come overseas and win the game and stay not out. Adds that they lost two wickets in succession and concentrated on partnerships. Mentions that they knew the ground is really small and they can make up later on. He enjoyed the crowd support today and is hoping for the same in the remaining games as well.
It was not a day for the bowlers. They failed to exert any pressure and leaked runs at a brisk rate. There was never a moment when India felt the scoreboard pressure. Mitchell Santner was a major disappointment as he went for aplenty but his partner, Ish Sodhi, fared decently to pick two wickets. Earlier in the evening, it was a power-packed batting show by the Black Caps but eventually they failed to get enough runs to bother the starry Indian batting line-up. Stay tuned for the presentation...
In pursuit, India lost Rohit Sharma cheaply but that didn't deter their confidence. Virat Kohli combined forces with KL Rahul and together they put on a quickfire 99-run stand, off just 51 balls. There was a phase when the visitors lost Rahul and Kohli in a quick succession which gave a sniff to the Black Caps. However, Shreyas Iyer settled down in his role of a finisher and along with Manish Pandey steered India home. Iyer was simply amazing under pressure as he went about his business in a controlled manner and notched up a delightful half century.
A thumping win for India! Just the battleground changed, not the result. They were dominating at home and have just carried that scintillating form abroad. It's a big chase but they scaled it down with one over to spare. That just tells the ease with which they prospered in the run chase.
18.6 overs (6 Runs) SIX! Smoked! Shreyas Iyer, you beauty! INDIA WIN BY 6 WICKETS! Southee dishes out a slower full ball around off, Iyer gets across the stumps a bit and clobbers it over mid-wicket for a maximum. The crowd roars. The Indian spectators have outnumbered the Kiwi supporters.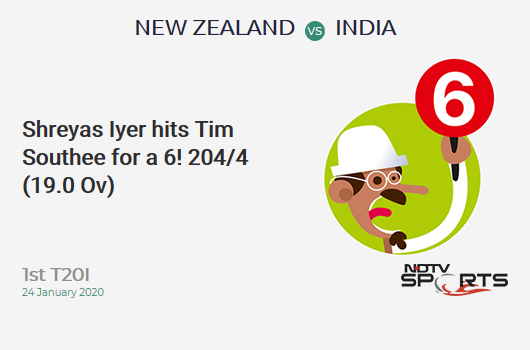 18.5 overs (0 Run) Play and a miss! Southee delivers it on a length outside off, getting it to shape away, Shreyas throws his bat at it but fails to make any connection.
18.4 overs (1 Run) Short in length on off, Pandey plays a controlled pull shot and sends it to deep mid-wicket for a single. 6 needed more!
18.3 overs (1 Run) On the pads and it's turned behind square leg for a run.
18.2 overs (4 Runs) FOUR! Shreyas reaches his fifty, off just 26 balls. His second in this format. Just like Rahul, he also continues with his good form. Fuller length ball around off, angling in, Iyer shuffles across and flicks it over square leg for a boundary.
18.1 overs (6 Runs) SIX! Clears the short boundary line with ease! Back of a length ball around middle and off, Shreyas camps back and rifles it over long off for a maximum.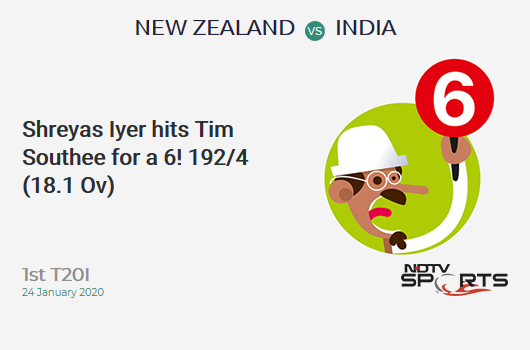 17.6 overs (1 Run) Chases a wide delivery and gets only a run. Could have left it alone. Hamish slips a length ball down the leg side, Shreyas tries to flick and gets some bat on it. Seifert dives across to his left and parries it towards short fine leg. A single is taken. Good comeback from the bowler after conceding two fours at the start.
17.5 overs (1 Run) Shot! But for just a run. Back of a length ball on middle, Pandey clears his front leg and heaves it to deep square leg for a single.
17.4 overs (1 Run) Fuller in length around off, eased down to long on for a run.
17.3 overs (0 Run) Almost edges it behind! Shreyas Iyer makes movement inside the crease to confuse the bowler but Bennett does well to stick to his guns. He delivers it short and in the line of the stumps, Shreyas flays at it and misses.
17.2 overs (4 Runs) FOUR! Shreyas is finding the gaps superbly! Bennett once again is on the fuller side around off, Iyer moves across the stumps again and whips it to wide long on. 21 needed off 16 balls!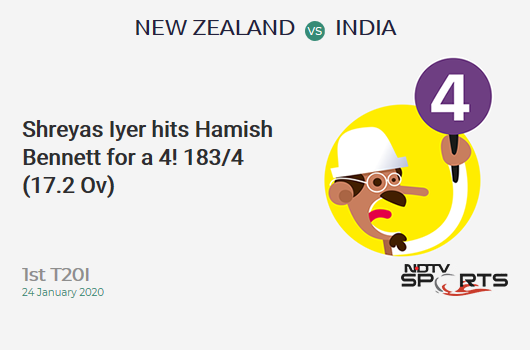 17.1 overs (4 Runs) FOUR! Bennett begins the over from 'round the wicket and serves a full toss on middle, Shreyas shuffles across the stumps and flicks it sweetly to long leg for a boundary.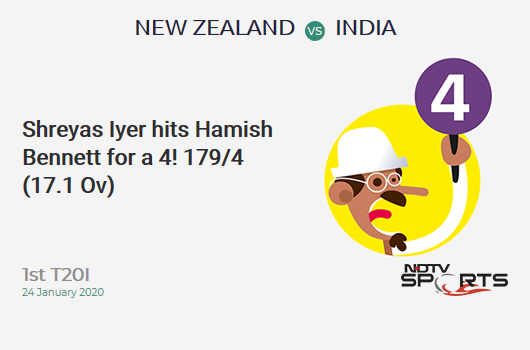 Hamish Bennett is back for another burst.
16.6 overs (1 Run) Brilliant effort from Tickner. Short ball around off, Iyer flays it towards point but Tickner there makes a diving stop to his right. Only a single. 29 needed off the final 18 balls.
16.5 overs (1 Run) Yorker on on middle, drilled to long on for a single.
16.4 overs (0 Run) Slightly short ball on middle, Pandey looks to pull but mistimes it towards long on for a single.
16.3 overs (1 Run) A length ball on middle, Iyer works it towards mid-wicket for a run.
16.2 overs (6 Runs) SIX! Slammed! A short ball down the leg side from Southee, Iyer goes on the back foot and tonks it over deep square leg for a biggie! Bowler under pressure now.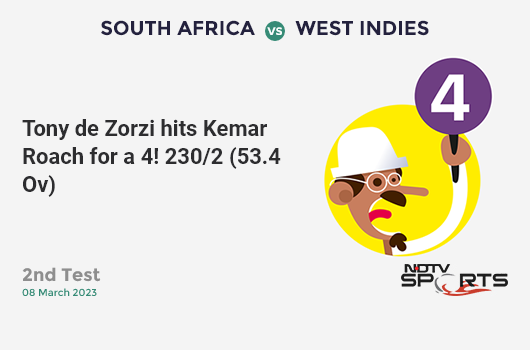 16.1 overs (1 Run) Quick single! A full ball around off, Manish hammers it towards mid off and takes off for the run. The fielder there picks the ball and releases the throw at the non-striker's end but misses. Wouldn't have mattered though.
Tim Southee is back on! 2-0-20-0 from him. The hosts would need him to deliver in his final 2 overs.
15.6 overs (1 Run) Knocks a full ball down to long on for a run. 14 from the over, spoiling Sodhi's spell somewhat. He ends with 4-0-36-2!
15.5 overs (6 Runs) SIX! Wow, this one has gone the distance. Pandey shows his full range there. A long hop on middle, Manish swings his bat and dismisses it over mid-wicket for a biggie.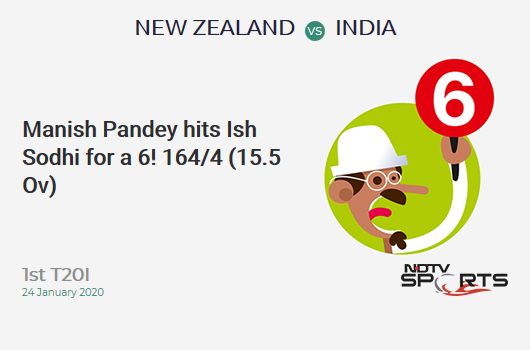 15.4 overs (1 Run) A long hop on middle, pulled to deep square leg for a single.
15.3 overs (4 Runs) FOUR! Connects and connects well! Sodhi drags his length short again and delivers it wide outside off. Shreyas doesn't miss out this time and whacks it through backward point.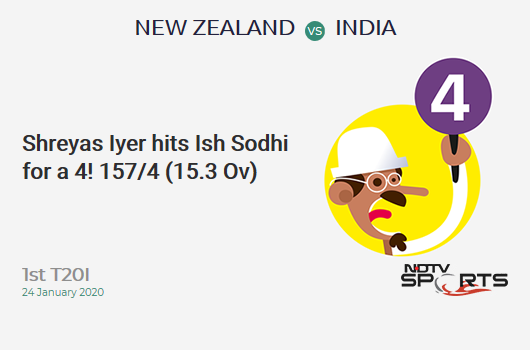 15.2 overs (0 Run) NOT OUT! Once again the batsman is safely inside the crease. Sodhi serves it short and wide outside off, Iyer strides forward to slap it through the line but misses. The keeper collects the ball and takes the bails off in a flash. He appeals and following that the third umpire is referred. The replays shows that Shreyas did drag his back foot outside the crease but had it back in time.
Shout for a stumping! It has been referred upstairs. Not much excitement shown by Tim Seifert though.
15.1 overs (2 Runs) Tossed up ball around middle, Shreyas forces it towards wide long on and collects a couple. These two batsmen are lightning quick between the wickets!
Match Reports
Topics mentioned in this article
India Cricket Team
New Zealand Cricket Team
Eden Park, Auckland
New Zealand vs India, 2020
New Zealand vs India, 1st T20I