Story Progress
Back to home
India vs New Zealand Live Score, Over 46 to 50 Latest Cricket Score, Updates
Live Updates of Today Match between New Zealand vs India from Seddon Park, Hamilton. Check commentary and full scoreboard of the match.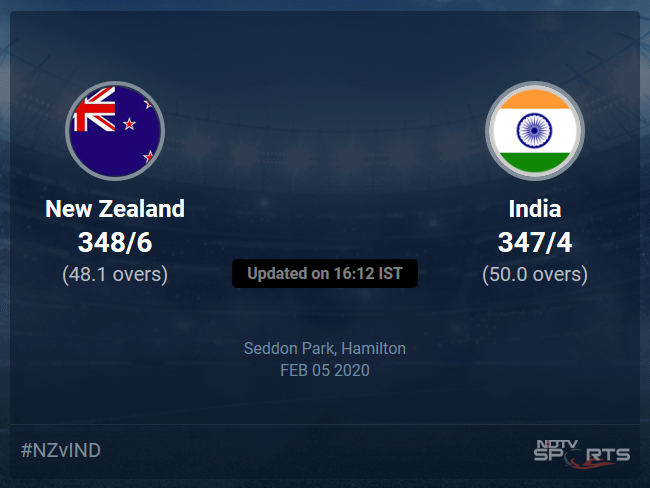 IND vs NZ Latest Score
Follow the New Zealand vs India, 2020 live cricket score on Sports.NDTV.com. After 48.1 overs, New Zealand, chasing a target of 348, are 348/6. Get live score, ball by ball commentary and much more. Keep track of New Zealand vs India, 2020 today match between New Zealand and India. Everything related to New Zealand and India match will be available on Sports.NDTV.com. Stay updated with New Zealand vs India live score. Do check for New Zealand vs India scorecard. You can get scorecard updates, match related facts. Get quick live updates with ads, Sports.NDTV.com, which is the perfect destination for live cricket score.
That's all we have from this contest! It was a high-scoring match but New Zealand scaled down a big target with 11 balls to spare. They have taken a lead in the 3-match series which makes the second ODI in Auckland a must-win for India. Do join us for that on Saturday, 8th February, at 1500 local (0200 GMT). Cheers!
New Zealand skipper, Tom Latham says that it was a great performance by the boys and it's been nice to cross the line. Adds that to have partnerships is always the key and the left-right combination helped them (during the century stand with Taylor). Mentions that to have wickets in hand helped them. On Ross Taylor, Latham says that he has done that for them time and again and it was a fantastic knock. Admits that their bowling is one area he is looking for improvement and hopes to achieve that in the coming games.
Indian skipper, Virat Kohli says that it was an outstanding performance by New Zealand. Adds that they batted outstandingly well. On their bowling show, Kohli replies that they were patient enough to pick wickets and got a run out as well. Admits that Tom Latham's innings took the momentum away from them. Credits the two batsmen (Latham and Taylor) for the way they batted. States that fielding is one area they were decent but it was not their best effort. Tells that the way New Zealand played, you have to admit that overall they were the better side. Praises the new Indian openers and hopes they will continue to do the same. Lauds Shreyas Iyer also for his knock under pressure and adds that KL Rahul was brilliant too. Considers these as positive signs. Feels that sometimes the results don't go your way but if you are playing good cricket, you are in good space.
ROSS TAYLOR IS THE MAN OF THE MATCH! Says that it's been an interesting summer for them and it was nice to cross the line. Mentions about the contribution of the top order and also praises the bowlers for restricting India under 350 which gave them a chance. Lauds Tom Latham for his batting and the way he targeted the short boundaries. Admits that Latham's knock made it easy for him. On completing 2000 international runs at Seddon Park, Taylor smiles and says that it's been a happy hunting ground for him. Hopes to put up a good performance in Eden Park as well. Shares that you try to not take the hangover of the last games and it was nice to stay till the end to finish this match.
India weren't too poor in the field but the dropped catch of Ross Taylor on 10 cost them the match. Their bowlers tried hard on a flat deck but the execution of the plan, especially when the pair of Taylor and Latham was batting, was not up to the mark. They would consider it as a rare off day at work and would look to bounce back in the second ODI. Stay tuned for the presentation...
What a scintillating knock by Ross Taylor! By no means, this was an easy chase. The Kiwi openers provided a decent start but it was not a quickfire one. The asking rate was quite high and the partnership between Ross Taylor and Henry Nicholls didn't take care of it at all. The Men in Blue were on top till the run out of Nicholls and the landscape of this run chase took a complete turn once Tom Latham arrived in the middle. The southpaw batted against his nature and stroked a 48-ball 69. He punished the Indian bowlers in the middle overs and snatched the momentum away from them. Rosco also joined the party and bathed in the light of renewed energy that Latham brought to the crease. Together the pair amassed 138 runs off 80 balls and brought the chase on track. The wickets did fall after that but the presence of Taylor meant that the Black Caps always had the game in their grasp.
New Zealand finally taste success! They have broken the deadlock. The Kiwis came close to winning on so many occasions in the T20I series but failed to cross the final hurdle. But not this time. Ross Taylor was the culprit in the past but he made sure that he stayed till the end to see his side home. This is now New Zealand's highest successful chase in ODIs.
48.1 overs (1 Run) NEW ZEALAND WIN BY 4 WICKETS! Slightly short in length on middle, Taylor swings his bat across the line and sends it behind backward square leg. The fielder stops it from crossing the fence but cannot stop the batsmen from taking the winning run.
47.6 overs (1 Run) Rosco takes one on the body! Thakur surprises the batsman with a short ball. Taylor picks it late and then tries to duck. It brushes his left shoulder and goes behind to the keeper. Santner calls his partner for a quick leg bye. Scores are levelled!
47.5 overs (1 Run) A mistimed pull shot! Short in length around off, Santner camps back and mistimes his pull shot over the bowler's head. The mid off fielder cuts it off and they cross.
47.4 overs (4 Runs) FOUR! 3 more needed! Fuller length ball around off, angling away, Santner gives it the full whack of his bat and drills it down to long off for a boundary.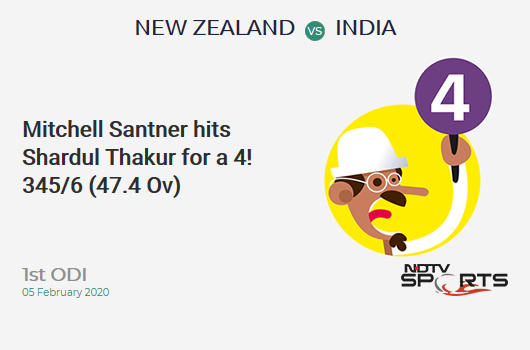 47.3 overs (0 Run) Beaten! Slower one, on a length outside off, Santner pokes at it and misses.
47.2 overs (6 Runs) SIX! Santner has nailed it! Thakur goes short and around off, Santner is on top of the bounce in a trice and pulls it emphatically over mid-wicket. 7 needed more!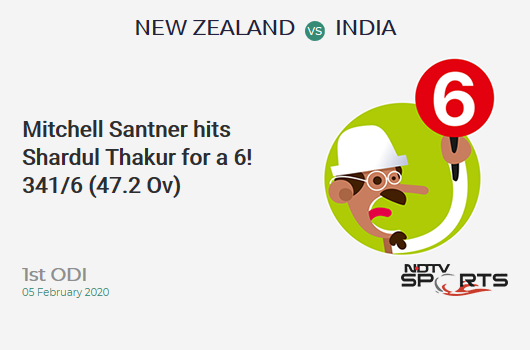 47.1 overs (1 Run) Direct hit would have been curtains for Ross Taylor! That would have made this game very interesting. A length ball outside off, Rosco taps it down to point and attempts to steal a run right under Jadeja's nose. Sir misses his shy at the bowler's end and Rosco survives.
14 needed off 18 balls. Shardul Thakur (8-0-68-1) is back on.
46.6 overs (0 Run) Play and a miss! Back of a length delivery outside off, Mitchell once again pushes at it and misses. Top over by Bumrah, only 3 runs off it!
46.5 overs (0 Run) Defended off the back foot by the batsman.
46.4 overs (0 Run) Beauty of a delivery! A slower delivery, on the shorter side around off. It lands and grips as it cuts away. Santner pushes inside the line and misses.
46.3 overs (1 Run) Width on offer outside off, Taylor moves back and slaps it down to the right of third man for a run.
46.2 overs (1 Run) Bumrah goes short around off, Santner lifts his front leg and pulls it in front of square leg for a run.
46.1 overs (0 Run) Gets behind the line of the delivery and pushes it with soft hands to mid off.
46.1 overs (1 Run) Wide! Back of a length delivery angling down the leg side, Santner tries flicking but misses.
Mitchell Santner comes in now. To be part of another choke. Can he do something to stop it? Jasprit Bumrah returns. 9-1-50-0 so far.
45.6 overs (1 Run) OUT! Colin de Grandhomme is well short of the crease. Short in length and around off, Taylor gets on top of the bounce and pulls it all along the ground to deep mid-wicket. He wants the second run and Colin responds but very slowly. Shreyas Iyer sends in a flat throw to the bowler's end where Kohli collects the ball and breaks the stumps. He sets off in celebration as the on-field umpire goes upstairs. The replays spell the end of de Grandhomme. Are we in for a comeback from India?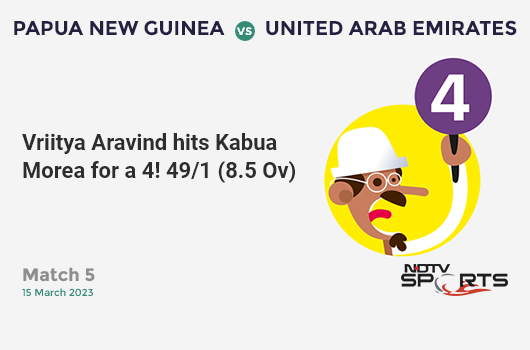 Appeal for a run out! Virat Kohli is once again sure and runs in celebration. The third umpire is referred...
45.5 overs (1 Run) It's an attempted yorker on middle, de Grandhomme picks the low full toss his pads and flicks it to deep mid-wicket for a run.
45.4 overs (0 Run) Fullish and outside off, driven off the front foot to covers.
45.3 overs (1 Run) Slower delivery outside off, Taylor pushes at it and gets an inside edge. It beats the stumps and rolls towards fine leg for one.
Well, we have been in this scenario before, haven't we? The match heading towards a finish, New Zealand coasting through but stuttering towards the end. Will they choke one more time? Colin de Grandhomme walks in now.
45.2 overs (0 Run) OUT! Is there some twist in the tale? 20 needed off 28 balls. Shami delivers a length ball around middle and leg, Neesham attempts to send it over cow corner but gets more height than distance behind his shot. Kedar Jadhav moves across to his left in the deep and takes the skier safely. He's visibly disappointed on his way back.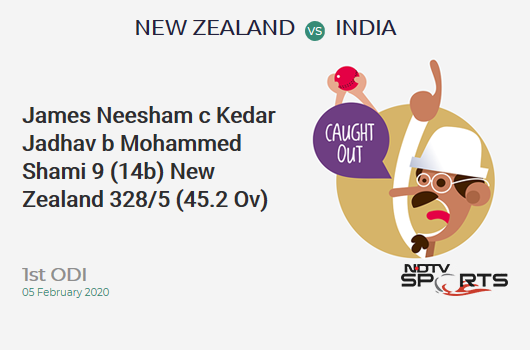 45.1 overs (1 Run) Short in length on middle, Taylor takes his eyes off the ball as he tries to pull. It deflects off his helmet to fine leg and they cross.
Match Reports
Topics mentioned in this article