Story Progress
Back to home
Rajasthan Royals vs Sunrisers Hyderabad Live Score Ball by Ball, IPL 2020 Live Cricket Score Of Today's Match on NDTV Sports
Live Updates of Today Match between Rajasthan Royals vs Sunrisers Hyderabad from Dubai International Cricket Stadium, Dubai. Check commentary and full scoreboard of the match.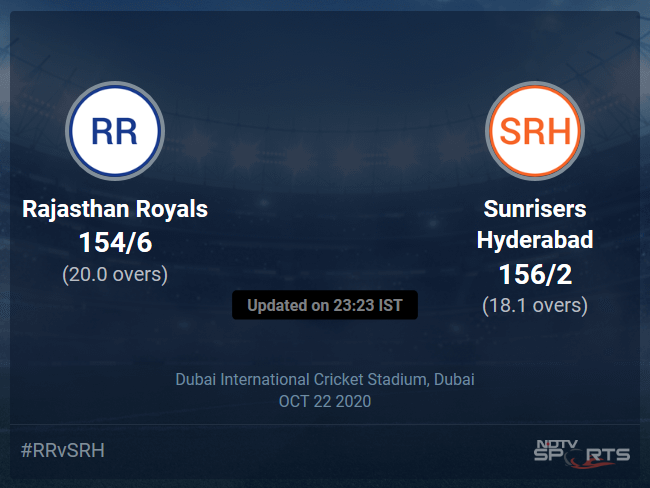 SRH vs RR Latest Score
Follow the Indian Premier League 2020 live cricket score on Sports.NDTV.com. After 18.1 overs, Sunrisers Hyderabad, chasing a target of 155, are 156/2. Get live score, ball by ball commentary and much more. Keep track of Indian Premier League 2020 today match between Rajasthan Royals and Sunrisers Hyderabad. Everything related to Rajasthan Royals and Sunrisers Hyderabad match will be available on Sports.NDTV.com. Stay updated with Rajasthan Royals vs Sunrisers Hyderabad live score. Do check for Rajasthan Royals vs Sunrisers Hyderabad scorecard. You can get scorecard updates, match related facts. Get quick live updates with ads, Sports.NDTV.com, which is the perfect destination for live cricket score.
Right then! We have had yet another great game in the Indian T20 League. Hyderabad were on the money right from the get-go and the batting duo of Manish Pandey and Vijay Shankar ensure that they end the night sitting fifth on the points table. Rajasthan, on the other hand, have some work to do if they are to make the playoffs this year. Their chances do look slim but they will look to bounce back in their next encounter. The action continues on Friday, 23rd October, 2020 as Chennai lock horns against Mumbai in Sharjah. That game begins at 1800 local (1400 GMT). It promises to be a cracker of a contest and we hope to see you for that one. Until then, goodbye!
For his brilliant aggressive batting, Manish Pandey is named the Man of the Match. Pandey says that there was a lot of talk about the middle order and it was time to perform. Says he had a word with VVS Laxman and he was just looking to score his runs and clear his mind. Tells Warner and Bairstow are great batsmen and tonight they had the opportunity to prove themselves and is happy to stand here. Tells he was happy to see the back of Archer and they showed their mettle today. Manish says that the first ball that he middled, he thought that if he kept his shape on and continued it, then they would win. On Shankar, he says he was long due and today he stepped up and he is really happy for Shankar.
Hyderabad skipper, David Warner, says that it started off with the toss. Feels the way they started was fantastic and credits his bowlers for pulling things back after Powerplay and tells this is the perfect game they were asking for. Warner says that he was frustrated as a batter. He says that you try your hardest to hit the middle of the bat and get through the first over but that did not happen. Warner tells that Smith could have either put him on or gone with the strength of his bowlers. Tells dew started to come in and the batters started to take advantage. Says it was unfortunate Kane Williamson did not play but Holder is a quality player and did well using his height. Says there has always been questions about their middle order but feels they have not had much to bat and congratulates Pandey and Shankar for their effort. Warner says that they are a better defending team and his decision tonight was based on the last few games. Tells they need to back themselves in both ways.
Vijay Shankar says that he has been bowling pretty well but says he does not know when he will get to bowl. He just stays ready to bowl whenever called upon. Tells that he is just trying to take the pace off on such wickets and feels that there is something onto the wicket and thinks cross-seam and taking pace off is key. Tells that they wanted to take the game deep and says they were aware Archer was going to come hard at them and it was a challenge. Tells he thought of this as a do-or-die game as he has not batted well and today was his chance to bat up the order. Shankar says it was important to take the game deep. Adds that he asked Pandey if he wanted him to take the charge as he did not want Manish to take all the pressure and get out playing a bad shot. Adds the chat with him out in the middle was a good one.
Rajasthan skipper, Steven Smith says that they started off well as Archer got two wickets early. Tells that after that they could not do anything and feels the pitch got easier to bat on. Credits Shankar for his innings and Pandey for taking the attack to them. Says in hindsight, he would have given Archer the third over. Tells there is no easy bait in this tournament and rues the fact that they have been unable to get back to back wins. Says they need to keep winning and is unsure about the mathematical qualification.
Earlier in the day, Rajasthan started off with the bat. They posted a decent total on the board. None of the batters took responsibility to add runs on the board. They kept losing wickets at regular intervals and that did not help their cause. Jason Holder was the bowler who was amazing with the ball as he scalped up three wickets. The bowlers of Rajasthan needed to fire but they could not and then it was the duo of Pandey and Shankar who took their side home.
Rajasthan got the start that they needed courtesy of their gun bowler Jofra Archer. He got rid of the explosive Warner and then followed it up by getting rid of Bairstow as well. After that, it was all Hyderabad. The bowling tonight by Rajasthan was poor after that and they did not claw back into the game. This was a low total and they needed to bowl well to defend this, but that did not happen tonight. Only Archer was good on the night.
Hyderabad got off to a bad start with the bat chasing. They lost their big guns, Warner and Bairstow, right in the Powerplay. It was Warner's Arch-nemisis Archer who got rid of him and it was Bairstow's countrymate who got the better of him. It was the duo of Manish Pandey and Vijay Shankar who then steered the ship and did well to steady the innings. Manish Pandey was attacking right from the get-go. Shankar was more slower in his approach and did well to rotate the strike. Shankar later turned it on towards the end. These two added 140 runs for the third wicket and made sure that Hyderabad ended the night with 2 more points in their kitty.
Well, this total has been chased down in the end with some ease by Hyderabad. They started off on the back foot as they lost Warner and Bairstow in the Powerplay. But it was the Indian duo of Manish Pandey and Vijay Shankar who stitched a good partnership of 140 runs. Manish scored 83 and Vijay Shankar scored a half-century in the process and they chase it down with 11 balls remaining. This is also the first victory by Hyderabad in a game where they are chasing in this year's tournament. This will boost their confidence going forward.
18.1 overs (4 Runs) FOUR! That is it! FIFTY FOR VIJAY SHANKAR! He finishes the game off by getting to his milestone and in style! Short ball on off, Shankar pulls it through mid-wicket and gets to his fifty to seal the game for the Men in Orange and Black. HYDERABAD WIN BY 8 WICKETS!
17.6 overs (1 Run) Back of a length ball around off, Vijay Shankar tucks it to square leg and keeps the strike.
17.5 overs (1 Run) Slower ball on off, Pandey nudges it to long on and gets to the other end. Just 4 needed now.
17.4 overs (6 Runs) SIX! Whipped and done so brilliantly! Full on middle, Pandey wants to finish this early and he whips it all the way over mid-wicket fence for a biggie.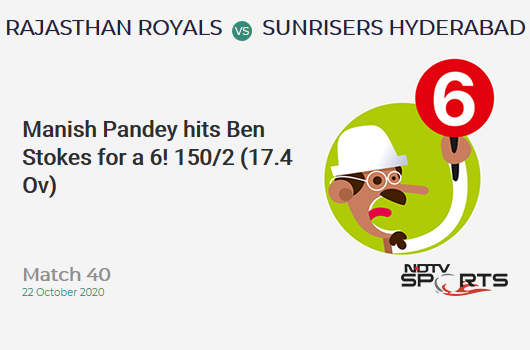 17.3 overs (1 Run) Full on leg but angling down leg side. Shankar looks to flick but misses and gets hit on the pad. The ball goes to the on side and they take a leg bye.
17.3 overs (2 Runs) WIDE! Slower bouncer but down the leg side. Pandey looks to pull but misses. Samson dives to his left but does not pick it cleanly, allowing them to get an extra run.
17.2 overs (1 Run) Full on middle and leg, Vijay Shankar chips it over mid-wicket for a single.
17.1 overs (0 Run) Slower ball outside off, Shankar swings but misses.
Ben Stokes is back on. 1-0-13-0 are his figures so far.
16.6 overs (6 Runs) SIX! Smoked! Brillant way to finish the over. Overpitched on middle, Manish Pandey smokes it over long on for a biggie.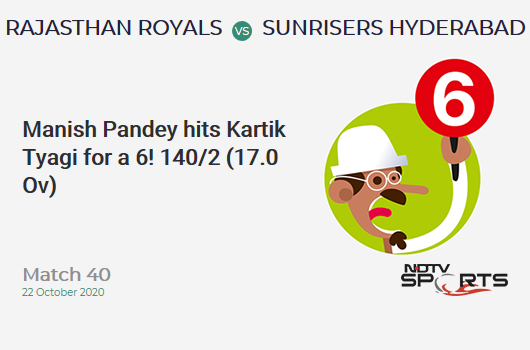 16.5 overs (0 Run) Bouncer! Pandey looks to pull but rescinds.
16.4 overs (0 Run) Back of a length around leg, Pandey pulls but finds short mid-wicket.
16.3 overs (1 Run) Crunched but just a single! Shortish on off, Shankar pulls it to deep mid-wicket for a run.
16.2 overs (1 Run) Another full toss, this one is low outside off. Pandey nudges it to cover for a single.
16.1 overs (1 Run) Full toss on off, Shankar pushes it towards mid off for a single.
Kartik Tyagi is back into the attack for Rajasthan. 2-0-29-0 for him so far. He has been expensive so far.
DRINKS! Hyderabad have made small work of the chase by the looks of it. They just require 24 runs in the last 24 balls. It is all due to the partnership of Pandey and Shankar. Rajasthan, on the other hand, will need to pull off a miracle if they are to win this one. They need to remove one of these two batters and only then do they have a chance.
15.6 overs (1 Run) On the pads, Shankar flicks it towards mid-wicket and keeps the strike.
15.5 overs (0 Run) Short again. Shankar once again looks to guide it towards third man but misses.
15.4 overs (0 Run) Short ball, Shankar looks to play the upper cut but misses.
15.3 overs (4 Runs) FOUR! Hat-trick of boundaries. Shankar goes over the strike rate of 100. Slower ball on middle, Shankar lofts it over the bowler's head for a boundary.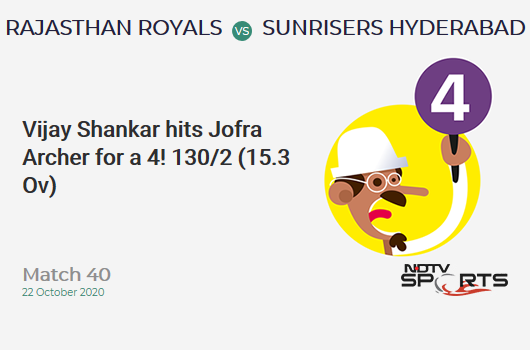 15.2 overs (4 Runs) FOUR! This time through the on side. Shortish on off, Shankar pulls it this time over mid-wicket and gets a boundary.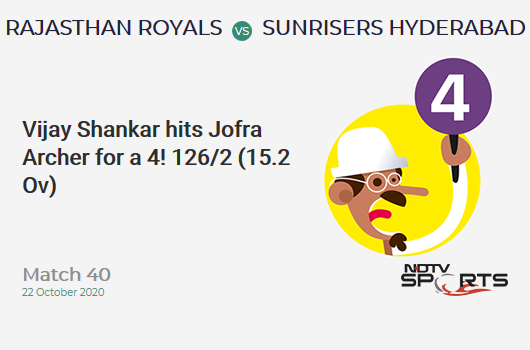 15.1 overs (4 Runs) FOUR! Excellent shot from Shankar! Good length ball on off, Shankar lifts it over mid off delightfully for a boundary.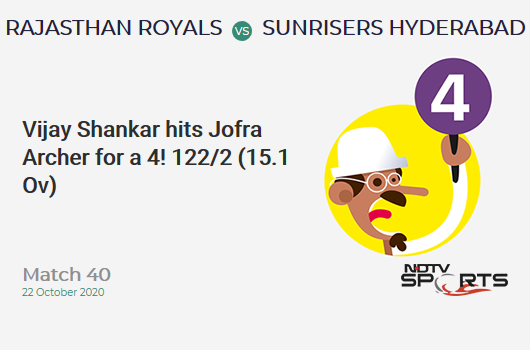 Match Reports
Topics mentioned in this article