Story Progress
Back to home
Mumbai Indians vs Royal Challengers Bangalore Live Score Ball by Ball, IPL 2020 Live Cricket Score Of Today's Match on NDTV Sports
Live Updates of Today Match between Mumbai Indians vs Royal Challengers Bangalore from Sheikh Zayed Stadium, Abu Dhabi. Check commentary and full scoreboard of the match.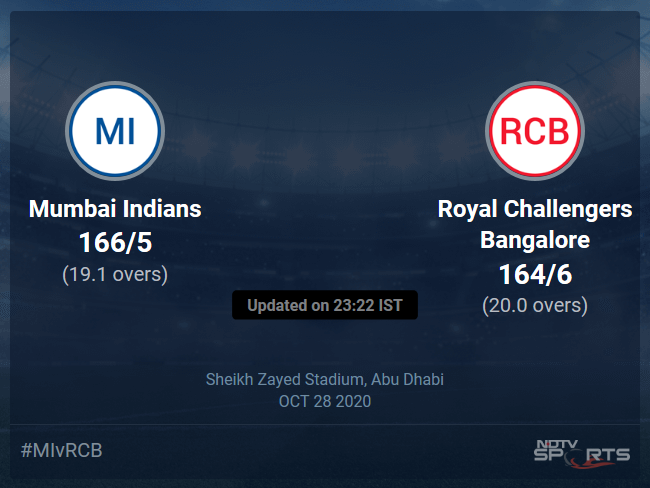 RCB vs MI Latest Score
Follow the Indian Premier League 2020 live cricket score on Sports.NDTV.com. After 19.1 overs, Mumbai Indians, chasing a target of 165, are 166/5. Get live score, ball by ball commentary and much more. Keep track of Indian Premier League 2020 today match between Mumbai Indians and Royal Challengers Bangalore. Everything related to Mumbai Indians and Royal Challengers Bangalore match will be available on Sports.NDTV.com. Stay updated with Mumbai Indians vs Royal Challengers Bangalore live score. Do check for Mumbai Indians vs Royal Challengers Bangalore scorecard. You can get scorecard updates, match related facts. Get quick live updates with ads, Sports.NDTV.com, which is the perfect destination for live cricket score.
That is it from this game. Mumbai stay top of the table and move to the crucial, 16 point mark. Bangalore lose their second game on the trot and make the table a lot more interesting. The action continues on Thursday, 29th October as Chennai take on play off chasing, Kolkata. That game begins at 1800 local (1400 GMT). We hope to see you for that one. Till then, goodbye and take care!
For his supreme batting performance, Suryakumar Yadav, is named Man of the Match! Suryakumar says he was looking to finish the game from a long time, he always use to wonder how to do it and he just wants to go out there and do his job. States a lot of meditation and spending time himself is helping him a lot. Mentions he loved the shot over covers to Chahal and one back foot punch was his favorite. Also says he has worked a lot during the lockdown and has practice to play on all sides of the wicket. Admits he loves the position he is batting in. Ends by saying the management expects him to take the game deep as he has a lot of experience and he is happy he is able to do so.
Mumbai skipper, Kieron Pollard, says  he watches a lot of cricket and he always thinks what he might have done. They had to make up for an over, he could have waited for the last but he did not mind going for runs but he got the big wicket which changed the momentum. They can't just rely on Bumrah but everybody has contributed with the bat and ball. States Yadav keeps showing how classy he is, he will be disappointed that he has not been picked for India but he is not far away especially judging by the way he is playing. Also adds Yadav keeps getting better with every year, if he keeps the consistency going, he will be rewarded. Ends by saying he will bat wherever the team needs him.
Stay tuned for the presentation.
Mumbai's pace merchant, Trent Boult is up for a chat. Boult says it was good to win this game, they did well to comeback with the ball to keep them in check and the batters did really well. Credits the way Bumrah bowled. Mentions he is feeling good, some big games coming up and that is why they play the game.
Bangalore skipper, Virat Kohli, says they had a strange phase of batting as everything they hit went to the fielders. Credits the way Mumbai bowled in the last 5 overs. States they still did well despite being 20 runs short. Also says the changes they were according to the situation, they thought the ball would do a bit at the start but it did not do a lot. They needed wickets but could not get a lot at the start. Adds the bottom teams are playing really well, they have two games now and if they win both they will finish in the top two. Ends by saying, it is a quality tournament and they will need to play their best in every game.
Earlier in the evening, Mumbai put Bangalore to bat. The Men in Red and Black started off well and looked on course for a total in excess of 180 but Mumbai bowling led by Jasprit Bumrah pulled things back and restricted Bangalore to 164. Padikkal and Philippe were the only batters who performed well scoring 74 and 33 resepctively. Bumrah was the chief tormentor with the ball as he finished with figures of 4-1-14-3!
Bangalore chipped wickets regularly early on but that was not enough. Kohli's trump card, Yuzvendra Chahal, picked up 2 wickets but he was expensive. Siraj picked two as well while Morris grabbed one. There just was not enough runs on the board for the Bangalore bowlers to play with on a pitch that was very good to bat on. Steyn had a torrid time as the veteran was taken to the cleaners in his comeback game.
Chasing a modest total of 165, Mumbai got off to a decent start with their openers getting them off to a quick start. The Men in Blue were losing wickets regularly but Suryakumar Yadav held one end and sent a notice to the selectors with his match winning knock of 79 and took his side over the line.
A masterclass in chase from Mumbai. They have shown a prototype of how to chase. With this win the defending champions have almost, almost sealed a placed in the playoffs and created a breathing space at the top of the table.
19.1 overs (4 Runs) FOUR! Up and over! No miracle from Siraj as Yadav just needed the one ball to finish things off. A classy drive. It is full and outside off. Yadav lofts it over covers for a boundary. MUMBAI WIN BY 5 WICKETS!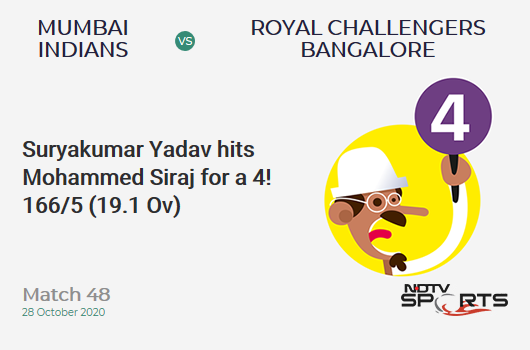 Siraj to bowl the last! Does he have a miracle in store for us?
18.6 overs (4 Runs) FOUR! Pollard needs no sighters and he is off the mark in style! Also, just the 3 needed now. A full toss on middle, Pollard whips it through mid-wicket and it races away to the fence. Can't blame Morris there, he went for the yorker as Pollard's wicket was needed but it did not come off.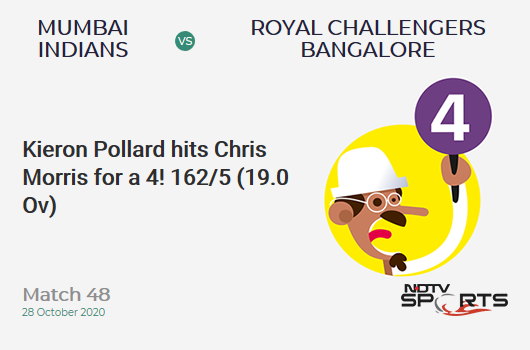 Kieron Pollard walks out to bat!
18.5 overs (0 Run) OUT! TAKEN! Morris now has a go at Hardik. He gets his revenge. Still though, Hardik has probably done his job. This partnership surely has. It is a full delivery again but this is outside off. Pandya looks to go over covers but fails to get under it. He does not get the elevation he wanted and Siraj takes a good catch diving to his right.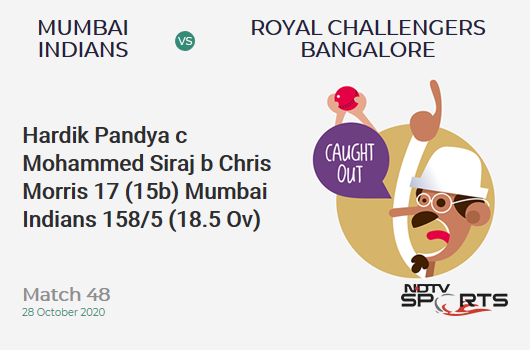 18.4 overs (6 Runs) SIX! That is a brute of a shot! Pandya also lets Morris knows how he felt after hitting that one. Wow! That is some hit. It is extremely full, difficult to get under. Pandya still manages to whip it over the wide long on fence for a biggie. Just the 7 needed.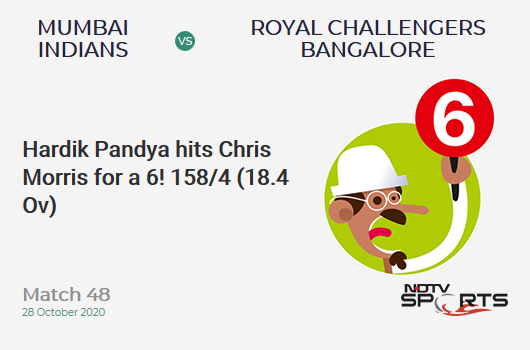 18.3 overs (1 Run) Yadav goes down on one knee again. Morris bowls a full toss. It is swept down towards fine leg for one.
18.2 overs (2 Runs) Not off the middle but enough to get two! Length and outside off, Yadav lofts it over covers and takes two.
18.1 overs (0 Run) Very full and on middle, it is jammed out towards cover. A dot. Good start to the over.
17.6 overs (0 Run) A dot to end but a very good over for Mumbai. 16 needed in 12. A very full ball outside off. Pandya swings but misses.
17.5 overs (1 Run) A single now! Yadav now goes for the scoop again but Steyn bangs it short. He adjusts and gets it through mid-wicket for one.
17.4 overs (6 Runs) SIX! That is probably the blow which seals the deal for Mumbai! Yadav goes down on one knee to play the scoop pretty early. Steyn bowls a full toss on the pads, it is scooped over the fine leg fence for a biggie.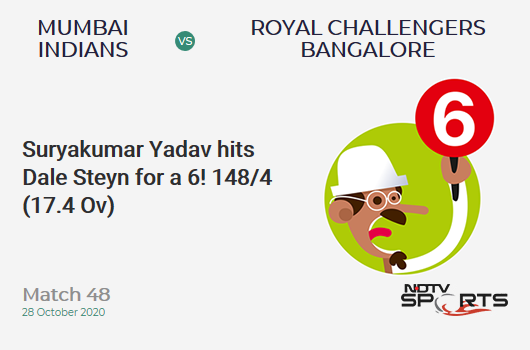 17.3 overs (1 Run) Gets it right this time. A yorker outside off, Pandya swings but it goes off the toe-end towards deep point for one.
17.3 overs (1 Run) One more wide! Not coming out right for Steyn. It is wide outside off. Left alone.
17.3 overs (1 Run) Looks to bowl it well wide outside off but ends up bowling it well outside the tramline. Wided.
17.2 overs (0 Run) A dot now! Wide yorker outside off. Pandya fails to put bat to ball. There is a noise as the ball passes the bat. He appeals but nothing.
17.2 overs (1 Run) This one is a wide! It is well short and well wide outside off. Left alone.
17.1 overs (0 Run) Well outside off, left alone. Not wided. Pandya probably moved across and hence, it was not called a wide.
16.6 overs (4 Runs) FOUR! The last ball proves to be very costly! 27 needed in 18 now. Very nonchalant by Yadav. It is angled into his pads, Yadav works it over the mid-wicket fielder and bags a boundary.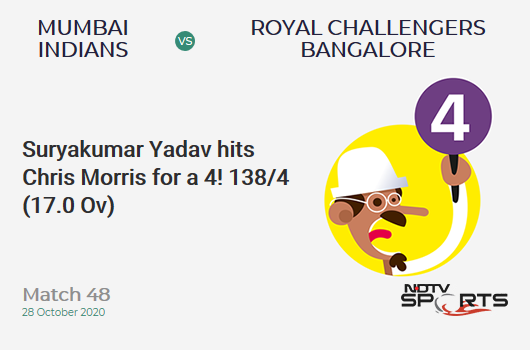 16.5 overs (1 Run) Full and on middle, not letting the batters get under it. Pandya works it through mid-wicket and takes one.
16.4 overs (1 Run) Fuller and on middle, this is eased down towards long on for one more.
16.3 overs (1 Run) Singles are also fine for them right now. Fuller and on middle, it is eased down to long on for one.
16.2 overs (0 Run) On middle, it is pushed back to the bowler. A dot. Bangalore will like a couple more dots.
16.1 overs (1 Run) This one tails back in from outside off. Yadav looks to force it through the off side but it goes off the inner half through square leg for one.
DRINKS! This should be Mumbai's game from here! However, Bangalore will have to bowl really well if they are to win from here. A lot will depend on Morris as to how he goes about everything. The last passage could be an interesting one if Bangalore manage a wicket or two quickly.
15.6 overs (1 Run) Full toss around off, Suryakumar strokes it through covers and keeps the strike with one. 35 needed in 24 balls! Mumbai's game to lose from here.
15.5 overs (0 Run) Good ball! Yorker on off, Yadav jams it out.
15.4 overs (4 Runs) FOUR! Excellent! Siraj bangs it in short, Suryakumar bends his back and guides it fine over third man for another boundary.
15.3 overs (0 Run) Fuller on off, Yadav defends it.
15.2 overs (4 Runs) FOUR! CREAMED! Slightly overpitched on off, Yadav gets on his front foot and drives it magnificently through covers for a boundary.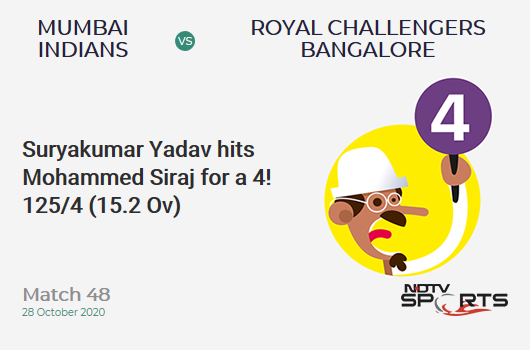 15.1 overs (4 Runs) FOUR! FIFTY FOR SURYAKUMAR! What an innings this has been! A delight to watch! A low full toss on the pads, Yadav flicks it through square leg for a boundary to bring up his milestone.
Match Reports
Topics mentioned in this article