Story Progress
Back to home
Mumbai Indians vs Rajasthan Royals Live Score, Over 16 to 20 Latest Cricket Score, Updates
Live Updates of Today Match between Mumbai Indians vs Rajasthan Royals from Sheikh Zayed Stadium, Abu Dhabi. Check commentary and full scoreboard of the match.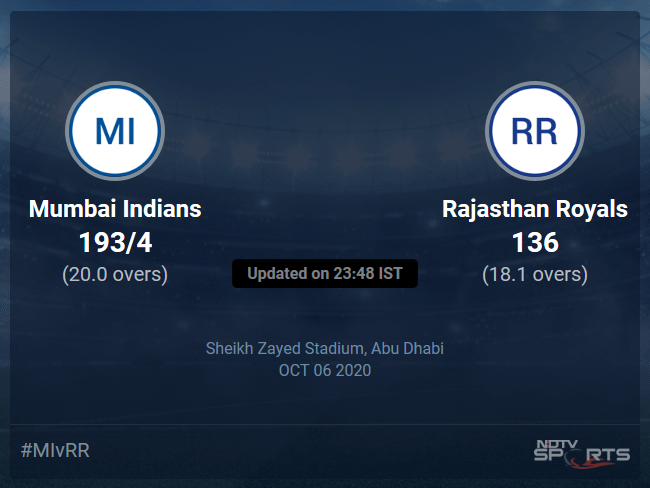 MI vs RR Latest Score
A dedicated team of experts bring you live score, live cricket score, live match update on Sports.NDTV.com. After 18.1 overs, Rajasthan Royals, chasing a target of 194, are 136. The live updates of Mumbai Indians vs Rajasthan Royals scorecard is also available. It is the perfect platform to follow your favourite teams in Indian Premier League 2020. Keep a track on your favourite batsmen and bowlers through Indian Premier League 2020 today match, ball by ball commentary, Mumbai Indians vs Rajasthan Royals, Mumbai Indians vs Rajasthan Royals live score, Mumbai Indians vs Rajasthan Royals scorecard. Follow the excitement of the Indian Premier League 2020 on Sports.NDTV.com as you can follow live match updates and live cricket score through our platform.
That's it from Match 20 in the 2020 Indian T20 League then. Tomorrow, Wednesday, 07th October 2020, Chennai take on Kolkata at 1800 Local (1400 GMT). The action continues at Abu Dhabi tomorrow as well. We hope to have your company again. Till then, take care and good night!
Suryakumar Yadav is the MAN OF THE MATCH. He says that he is feeling much better. Felt that this knock was coming. In the earlier games, he was just finding ways to get out, he honestly admits. Surya says he loves the added responsibility at the top-order. States that the team has asked him to play his natural game. Surya adds that the team winning is the most important feeling. He goes on to say that from the team's point of view he batted right till the end and then the bowlers came and did their job well.
Rohit Sharma, the victorious Mumbai captain, says that they have got quality in their side. States that it is about getting out there and getting the job done. Says that his players are quality players. Adds further that the conditions are very helpful here. He says that initially when the League was decided to happen in the UAE, they were unsure of how the conditions would be. But luckily, he says that the conditions have been helpful.
Trent Boult is down for a chat. He says that Mumbai had a pretty good gameplan coming in. Says that in this game, at Abu Dhabi, the objective was to take all the wickets and they have done that. States that in this tournament every franchise intimidates you. Says further that in this tournament you can see good contest between bat and ball.
Steven Smith, Rajasthan's skipper, says that Rajasthan were losing wickets early and that they have not been able to get off to a good start, in the last 3 games. Those are the reasons for not doing well, he says. Hopes Stokes can get well soon. Believes it is about implementing the plans properly which he honestly concedes that they have not done properly in the last three games.
Earlier, after winning the toss, Mumbai opted to bat first. They got off to an excellent start and Suryakumar Yadav and Hardik Pandya finished off things well in the end. The former was unbeaten at 79 and ended up registering his highest score in the League. Later, another fantastic display with the ball and the Men in Blue and Gold registered their 4th win in 6 games and have moved back to the top of the points table. Stay with us for the presentations...
Mumbai were stupendous and clinical throughout. They were comprehensive across all departments and thoroughly deserved the victory. 2 catches, one by substitute Anukul Roy and the other one by Pollard to dismiss Buttler was the cream of Mumbai's fielding today. Bumrah was the highlight with the ball, taking 4/20 in his four overs. Pattinson and Boult nabbed a couple each while Chahar and Pollard got one. Krunal and Pollard took a beating in their two overs but in the end, it barely mattered.
Eventually, he fell for 70 and the chase was largely done and dusted. The last 5 wickets fell for 38 runs and while the platform looked set for Tewatia to do another Sharjah, it was not to be. A disappointing day in the end for Rajasthan, overall.
Mumbai wiped out Jaiswal, Smith and Samson real quick and that largely set the tone for the victory. At 12/3, you would have felt that all was done and dusted. But Buttler was there. A faint hope? Yes. He and Lomror were looking to stabilize things, going slowly in the chase. That in turn started building pressure and Lomror crumbled, 42/4 were Rajasthan then. Buttler then decided enough was enough. He started getting the biggies and continued the hitting after getting to his half ton. However, there was just too much on his shoulders.
A simple win for Mumbai in the end. 57 runs, simple but big. Rohit Sharma is a happy skipper. He salutes the support staff and the owners present in the stadium. There was never really a challenge for them, except Buttler. They braved that, got him and then it was all too easy in the end.
18.1 overs (0 Run) OUT! CAUGHT. The match ends. Well before time, in spite of all the delays. 11 balls not used by Rajasthan. Not that it would have mattered. But if it does come close in the net run rate section, towards the end, they could end up rueing. A length ball, outside off, Rajpoot backs away and looks to go inside out but simply manages to give a leaping catch to Rohit Sharma at short extra cover. MUMBAI WIN BY 57 RUNS.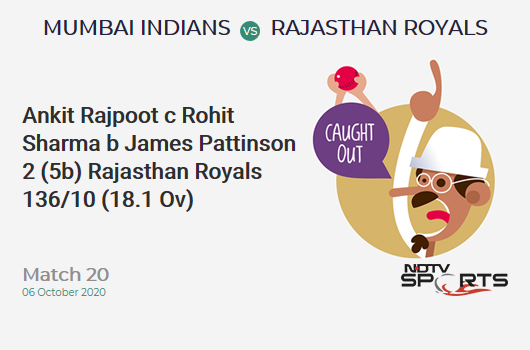 Kartik Tyagi is the last man in. James Pattinson to bowl as well.
17.6 overs (0 Run) OUT! CAUGHT. Bumrah gets 4. A length ball, around middle, Archer backs away and swings it towards long on. Easy catch for Kieron Pollard who never feels any catch is difficult, does he? 4-0-20-4 for Boom Boom tonight.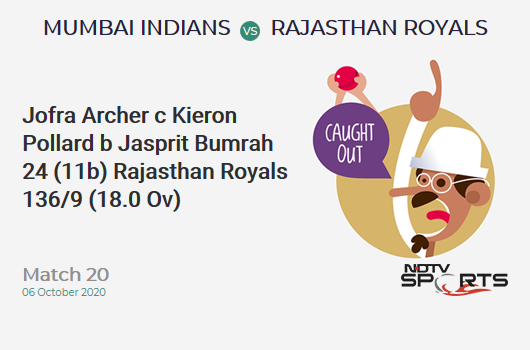 17.5 overs (4 Runs) FOUR! Another pull shot. This is again between mid-wicket and long on. Not exactly the definition of bisection, but spoils Bumrah's figures nevertheless.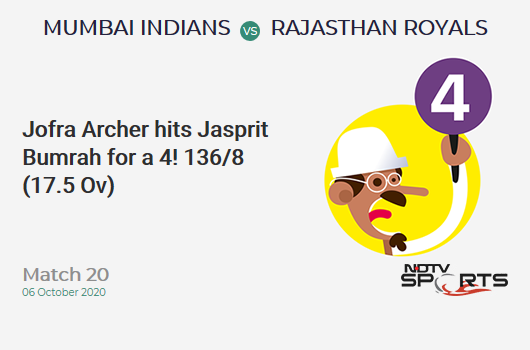 17.4 overs (2 Runs) A short ball, pulled to deep mid-wicket for a couple.
17.3 overs (4 Runs) FOUR! Length ball, outside off, drag-slapped through mid-wicket, explaining the definition of bisection through articulation to anyone who is struggling in geometry. Long on and deep mid-wicket were bisected to perfection.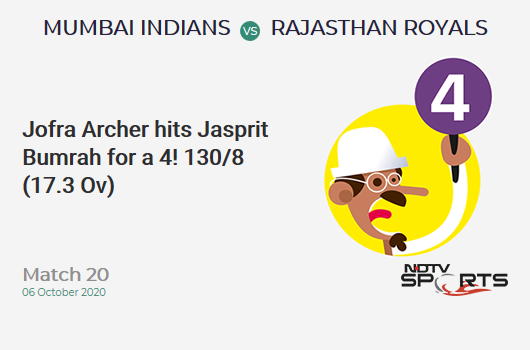 17.2 overs (1 Run) Great stop by Quinton de Kock. A high full toss, outside off, Rajpoot backs away and slashes hard. Gets a thick outside edge and the ball races away. Now, Quinton is moving to his left but has to retrace his steps to his right side. Sticks his right glove out and stops the ball, taking care of the helmet behind too. That would have been 5, had that hit.
17.1 overs (1 Run) Outside off, pushed towards long off for a single.
16.6 overs (1 Run) Full and around middle, JA looks to flick but is early into the shot. Gets a leading edge which pops up in the air but into vacant space at cover. A run taken. 4-0-26-2 for Trent Boult tonight.
16.5 overs (1 Run) Outside off, squeezed through cover for a single.
16.4 overs (0 Run) Full and outside off, driven straight to mid off.
16.3 overs (1 Run) Outside off, slapped to long off for a single.
16.2 overs (6 Runs) SIX! Just over the fielder. A length ball, Archer swings and just about gets it over a leaping fielder at deep mid-wicket.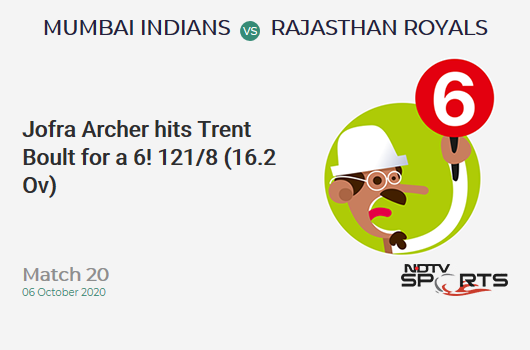 16.1 overs (0 Run) Outside off, very full, Archer tries to run it down to third man but misses.
15.6 overs (0 Run) Around off, low full toss, pushed towards mid on.
15.5 overs (0 Run) OUT! CAUGHT BEHIND. Outside off, on a length, Gopal looks to run it down to third man but only gets a thick outside edge to the keeper de Kock. Boy, this is ending all too quickly.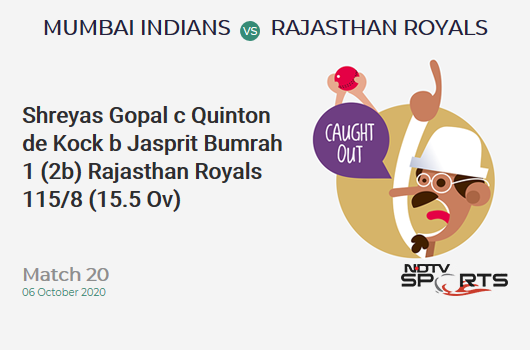 15.4 overs (1 Run) Low full toss, outside off, steered through the covers for a run.
15.3 overs (1 Run) Outside off, on a length, steered towards third man for a single.
Shreyas Gopal comes out to face the music.
15.2 overs (0 Run) OUT! BOWLED! It is not a yorker but it is a corker. Full and around leg, Tewatia looks to flick but misses. The ball hits his pads and then deflects onto the stumps.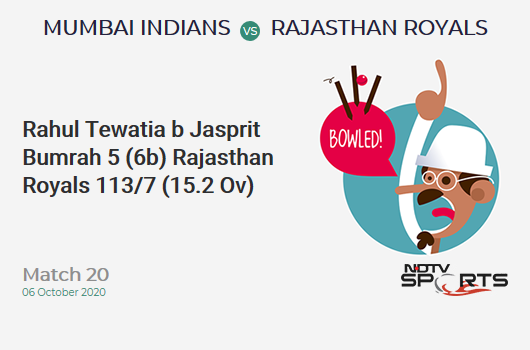 15.1 overs (0 Run) Excellent yorker. Around middle, dug out to the leg side.
Match Reports
Topics mentioned in this article