Story Progress
Back to home
Mumbai Indians vs Rajasthan Royals Live Score, Over 16 to 20 Latest Cricket Score, Updates
Live Updates of Today Match between Mumbai Indians vs Rajasthan Royals from Sheikh Zayed Stadium, Abu Dhabi. Check commentary and full scoreboard of the match.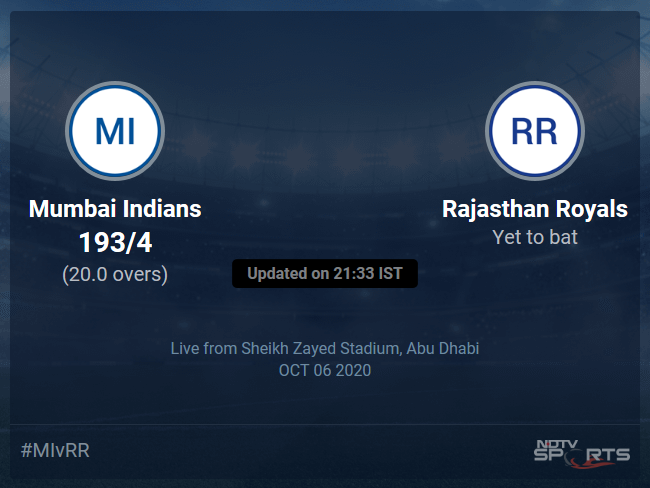 MI vs RR Latest Score
A dedicated team of experts bring you live score, live cricket score, live match update on Sports.NDTV.com. After 20.0 overs, Mumbai Indians are 193/4. The live updates of Mumbai Indians vs Rajasthan Royals scorecard is also available. It is the perfect platform to follow your favourite teams in Indian Premier League 2020. Keep a track on your favourite batsmen and bowlers through Indian Premier League 2020 today match, ball by ball commentary, Mumbai Indians vs Rajasthan Royals, Mumbai Indians vs Rajasthan Royals live score, Mumbai Indians vs Rajasthan Royals scorecard. Follow the excitement of the Indian Premier League 2020 on Sports.NDTV.com as you can follow live match updates and live cricket score through our platform.
Rajasthan's bowlers, well, everybody except Shreyas Gopal took a hammering. And by everybody we mean even Jofra Archer, who went at close to 9 rpo. Gopal did well, conceding just 28 from his 4 overs and picked up 2 wickets as well, those of the skipper and Kishan. Tyagi was expensive despite starting well and the move to bring in Rajpoot backfired badly.
Mumbai started well, the first wicket stand was just 1 run shy of fify, before de Kock departed towards the end of the 5th over. And just as another strong partnership seemed to be budding between Suryakumar and his skipper, the latter departed, after scoring 35 from 23 balls. It is here that Mumbai lost Kishan on his very first ball and Hardik states that they did well to recover from that. His brother Krunal struggled, despite getting a promotion in the batting order. But the Hardik-Suryakumar partnership more than made up for it.
Hardik Pandya says that the team should be happy to get a total like 193 the way they lost two wickets early. On SKY getting hit on his helmet, Hardik says he is an outstanding man and is not sure how he survived that one. On dew, Hardik says he is not sure and states he needs to check. Jokingly says that he got gloves on that beamer from Archer.
Suryakumar Yadav's highest score in the League and at 193, Mumbai will feel they have done enough. It has been an excellent batting display from them. They fell short of 200 by just 7 runs but they would more than take this still-humungous total.
19.6 overs (1 Run) A low full toss, outside off, Hardik swings it towards wide long on. The call is for two but Hardik slips at the non-striker's end. Mumbai have to settle for the single but what a score they have made - 193/4!
19.5 overs (6 Runs) SIX! Doesn't time it but yet it will clear the boundary! Ohhh... these modern batsmen and their bats... A high full toss, around off, Pandya looks to swips across the line, mistimes it in the air and clears long on with ease!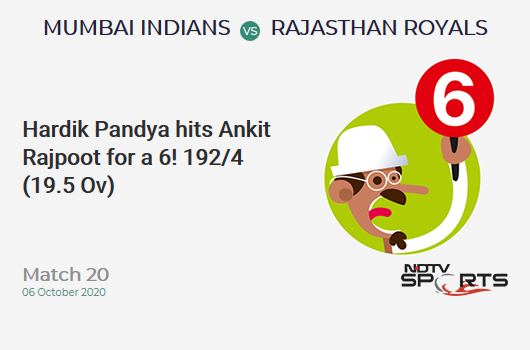 19.4 overs (1 Run) Similar ball, this is heaved down to long on for a run.
19.3 overs (4 Runs) FOUR! What a shot! Everyone knew what he was about to do and yet, he is successful. With fine leg up, the line would have been wide outside off and the length full. And Surya is ready. Runs across, picks the length and scoops it over short fine leg!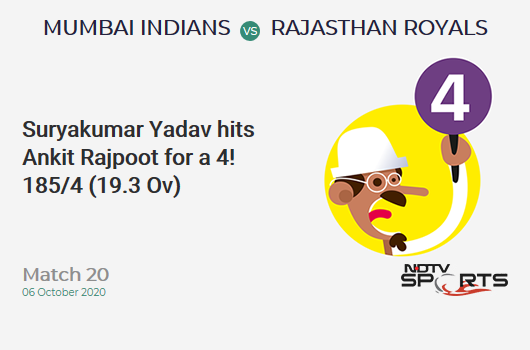 Fine leg is in, square leg is out. Third man is dropping back, so long off comes in. There is a deep point in place as well.
19.2 overs (1 Run) Good ball again and this time it is legal. Low full toss, pushed down to long on for a run.
19.2 overs (3 Runs) NO BALL! That is a massive, massive crime. The ball is excellent, a yorker, but it is not legal! Pandya gets it towards long off and Surya charges back for the second. Smith is not happy with that no ball. Free Hit loading, 200 is coming...
19.1 overs (1 Run) Yorker, outside off, Surya looks to drive and gets it towards mid-wicket off the inner half. A single taken.
Last over then. 200 still a possibility? Mumbai don't take no for an answer, do they? And... oh dear. It is not Tom Curran. It is Ankit Rajpoot. Big gamble from Steven Smith. Big ask for Rajpoot as well.
18.6 overs (1 Run) Short and around off, SKY gets across and whips it towards deep backward square leg for a single. 15 from the over, 34 in the last 2!
18.5 overs (6 Runs) SIX! What a response! Everytime you feel you have seen everything in this game, you still get something different. Low full toss, outside off, Surya backs away and scoops it over the keeper towards third man! That is not a reverse. Just look at the bravery of that man!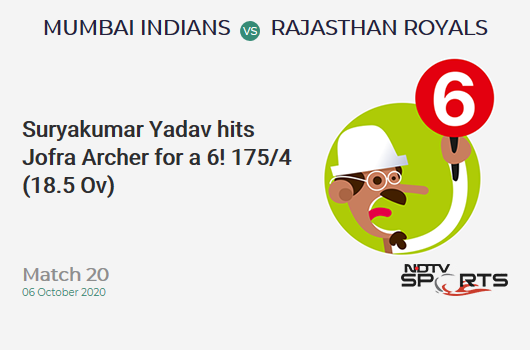 The physio is coming out to the middle. There will be a mandatory concussion test. We hope that the batter is fine. Well, he is ready to continue.
18.4 overs (0 Run) BANG! ON THE HELMET! Archer is a really skiddy customer and his current skipper knows that, doesn't he? A sharp short ball, outside off, Yadav looks to pull but misses and gets hit right on the helmet. Hardik wants a run but Surya straightaway gets across and removes his helmet. Rubs his hair, so there is pain.
18.3 overs (1 Run) Low full toss, outside off, sliced to sweeper cover for a single.
18.2 overs (0 Run) A slower ball, Pandya swings for the heavens but misses. 'OOOOOh!' he cries, in disgust.
18.1 overs (2 Runs) A full toss, bunted down the ground to long on. Yadav always wanted the second and a fumble helps him get there easily.
18.1 overs (5 Runs) FIVE NO BALLS! Oh dear. That was nasty. Phew. Hardik. Thank goodness, you are safe. Mumbai get an extra ball and a few bonus runs but that was scary. Archer fires in a beamer and poor Hardik is caught unawares. He tries to duck and just about evades it. Buttler behind is surprised as well and lets it go through as well. Hardik is still on the ground and Yadav gets across and helps him up. Shocker.
17.6 overs (4 Runs) FOUR! Playing to the field! With fine leg up, Surya knows what he has to do. Gets a short ball but gets across and paddle-pulls it over short fine leg! 19 from the over. 12 balls to go.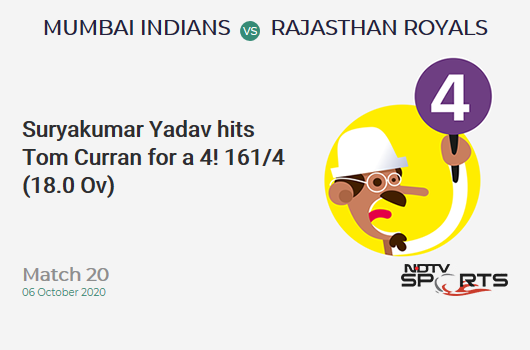 Change in field now. Fine leg goes squarer while a short fine leg is in place.
17.5 overs (6 Runs) SIX! No respect, no respect whatsoever! Great execution. Full and outside off, Yadav gets down and laps it over square leg for half a dozen!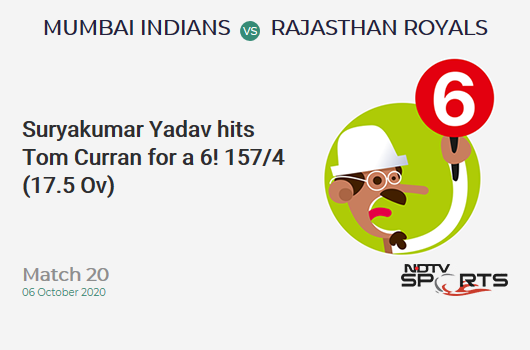 17.4 overs (1 Run) DROPPED! Give yourself a glare, Tom Curran, if you can. Because you have just cost yourself a big wicket and who knows - your side, the game. A short ball, outside off, Hardik looks to pull but gets a bit of extra bounce. Mistimes it and gets a top edge. Curran himself calls for it as he rushes to his right, gets to the ball but then, plonks it. A single taken.
17.3 overs (2 Runs) There comes the yorker and once again it is dug out for a brace towards mid-wicket. Good cricket. Excellent bowling, watchful batting and terrific running. 150 UP FOR MUMBAI. 15 balls to go.
17.2 overs (4 Runs) FOUR! Up and over! A full toss, outside off, Pandya flays it over cover, beating the sweeper to his right. The stand is now worth 31 from 20 balls.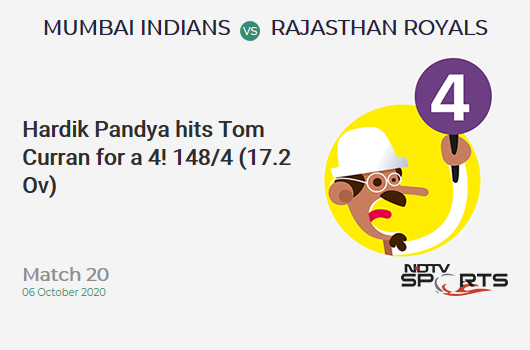 17.1 overs (2 Runs) Perfect yorker, around off, but still concedes two as Hardik whips this through mid-wicket. Moves to 10 from 8 balls.
16.6 overs (4 Runs) FOUR! 150, did you say? Does not matter for a person who feels sky is the limit. Missed out on the last ball but again, he tries. Gets across and ramps this over short fine leg to end the over well. 4 off the first ball, 4 off the last, just a single in between. Overall, good from Archer.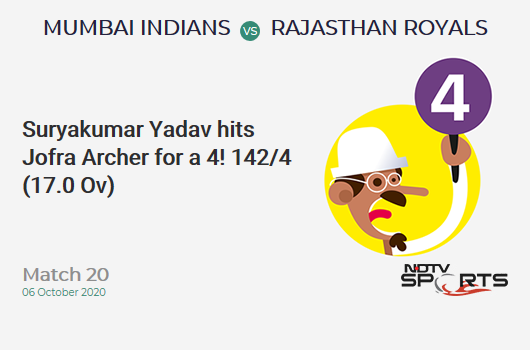 16.5 overs (0 Run) Oopssy.... SKY gets down and looks to play the ramp and then a swat. He misses. You are talking to a bowler who bowls 150 kph.
16.4 overs (0 Run) Excellent from Jofra Archer. Yorker, outside off, Surya is caught backing away and has to reach out. Places it straight to point.
16.3 overs (1 Run) Similar ball, back of a length, punched down to long on for a single.
16.2 overs (0 Run) Quicker delivery, 146 kph, around off, punched back to the bowler.
16.1 overs (4 Runs) FOUR! Oh... what a welcome? How good is that shot? Very! A length ball, outside off, Hardik gets on top of the bounce and punches it past the bowler. Mid off is up and that is a boundary!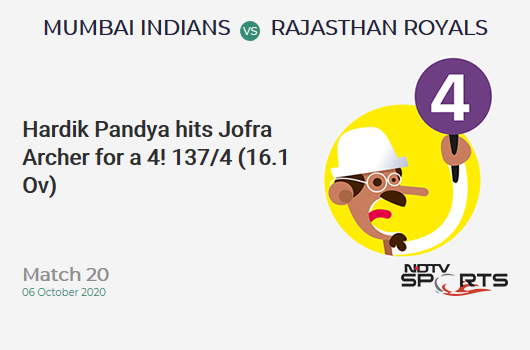 Right. 2 overs of Jofra left. 2-0-14-1 so far. How much can he limit the damage to?
15.6 overs (1 Run) Slower short delivery, Surya pulls this to deep mid-wicket and the batters take a single.
15.5 overs (1 Run) A single this time as Surya works this uppishly towards long on and takes one.
15.4 overs (0 Run) Hardik is safe! He was a long way back at the non-striker's end. On a length outside off, Surya drives but Smith does well to stop it at cover. He then turns and the throw comes in at the bowler's end. It was well wide though and Curran fails to collect it. Allows Pandya to get back in safely. Good fielding from Smith but Rajasthan could have converted that to effect a run-out had they been a little more alert.
15.3 overs (1 Run) Full and around the off pole line, Pandya flicks it uppishly towards wide long on and gets to the other end.
15.2 overs (1 Run) Shortish on middle, pulled to deep backward square leg for one.
15.1 overs (4 Runs) FOUR! Such good touch. Such wonderful touch from Suryakumar Yadav. It brings up his first 50 this season. Curran takes the pace off and bowls a slow length delivery outside off. Surya waits and then works that with deft hands past the diving Buttler and Archer at short third man for a boundary.
Match Reports
Topics mentioned in this article