Story Progress
Back to home
Mumbai Indians vs Kolkata Knight Riders Live Score Ball by Ball, IPL 2020 Live Cricket Score Of Today's Match on NDTV Sports
Live Updates of Today Match between Mumbai Indians vs Kolkata Knight Riders from Sheikh Zayed Stadium, Abu Dhabi. Check commentary and full scoreboard of the match.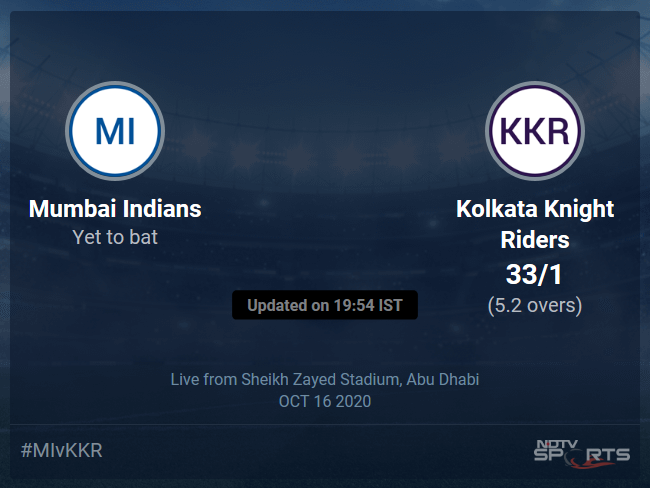 KKR vs MI Latest Score
Follow the Indian Premier League 2020 live cricket score on Sports.NDTV.com. After 5.2 overs, Kolkata Knight Riders are 33/1. Get live score, ball by ball commentary and much more. Keep track of Indian Premier League 2020 today match between Mumbai Indians and Kolkata Knight Riders. Everything related to Mumbai Indians and Kolkata Knight Riders match will be available on Sports.NDTV.com. Stay updated with Mumbai Indians vs Kolkata Knight Riders live score. Do check for Mumbai Indians vs Kolkata Knight Riders scorecard. You can get scorecard updates, match related facts. Get quick live updates with ads, Sports.NDTV.com, which is the perfect destination for live cricket score.
4.6 overs (0 Run) Leading edge but safe! This is angled on middle and going away with the angle. Rana looks to work it on the leg side but gets a leading edge but lands short of the bowler.
4.5 overs (1 Run) On middle, it is worked through mid-wicket for one.
4.4 overs (0 Run) Gill comes down the track but does not get to the piitch to the ball. He hits it uppishly but short of long on.
4.3 overs (1 Run) On middle, it is chipped uppishly but wide of the diving bowler and down to long on for one.
4.2 overs (0 Run) Outside off, it is left alone.
4.1 overs (1 Run) On off, it is hit down to long off for one.
3.6 overs (4 Runs) FOUR! A full toss and it puts away! It is a full toss and on the pads, Rana works it through mid-wicket and it races away to the fence.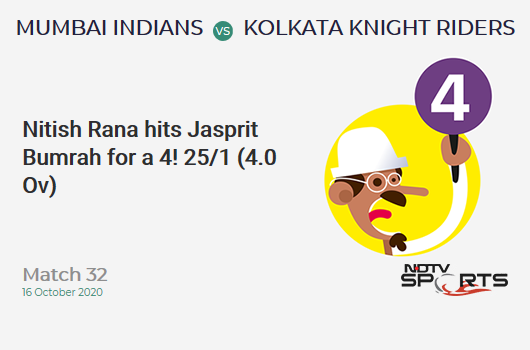 3.5 overs (0 Run) Outside off, left alone.
3.4 overs (1 Run) A direct hit and it would have been close! It is on middle, it is pushed towards mid on. Gill takes off. The fielder gets to the ball and has a shy but misses. Had he hit, Gill would have been a goner.
3.3 overs (2 Runs) It is on the pads, it is worked nicely through mid-wicket for two.
3.2 overs (0 Run) Shorter and on off, it is pushed towards mid off.
3.1 overs (0 Run) On off, it is defended.
NItish Rana is the new man in. Also, Bumrah comes onto bowl.
2.6 overs (0 Run) OUT! TAKEN! That is a stinger! What a take by Yadav. That was hit like a tracer bullet towards him. It is shorter and outside off. Rahul cuts it hard and towards the point fielder. Yadav takes it above his head with two hands falling to his left. Brilliant from him. Mumbai have not started that well but this should lift their spirit. Tripathi will feel very unlucky.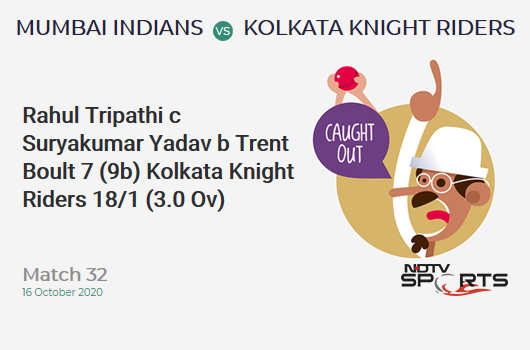 2.5 overs (4 Runs) FOUR! Pulled away! Shorter in length and on middle, Tripathi stays back and pulls it through wide mid on for a boundary.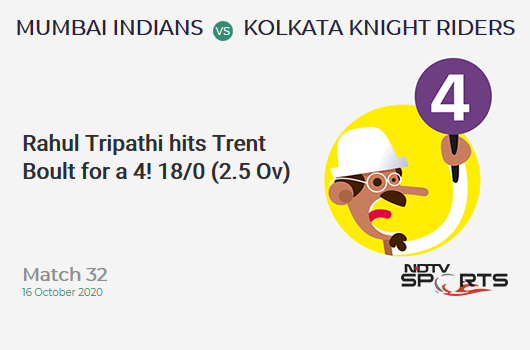 2.4 overs (1 Run) On middle, it is guided down to third man for one.
2.3 overs (1 Run) It is shorter and on the body, it is pulled towards deep square leg for one.
2.2 overs (0 Run) The batsman has just blocked that from his crease.
2.1 overs (0 Run) Slashes and misses! Outside off, it is fuller and there to be hit. Tripathi looks to go over covers.
1.6 overs (0 Run) Slight bit of movement from around off, defended from the back foot to complete a long over by NCN.
1.5 overs (1 Run) Yet another misfield, this time by Kishan. Tripathi has bunted a length ball to mid on where Ishan takes his eyes off the ball while collecting it. It sneaks past him and the batsmen cross.
1.4 overs (0 Run) Good length ball on off, Rahul blocks it from the back foot to the off side.
1.4 overs (1 Run) Third wide of the over! NCN is all over the place with his line. Struggling to find his rhythm. Another one down the leg side, given as a wide.
1.3 overs (1 Run) On a length and outside off, played down to covers for a single.
1.2 overs (4 Runs) FOUR! Misfield from Bumrah! You don't see Mumbai being so sloppy. Coulter-Nile overpitches and lands it around off, Gill drives it from the inner half towards mid on where Bumrah dives over the ball and lets it sneak through.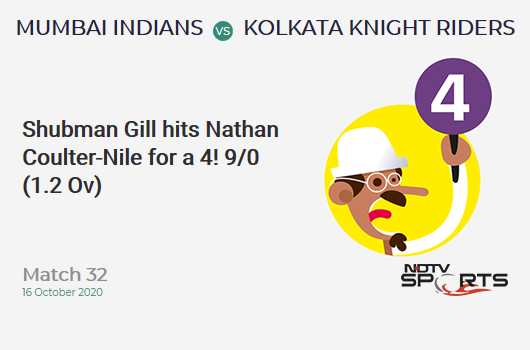 1.2 overs (1 Run) Wide again! NCN fails to get his line right for the inswinger. Gets another delivery to go down. Gill tries his best to flick but misses.
1.2 overs (1 Run) Wide! Slips a full ball down the leg side, Shubman attempts to flick but misses.
1.1 overs (0 Run) Good length delivery in the channel outside off, Gill watches it well before making a leave.
Nathan Coulter-Nile to bowl from the other end.
0.6 over (1 Run) Taps a length ball down to cover-point and takes a single. A good start for Mumbai!
0.5 over (0 Run) Angles across a length ball outside off, Shubman mistimes his shot off the inner half back in the direction of the bowler.
0.4 over (0 Run) Fullish and outside off, driven off the front foot to mid off.
0.4 over (1 Run) Wide called for height! Sharp bouncer by Boult. He digs it in short around off, it rises and goes over the head of the batsman. Gill leaves it and de Kock jumps to collect.
0.3 over (0 Run) On a length and around off, Gill punches it from the back foot towards mid off.
0.2 over (1 Run) Lovely! A bit of swing there, full and on middle, a hint of inswing, Tripathi pushes it towards short mid-wicket where Sharma misfields slightly and allows the first run to Kolkata.
0.1 over (0 Run) Boult begins with a good length ball close to off, Rahul plays it near his front foot, opens the face of his bat and pushes it to backward point.
It is time for the action to begin! The countdown is done! The Mumbai players now make their way out to the middle. The Kolkata openers Shubman Gill and Rahul Tripathi stride towards the centre. It is Trent Boult who will start the proceedings for Mumbai. Here we go...
Nathan Coulter-Nile says he has fully recovered, he was good to go after the second game but Pattinson bowled well which kept him on the bench. It has been long since he played a game so he might be rusty but he hopes he can do well. States it is tough to get into the side as there are a lot of world-class bowlers and now staying in the side will be tougher. Ends by saying they need to repeat their performance of their last game against Kolkata, it is not going good for them and he hopes it can continue to be good for his side.
Mumbai (Playing XI) - Rohit Sharma (C), Quinton de Kock (WK), Suryakumar Yadav, Ishan Kishan, Hardik Pandya, Kieron Pollard, Krunal Pandya, Nathan Coulter-Nile (In for James Pattinson), Rahul Chahar, Trent Boult, Jasprit Bumrah.
Kolkata (Playing XI) - Rahul Tripathi, Shubman Gill, Nitish Rana, Eoin Morgan (C), Dinesh Karthik (WK), Andre Russell, Chris Green (In for Tom Banton), Pat Cummins, Shivam Mavi (In for Kamlesh Nagarkoti), Varun Chakravarthy, Prasidh Krishna.
Mumbai skipper, Rohit Sharma says that he is confident as they had a good game last time chasing here. Adds that it gives them another opportunity to get out there and express themselves. Tells that to keep the players fresh is important and they are making sure to manage their workload. Informs that they have one change as James Pattinson is rested and Nathan Coulter-Nile replaces him.
Kolkata's brand new captain, Eoin Morgan starts by saying that he is batting first as majority of the matches here have been won by the teams batting first. Calls it a good pitch and hopes to set a good score on the board. Informs that Dinesh Karthik made his decision known to him and the head coach yesterday as he wants to focus on his batting. Morgan shares that they have made a couple of changes, Tom Banton and Kamlesh Nagarkoti make way for Shivam Mavi and Chris Green.
Toss - Up goes the coin! Eoin Morgan gets it his way as Rohit Sharma calls it wrongly. KOLKATA ELECT TO BAT!
Pitch report - A fresh pitch is being used for this evening. There is a tinge of grass on the surface and it's evenly spread. JP Duminy reckons there will be some assistance for the bowlers early on and then the spinners will also get some purchase towards the backend of the innings. The South African points out that the spinners will have to vary their pace smartly.
Here is what Eoin Morgan has to say! The Englishman said that Dinesh Karthik informed about his decision yesterday to step down and focus on his batting. Terms this gesture as selfless which DK feels is in the best interest of the team. Morgan is delighted to lead Kolkata and wants everyone to realize their true potential. Informs that they will be opting for a different combination and hopes for the best.
As far as Kolkata are concerned, they would be aiming to start afresh under the new leadership. Their last loss was a hefty one where they went down by 82 runs against Bangalore and would hope that the worst period is over. There was never any doubt over the quality they possess in the dressing room and let's see how they respond to Morgan's captaincy.
Hello and welcome everyone for this clash between on-song Mumbai and inconsistent Kolkata. The defending champions have shown some exemplary form in this edition and are looking like defending their title with ease. For them, everything is falling into place and they appear to have all the bases covered. Against Kolkata, they enjoy a great head-to-head battle as well and on current form, Mumbai are the favourites this evening to get their fifth win on the bounce. Stay tuned for more...
Dinesh Karthik has stepped down as captain of Kolkata is the biggest news of the evening and Eoin Morgan has been given the command of the team. We all saw that coming and it has finally happened! The World Cup-winning captain of England is taking the charge after the first half of this season with 7 matches in the League stages left for Kolkata. With 4 wins, they are in the middle of the table and their fans would hope that under Morgan's leadership, they charge to the top.
Topics mentioned in this article