Story Progress
Back to home
Kolkata Knight Riders vs Royal Challengers Bangalore Live Score Ball by Ball, IPL 2020 Live Cricket Score Of Today's Match on NDTV Sports
Live Updates of Today Match between Kolkata Knight Riders vs Royal Challengers Bangalore from Sheikh Zayed Stadium, Abu Dhabi. Check commentary and full scoreboard of the match.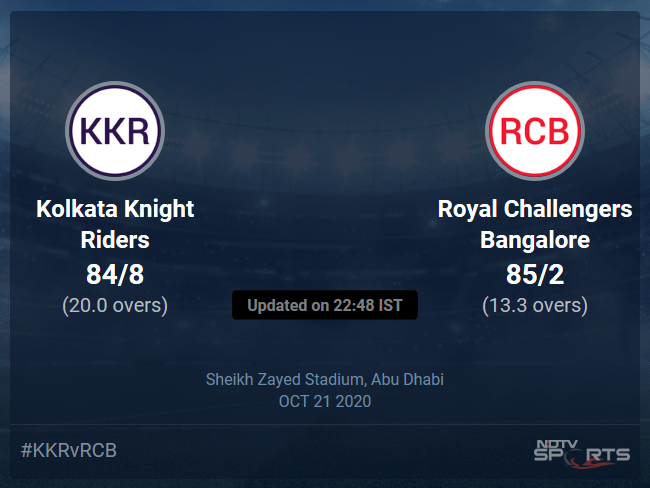 RCB vs KKR Latest Score
Follow the Indian Premier League 2020 live cricket score on Sports.NDTV.com. After 13.3 overs, Royal Challengers Bangalore, chasing a target of 85, are 85/2. Get live score, ball by ball commentary and much more. Keep track of Indian Premier League 2020 today match between Kolkata Knight Riders and Royal Challengers Bangalore. Everything related to Kolkata Knight Riders and Royal Challengers Bangalore match will be available on Sports.NDTV.com. Stay updated with Kolkata Knight Riders vs Royal Challengers Bangalore live score. Do check for Kolkata Knight Riders vs Royal Challengers Bangalore scorecard. You can get scorecard updates, match related facts. Get quick live updates with ads, Sports.NDTV.com, which is the perfect destination for live cricket score.
That is it from this game. Bangalore with their demolition of Kolkata for the second time this season move to second on the points table. Kolkata, on the other hand, have a lot to ponder upon. They will have to go back to the drawing board and will have to find a way to get over this humiliation. This win also helps the chasing back with the 4th spot well up for grabs. The action in the league continues on Thursday, 22nd October, as two of those chasing pack go head to head. Steven Smith's Rajasthan take on David Warner's Hyderabad. That game begins at 1800 local (1400 GMT). That promises to be an exciting clash and we hope to see you for that one. Till then, goodbye and take care!
Mohammed Siraj, who bowled 2 maiden overs and picked up 3 wickets is the MAN OF THE MATCH. He thanks the almighty for giving him the opportunity to bowl with the new ball. States that he was not anticipating that his skipper would give him the new ball to bowl with. Siraj says that the environment in the side is of a different postive vibe - everyone is supporting everyone. On which wicket he fancied the most, Siraj says that the wicket of Nitish Rana was most pleasing to him as he bowled that delivery just the way he anticipated and got the wicket just as he wanted as well.
Virat Kohli, the VICTORIOUS BANGALORE SKIPPER, will share his thoughts now. He says that it was a late call to give Siraj the new ball. Wanted to give Sundar earlier but then later he thought let's give Siraj the new ball alongwith Morris. States that the management has been able to create a plan this time around for the players on how they should go about on the field and play. Kohli says that many people do not believe in Bangalore but he does and his players do. Says that Bangalore has talent and belief with them. On Morris, Kohli waxes eloquoent and says that Morris never loses his belief and that his energy levels are amazing. Need people like him to prep us up on the field.
Stay tuned for the presentation where we get to hear from the winning skipper and the Man of the Match.
Gurkeerat Singh Mann is up for a chat. Says that it was a wonderful performance from the boys. Adds that everyone chipped in with the bat and says that Siraj was exceptional with the ball. On him coming to bat early, Mann says that the plan was to allow him to get some experience as he did not get much opportunities to bat in the earlier games. Especially with the playoffs approaching, it is important for him to get some time in the middle, which he got today, he says. Adds that when bowling, the strategy for the pacers was to aim for the top of off. On whether Bangalore can win the trophy this season, given their form and the fact that they have not won one so far, Mann hopes so and says that Bangalore will put their best foot forward.
Eoin Morgan, Kolkata's captain, says that the batting was the big letdown. That is the starting point and dew came in later on. In hindsight, Morgan believes that they should have bowled first. Morgan says that Kolkata have been extremely consistent in team selection. States that Bangalore exploited the conditions well. That is the nature of this tournament, it is a highly competitive one. Hopes that Narine and Russell would be available in the future games as leaving out all-rounders of their calibre is always difficult to fill.
A win for Bangalore that was set up by their bowlers, led by Mohammad Siraj. His 3/8 ensured Kolkata never got going and the Bangalore bowlers restricted a very strong Kolkata batting lineup for a humiliating score of 84. A very embarassing batting performance from Kolkata. Only Morgan showed some fight and thanks to Ferguson and Kuldeep they managed to save some blushes with the willow.
Cannot blame the Kolkata bowlers. They hardly had anything to bowl at. They needed early wickets to get a spring in their stride and believe that they could do the unthinkable but unfortunately, that was not to be. Ferguson did get into the wickets column again and there was a run-out as well but that was not nearly enough to put pressure on a strong Bangalore batting lineup.
Chasing 85, Bangalore openers, Padikkal and Finch, ensured that there was no unnecessary drama at the beginning. The pair laid the foundation with a solid 46-run stand before Finch departed. Padikkal soon followed his partner with a suicidal run out. Captain Kohli and Gurkeerat Singh Mann ensured there were no other hiccups and cruised the side over the line.
A comprehensive victory for Bangalore and with this dominating win, Bangalore move to second on the points table with 14 points. Kohli and his men now have one foot into the Playoffs. A humiliating and annihilating loss for Kolkata. One of those which destroys everything from run rate to confidence.
13.3 overs (1 Run) A single and that is it! On a length outside off, Kohli guides it to the right of third man and takes an easy single. BANGALORE WIN EASILY BY 8 WICKETS!
13.2 overs (0 Run) Very full on off and middle, Kohli can only dig it out to the on side for a dot.
13.1 overs (2 Runs) SCORES LEVEL! Full on off and middle, Kohli flicks it to deep mid-wicket. The call is two immediately and Kohli gets it.
Prasidh Krishna to bowl now. Bangalore would want to finish in this over.
12.6 overs (0 Run) 4 dot deliveries to end the over. Full and around off, driven to mid off. Does not matter these dots though as Bangalore need just 3 runs in 42 balls.
12.5 overs (0 Run) Short and outside off, Mann flashes at it but fails to read the bounce. It goes over the top of his flashing blade.
12.4 overs (0 Run) Full and around off, Mann gives room on the off side and looks to slash it hard. The ball though comes off the bottom part of his bat and goes to the left of the bowler on the off side.
12.3 overs (0 Run) Length ball on the stumps, driven back to the bowler.
12.2 overs (1 Run) Outside off, punched through cover for a single.
12.1 overs (4 Runs) FOUR! All too easy for Bangalore and Kohli here. Fullish ball around off, Kohli swings and sends it to the deep mid-wicket boundary.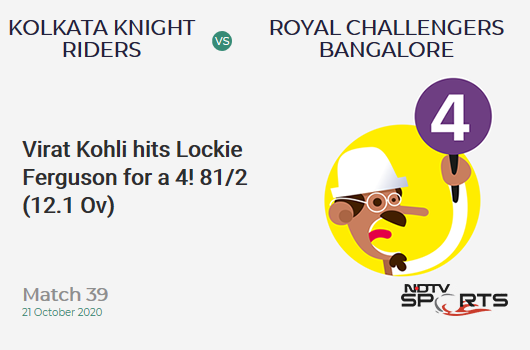 11.6 overs (1 Run) An easy passage of play for Bangalore here. Outside off, Kohli works it to deep point for a single. 8 runs needed in 48 balls.
11.5 overs (1 Run) Follows the boundary with a single by working this on the off side for a single.
11.4 overs (4 Runs) FOUR! Mann looking to finish things off quickly here. Flighted ball around off and middle, Mann sweeps it uppishly to the deep backward square leg boundary.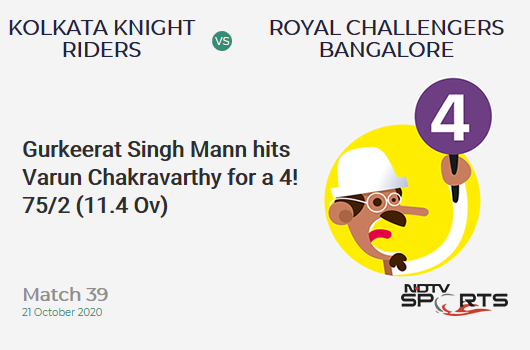 11.3 overs (4 Runs) FOUR! Educated edge to say the least. Short and wide outside off, Mann looked to cut that square of the wicket but ends up getting an outside edge. No one at third man and it races away to the fence there.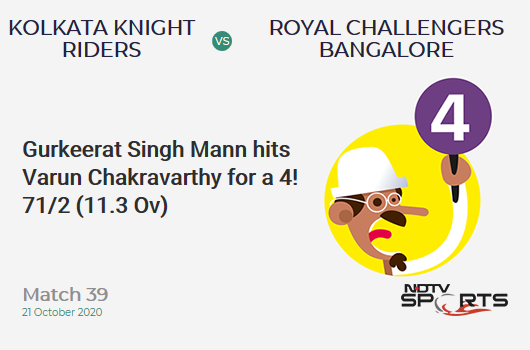 11.2 overs (0 Run) Short ball, Mann rocks back to pull but does not time it at all. It goes to short mid-wicket.
11.1 overs (0 Run) Very full, around off, Mann drives but finds short cover.
10.6 overs (1 Run) Very full on off, stabbed to mid on for a single.
10.5 overs (1 Run) Fullish ball on off and middle, clipped to fine leg for one.
10.4 overs (1 Run) Back of a length ball on off, Mann looks to defend but it comes off the splice and goes towards third man. A run taken.
10.3 overs (0 Run) Slash and a miss! Shortish ball well outside off, Mann looks to cut it fiercely over point but misses completely.
10.2 overs (1 Run) Outside off, Kohli steers this to the right of Kuldeep at third man. Gets a single.
10.1 overs (0 Run) Short ball, Kohli covers the line of his stumps, hops and keeps it out.
Match Reports
Topics mentioned in this article