Story Progress
Back to home
Kings XI Punjab vs Delhi Capitals: IPL 2020 Live Cricket Score, Live Score Of Today's Match on NDTV Sports
Live Updates of Today Match between Kings XI Punjab vs Delhi Capitals from Dubai International Cricket Stadium, Dubai. Check commentary and full scoreboard of the match.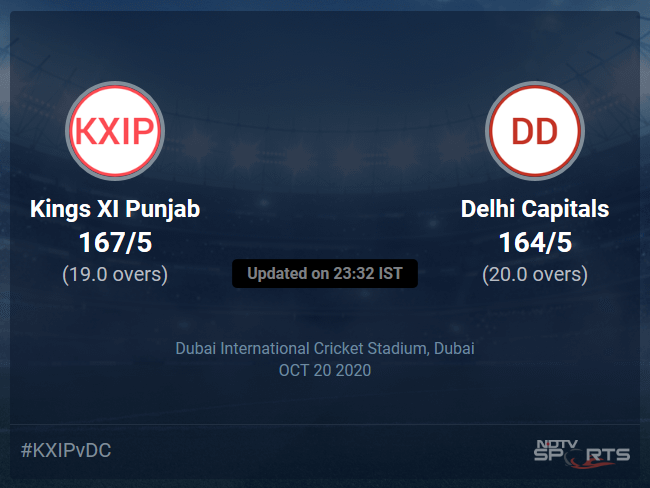 KXIP vs DC Latest Score
A dedicated team of experts bring you live score, live cricket score, live match update on Sports.NDTV.com. After 19.0 overs, Kings XI Punjab, chasing a target of 165, are 167/5. The live updates of Kings XI Punjab vs Delhi Capitals scorecard is also available. It is the perfect platform to follow your favourite teams in Indian Premier League 2020. Keep a track on your favourite batsmen and bowlers through Indian Premier League 2020 today match, ball by ball commentary, Kings XI Punjab vs Delhi Capitals, Kings XI Punjab vs Delhi Capitals live score, Kings XI Punjab vs Delhi Capitals scorecard. Follow the excitement of the Indian Premier League 2020 on Sports.NDTV.com as you can follow live match updates and live cricket score through our platform.
Right then, done and dusted with Match 38.  Match 39 is between Bangalore and Kolkata. Abu Dhabi hosts one of the oldest rivalries in the league, between Kohli's men and Morgan's men. The last time we had a visual treat with AB de Villiers launching a ferocious storm at Sharjah. What's in this time? Join us at 1800 Local (1400 GMT) on Wednesday, 21st October 2020 to find out. Until then, good night from our side.
Shikhar Dhawan, the first man ever to get back-to-back hundreds in the league is the MAN OF THE MATCH. Says that he was alone in the middle today, otherwise normally somebody would be by his side in the middle, while batting. States that he feels he batted well and wants to carry the confidence. Wants to be fresh for each match and enter the same with a positive mindset. Says that the squad will have a discussion now to see where they went wrong. Adds that there have been a lot of learnings. This loss will not put the side down, we will analyze the loss and comeback stronger, Dhawan finishes off by saying.
KL Rahul, the VICTORIOUS PUNJAB SKIPPER, says jokingly says that his heart-rate keeps reaching newer levels each game. States that one of the players in the top 4 in the batting needs to be there till the end to see the side through. States that Shami has been coming in from a good deal of confidence from the last game - the Super Over one against Mumbai, where he defended 4 runs there. Adds that Shami is an experienced player and that he has played for Punjab in 3 seasons now. Says that one always expects their batters and bowlers to do well. Rahul says that it feels good to beat the top 2 sides in this season. Says that this will bring in a lot of confidence for the side as they will now feel that they can beat anyone now. Adds that after Sunday, he did not speak a lot. States that it was an entertaining game, to both the players and the fans. In the end, those 2 points matter a lot. Performances like that keeps a side motivated and keeps nudging them to do more.
Nicholas Pooran is in for a little chat now! He tells that it was a wonderful game. Says that the talk was to be consistent throughout and they did that in this game. Adds that he is really happy that this game didn't go to the last over. On his batting, Pooran says that he is working really hard and is hitting the ball well too. Says that he was disappointed when he got out as he wanted to finish off the game. Tells that he is a natural striker of the ball and says that it is very simple for him. If it is in the zone, he will go for the big shots.
Delhi skipper, Shreyas Iyer, is caught for a chat! He starts by saying they were around 10 runs short with the bat. Feels they have got quite a few learnings from the game. Adds Tushar Deshpande gave a few runs away but tells that he will learn from it. Says that Dhawan read the wicket really well and managed to acclimatize really well. On the loss, he says that he is happy that the loss has come at this point of time but credits the team for fighting till the end. Ends by saying that the boys will be charged up for the next game .
Earlier, after winning the toss, Delhi opted to bat first. Dhawan was the lone man holding his end while his partners kept falling at regular intervals. He became the first player to score back-to-back hundreds in the league and took his side to 164/5. In the end, it was 10-15 runs short as Punjab, despite certain hiccups, managed to close it with an over to spare. Stay tuned for the presentation ceremony.
But then, he later restrained himself on the quick runs and started the blitzkrieg, the big-hitting. So flawless he was and was ably assisted by Maxwell at the other end, the latter coming to the party at the most-needed time for Punjab. Pooran got to his second half ton in the league and by the time he departed, he put Punjab on a solid footing to win from there. Maxwell and Hooda took it more closer before the former fell. Tide turning? Looked so. Looked like it might be another last-over thriller before Neesham nailed a biggie to seal the deal in Punjab's favour.
But today, Gayle seemed to be in a hurry. And he took a particular favour to Tushar Deshpande, in the latter's first over. He smacked him all across the park and signalled his intentions right away. Punjab were cruising at 52/2 in the 6th over before 2 wickets fell in quick succession. First Gayle and then Agarwal. And that put pressure back on Punjab. Another game that was in their hands slowly starting to slip away? Looked so. But Pooran decided to take charge. He was responsible for Agarwal's run out and almost ran out Maxwell too.
Punjab did not get off to a good start in the chase though. Their openers have normally been outstanding this season but not tonight. Skipper Rahul fell for just 15 in the 3rd over. A rarity, given the phenomenal standard he has been in this edition. Out walked the Universe Boss then. Normally Chris Gayle takes his time to settle down and then go for the hitting.
A great finish, 2 more points for Punjab and thankfully for them, it is not a last-over finish. 3 wins on the trot for them against big teams - Bangalore, Mumbai and now Delhi. Truly the giant-slayers. Makes the league more interesting now.
18.6 overs (6 Runs) Six! BOOM! Neehsham says I will finish it in style! He gets a fuller ball in his slot and slams it over the deep mid-wicket fence for a biggie! The winning runs! Punjab win by 5 wickets.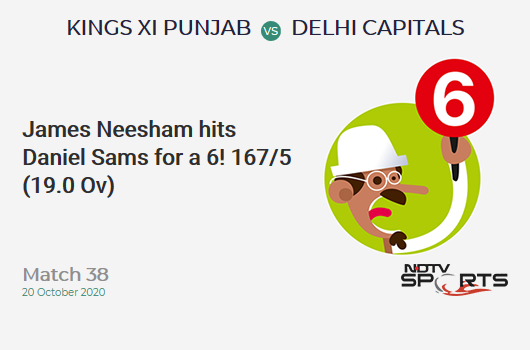 18.5 overs (1 Run) DROPPED! Stoinis puts down a simple chance! Hooda wanted to finish it off in style and he went after the fuller ball. Ends up getting a top edge. The ball balloons high in the air towards covers. Stoinis runs behind a touch and tries to take the catch but it bursts through his hands.
18.4 overs (0 Run) Shortish and just around off, Hooda punches it well but finds the backward point fielder.
18.3 overs (1 Run) Neesham is in no hurry. He tucks the length ball on middle towards the leg side and gets to the other end.
18.2 overs (1 Run) Another single! Fuller and around off, Hooda strokes it to deep cover and gets to the other end. Punjab just a maximum away.
18.1 overs (1 Run) EDGY! Full and outside off, Neesham looks to swipe it over the leg side but gets a thick outside edge. It goes to third man for a single.
Daniel Sams is back in the attack. Does not matter much but can Punjab finish it off in this over?
17.6 overs (0 Run) Dot to end the over but they have got the boundary that has released the pressure. Shortish and on middle, flicked towards the mid-wicket fielder. 8 needed in 12 balls.
17.5 overs (4 Runs) FOUR! Nicely done! Axar drags it short and on middle, Hooda thumps it over mid-wicket and finds the fence.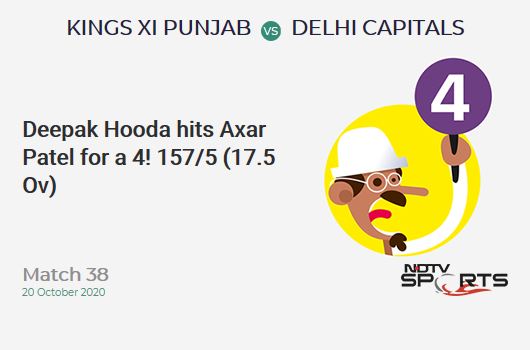 17.4 overs (1 Run) A single now! Shortish and around middle, it is flicked through square leg for a single.
17.3 overs (0 Run) One more dot! Flatter and around off, Neesham looks to tuck it on the leg side but manages to push it back to the bowler.
17.2 overs (0 Run) Fullish and just outside off, Neesham finds the cover fielder.
17.1 overs (1 Run) On middle, flicked to long on for an easy run.
Kagiso Rabada is done with his spell of 4 overs. Axar Patel to finish off as well. 3-0-21-1 are his numbers.
16.6 overs (1 Run) What happened there? That was a chance but a very tough one. It is the loppy tossed up ball, it dips in nicely. Hooda runs down and tries to work it on the leg side but misses. The ball shoots up after going past and Pant fails to collect. A leg bye taken. Ashwin has been outstanding today although he would have fancied more than Gayle to have put his side in a safer position in the match. He however finishes with impressive figures of 4-0-27-1.
16.5 overs (1 Run) Flatter and on middle, tucked through square leg for one.
16.4 overs (0 Run) Full and outside off, driven towards the cover fielder.
16.3 overs (1 Run) Single now! Flatter and outside off, Hooda punches it to sweeper cover and gets a run.
16.2 overs (0 Run) Flatter and around off, pushed towards short third man.
16.1 overs (0 Run) DOT! It is the carrom ball from Ashwin. Hooda blocks it to the left of the bowler who dives that side to stop.
Ravichandran Ashwin to finish his quota now. 3-0-25-1 are his figures.
15.6 overs (1 Run) A single and Hooda keeps the strike. Full and outside off, Hooda strokes it through point to the deep and gets to the other end.
James Neesham walks out to the middle, at No. 7. Important for him and Hooda to see Punjab through the line without any hiccups here.
15.5 overs (0 Run) OUT! CAUGHT! Maxwell throws it away! A stunning running catch from Pant. Is there any twist in this game? A good length ball outside off, Maxwell looks to launch it out of the ground over the leg side. However, he fails to time it and it goes high in the air towards backward square leg. Pant who has returned in this game after nusring his hamstring injury covers a lot of ground and takes a fine tumbling catch. Surely a needless stroke from the Aussie.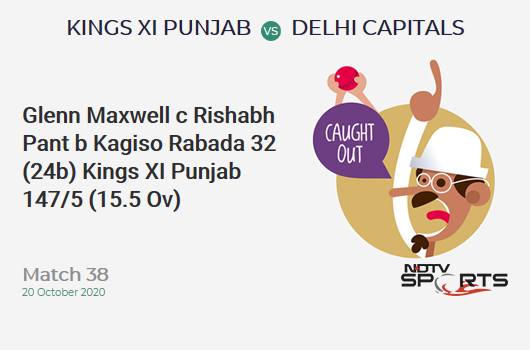 15.4 overs (4 Runs) FOUR! Stand and deliver stuff from Maxwell. Short and wide outside off, Maxwell slams it over mid on and finds the fence.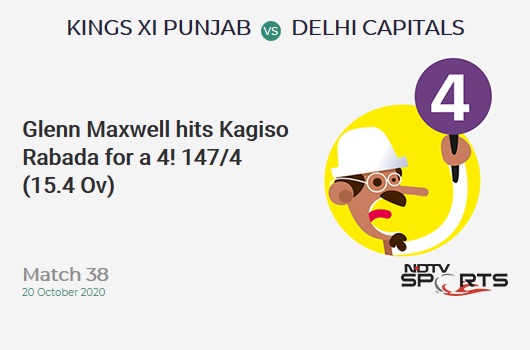 15.3 overs (1 Run) Manages to do so this time as he goes back and dabs it through short third man for an easy single.
15.2 overs (0 Run) Play and a miss! Good length ball outside off, Hooda tries to run it down to third man for a run but misses to put bat on ball.
15.1 overs (1 Run) Length delivery angled in, Maxwell flicks it to deep square leg. It is uppish but lands well short. Easy run.
Match Reports
Topics mentioned in this article